The arrival of the more fuel-efficient Embraer 175 marked a new phase in the renewal of KLM Cityhopper's fleet of Fokker 70s, which will be completed late 2017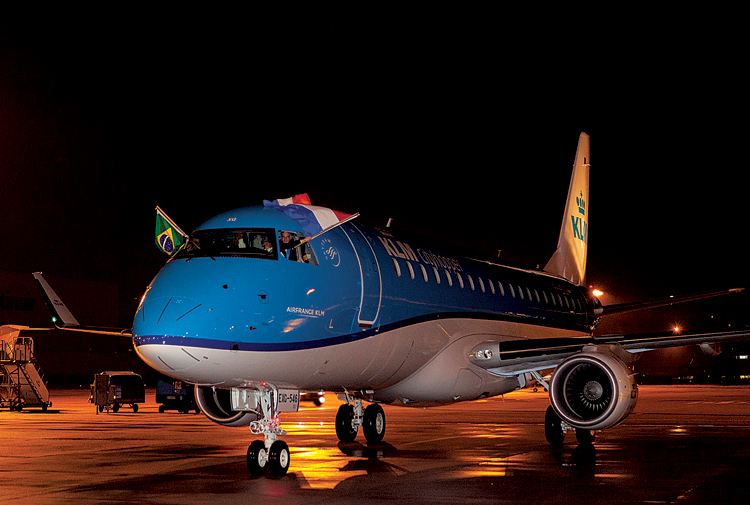 Of the many regional airlines which crisscross Europe, KLM Cityhopper is among the favourites for the simple reason it operates to about 17 countries, flying the Embraer jets which offer ample leg room and 'no middle' seat. Connecting to some important hubs in Europe with a jet that is so convenient and efficient on such medium haul routes, KLM Cityhopper is doing well.
The KLM Group's ambition is to become Europe's most customer–centric, innovative and efficient network carrier. In its 2016 financial statement KLM said that it would invest in innovations that increase customer intimacy and improve operational performance. "We aim for lower and more flexible cost, as well as higher productivity. In addition, we strive to optimise our position as a network carrier by operating a competitive intercontinental and European network."
Growing network
Part of this ambition is intrinsic to KLM Cityhopper, which operates a large part of KLM's European network. KLM Cityhopper celebrated its 50th anniversary recently and in 2016 experienced growth on a number of levels. It added five destinations to its network and reduced turnaround times at itsr outstations, leading to lower cost per unit, higher asset utilisation and growth. The arrival of the more fuel–efficient Embraer 175 marked a new phase in the renewal of KLM Cityhopper's fleet of Fokker 70s, which will be completed late 2017.
KLM Cityhopper based at nearby Amsterdam Airport Schiphol is an affiliate of SkyTeam and operates scheduled European feeder services on behalf of KLM. The airline was established on April 1, 1991 with the merger of NLM Cityhopper and Netherlines. Following the 1991 merge in of KLM UK, NLM Cityhopper and NetherLines, KLM Cityhopper had Europe's largest fleet composition of all Fokker–built aircraft: the Fokker 50, 70 and 100. As part of KLM restructuring plans, its regional subsidiaries (including KLM UK) merged in November 2002 under the KLM Cityhopper name.
Largest Embraer operator in Europe
With travel across becoming demanding and passenger comfort coming to the fore, KLM Cityhopper, in 2008, announced its fleet renewal programme, starting with an order of up to 17 Embraer 190–100 aircraft to replace its ageing and inefficient Fokker 50 aircraft and older Fokker 100 jets. Deliveries of the Embraer jets began in 2009 and by March 2010 KLM Cityhopper had operated its last Fokker 50 flight. The carrier began to phase out its older Fokker 100 jets. Further Embraer jet orders came in 2012 and allowed KLM Cityhopper to remove the last five remaining Fokker 100 aircraft from its operation.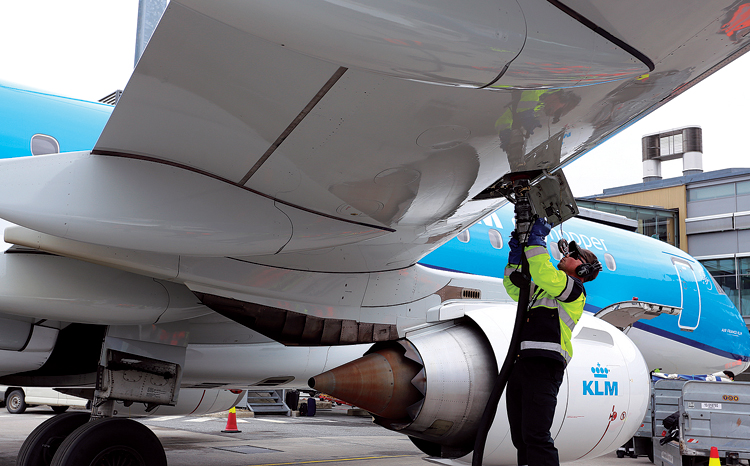 KLM launches new series of biofuel flights from Oslo to Amsterdam
In 2013, KLM Cityhopper installed brand new slim–line leather seats from British company Acro on its Fokker 70 fleet. At the same time the seat pitch was adjusted on all Fokker & Embraer aircraft to offer a 3 tier cabin product with a Business Class, Premium Economy zone and Economy zone. Also announced in 2013 was a lease agreement with BOC to take another six Embraer 190 jets, delivery from the end of the year up to April 2014. In turn, the early retirement of 7 Fokker 70 aircraft was announced. On April 30, 2014 KLM Cityhopper took delivery of its 28th Embraer 190 making it the largest operator of the type in Europe. A brand new livery was also launched on the same day with the aircraft arriving into Amsterdam sporting a new drooped cheat line and revised titles. Fondly referred to as "the smiling Dolphin design", the adapted livery was commissioned to better suit the nose profile of modern aircraft such as the Embraer.
Since 2014, KLM has started to add new "niche" short haul destinations to its network with the majority served by KLM Cityhopper. The new routes are Bilbao, Turin, Zagreb, Montpellier, Kraków & Belfast. KLM Cityhopper also increased capacity from Bristol & Leeds–Bradford – upgrading the destinations to an Embraer 190 operation instead of the Fokker 70.
"WE AIM FOR LOWER AND MORE FLEXIBLE COST, AS WELL AS HIGHER PRODUCTIVITY. IN ADDITION, WE STRIVE TO OPTIMISE OUR POSITION AS A NETWORK CARRIER BY OPERATING A COMPETITIVE INTERCONTINENTAL AND EUROPEAN NETWORK."
In 2015 – following a long tendering process with several manufacturers, KLM Cityhopper announced that the Embraer 175+ would replace the Fokker 70 fleet overall. The last Fokker 70 is scheduled to leave on October 29, 2017. The deal with Embraer saw an acceleration of the Fokker 70 withdrawal – starting in December 2015 and the arrival of two more Embraer 190 aircraft bringing that fleet to 30 in total. A total of 7 Fokker 70's have already been sold to Air Niugini. On March 20, 2016 the first Embraer 175+ was delivered, operating in tandem on Fokker 70 routes and the Embraer 190 network when required.
KLM Cityhopper has also ordered a high density 88Y configuration with slim, lightweight seats. On January 13, 2016 KLM Cityhopper confirmed 2 out of 17 options for additional aircraft from Embraer – bringing the order total for the E175 to 17. The first E175 was delivered on March 20, 2016. In March 2016, KLM Cityhopper became the largest European operator of the Embraer E170/190 jet family with 30 Embraer 190's in service as of December 2015 and an order for 17 Embraer 175+ jets with first delivery on March 20, 2016. KLM Cityhopper will operate one of the youngest regional jet fleets in the world when the Fokker 70 is retired from operation.
As of August 1, 2017, KLM Cityhopper had a fleet of 10 ERJ 170; 30 ERJ 190 and eight Fokker F70 on its last leg.
Biofuel test flight on E190
With the airline clearly focused on its regional operations and cost–effectiveness, last year it successfully flew E190 aircraft from Oslo to Amsterdam, powered by biofuel produced from camelina plant oil. Embraer has been working with industry partners and airlines for years to advance biofuel production. This particular project was organized in association with AirBP, SkyNRG and ITAKA, (the Initiative Towards Sustainable Kerosene for Aviation) a consortium dedicated to producing and testing sustainable biofuel for the airline industry.
KLM has been leading biofuel awareness in the aviation community and has its own Corporate Biofuel Programme. The airline intends to reduce CO2 emissions by 20 per cent per passenger by 2020 compared to 2011 levels by renewing its fleet, improving operating efficiency and, of course, using sustainable biofuel. For example, the E175s that KLM has acquired will generate 18 per cent fewer CO2 emissions compared to the Fokker 70s that the airline is gradually replacing.
As the flight test program started, Jorge Ramos, President of Embraer Europe, explained that "Embraer has been directly involved in several initiatives and partnerships for research and development of biofuels for aviation. These are flagship flights with KLM as they represent the first initiative Embraer has developed with aviation biofuels on regular flights. We will use the Oslo to Amsterdam E190 biofuel flights to gather data and assess the performance of the engines using a percentage of jet biofuel in comparison with fossil–based kerosene."