Sophie Mary Heath proved that her abilities equalled or exceeded that of most male pilots by setting numerous flight records, including women's seaplane and light aircraft altitude records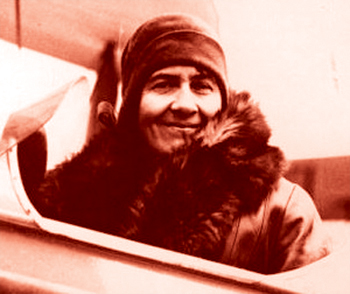 Very few Irishwomen have made a mark in aviation and Sophie Mary Heath is one of them. Indeed her exploits in aviation made her one of the best known women in the world in the mid-1920s. It was the age of aviation stalwarts such as Charles Lindbergh and Amelia Earhart; yet "Britain's Lady Lindy", as the Americans called her, regularly made front-page news.
Her greatest feat was when she became the first pilot of either gender to fly a small open-cockpit aircraft from Cape Town to London in 1928. But just when it seemed that Sophie was destined for even greater things, her meteoric rise to fame was rudely cut short by a near-fatal accident.
Sophie Catherine Theresa Mary Peirce-Evans was born on November 10, 1896 in Knockaderry, Ireland. She had a rather traumatic childhood. When she was just a year old, her father beat her mother to death with a stick. He was convicted for murder, but was also declared insane and spent the rest of his life in a lunatic asylum. Sophie, thus effectively orphaned, was brought up by relatives. As a young girl, she took to studies and sports with equal vigour and excelled in both. She even represented the United Kingdom at the 1923 Women's Olympiad and the 1926 Women's World Games where she performed creditably.
The first time Sophie experienced the miracle of flight was when she made a journey to Prague in May 1925. It changed the course of her life. In August that year, she joined the fledgling London Light Aeroplane Club, completed her first solo flight in October and gained her private pilot's or 'A' licence in November. She soon proved that her abilities equalled or exceeded that of most male pilots by setting numerous flight records, including the women's seaplane altitude and the light aircraft altitude record. She was also the first woman to undertake a parachute jump from a plane. She competed in air races, even beating her male counterparts on several occasions.
However, being a woman, she was not permitted to carry passengers since the International Commission for Air Navigation (ICAN) had, in 1924, revoked women's eligibility to hold a commercial or 'B' licence. Not one to take such blatant discrimination lying down, Sophie lobbied some influential people against it. Several male pilots with a sense of fair play supported her in this endeavour. The ICAN finally caved in and decreed that if she passed the specified tests, she would be awarded the coveted licence. She attended flight school and qualified for the licence in all respects and the ban was lifted in 1926. Thus she became the first woman in Britain and Ireland to hold a commercial pilot's licence.
Next, she needed her own aircraft and in time-honoured fashion, she found herself a rich husband who could provide the necessary finance. She married Sir James Heath in October 1927 and while they were on honeymoon in South Africa, he arranged for a light aircraft to be shipped there and reassembled. For some weeks Sophie (now Lady Mary Heath) promoted aviation in the local flying clubs. She then hit upon the idea of flying it back to London herself.
After suitable preparations, including various technical adjustments to the tiny Avro Avian and the fitment of an extra fuel tank, Sophie took off from Cape Town, South Africa, on February 12, 1928, headed for London via Cairo. However, exposed to intense heat in Southern Rhodesia (Zimbabwe) she succumbed to heatstroke and was forced to crash-land. Thankfully she was unharmed and was able to continue her flight after a few days' rest and recuperation. She acted as her own engineer and made all necessary repairs to her plane. She took her time wending her way along the length of the African continent, stopping to play tennis, go hiking and even attend the occasional welcome ball. It was a journey planned to last three weeks; but it ultimately exceeded three months. On May 17, 1928, she finally made it to London's Croydon aerodrome. As word of her arrival spread, thousands of well-wishers gathered to receive her. And she did not disappoint them – dressed as a glamour model in high heels, silk stockings, furs, pearls and a fancy hat.
Next Sophie went to America to obtain a mechanic's qualification – the first woman to do so. In July 1928, she was appointed copilot with a civil airline, KLM, the first woman to be so recognised. She also entered various air races. They were usually high-risk courses flown dodging obstacles. Just before one such race in Cleveland, Ohio, in 1929, she was trying to avoid a power pylon when her wing struck the high chimney of a factory. The light plane crashed through the factory roof and onto the floor. As her limp body was pulled out of the wreckage, most people thought she was dead. She was in a coma in hospital for several weeks with life-threatening injuries. Eventually a metal plate was inserted in her skull and she gradually recovered.
After months of treatment, Mary Heath was cleared to fly again in 1931. But this time, due to partial loss of vision in the accident, she was deprived of her commercial licence. When she sought to drown her sorrows in drink, she was declared an alcoholic. On May 09, 1939, she fell from the upper deck of a tramcar in London, sustained a severe head injury and died without regaining consciousness. Her confused state of mind and subsequent fall were later attributed to an old blood clot that was lodged in her brain. It was a tragic end to a great aviator's life.