From hawai chappals and hawai jahaaz to flight operations affected by smog, Minister of Finance Arun Jaitley has big plans for Indian aviation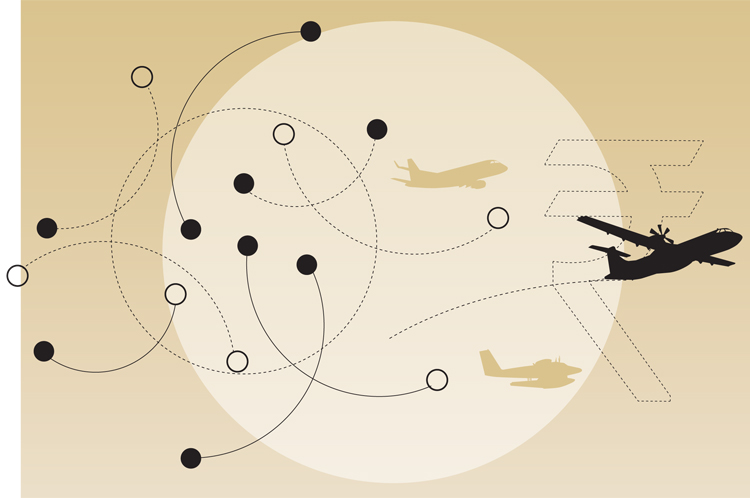 While the Minister of State for Civil Aviation Jayant Sinha had declared the Union Budget 2018-19 as a 'political document', some of the plans mentioned in the fiscal budget may bode well for Indian aviation especially for the UDAN (Ude Desh ka Aam Nagrik) scheme. From improving flight operations in poor visibility during smog in winter months to expanding airports and prepping for VVIP take-offs, many grand plans were unveiled.
Hawa Hawai?
The Minister of Finance, Arun Jaitley said while presenting the budget, "The Airport Authority of India (AAI) has 124 airports, we propose to expand airport capacity to one billion trips a year. With this step, hawai chappal wearing citizens will be able to take the hawai jahaaz." He also stated that 56 un-served airports and 31 helipads will also be connected and operations at 16 such airports have already begun. An allocation of 1,014.09 crore for the upcoming financial year was announced for reviving 50 airports and viability gap funding in the North Eastern states under the flagship regional connectivity scheme.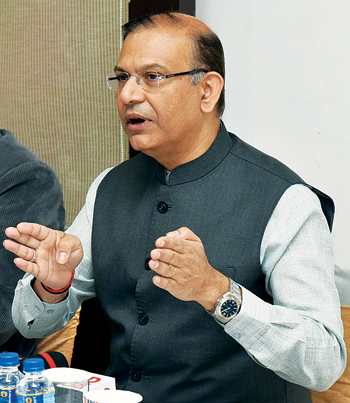 The Minister of State for Civil Aviation, Jayant Sinha addressing the Post-Budget Press Conference in New Delhi on February 2, 2018.
With the Centre for Asia Pacific Aviation (CAPA) predicting 125 million domestic fliers in 2017-18 alone, Jaitley's ambitious plan to increase airport capacity by up to five times to handle the billion trips under the new initiative, NABH Nirman, seems poised to boost the UDAN. Founder & CEO of BIS Research, Faisal Ahmad, approves of the new changes saying, "As India looks towards democratising air travel and making flying accessible and affordable for the middle class, emerging technologies such as vertical takeoff landing (VTOL) can save millions of dollars on investment on airport expansion and flight acquisition in the coming years. Leading aircraft company Boeing, has already filed a patent in June 2015 for VTOL aircraft with seating capacity of 100 passengers. Similarly, Airbus is expected to pilot test its electric and autonomous personal aircraft, Vahana, in the first quarter of 2018. The aircraft will takeoff and land vertically, much like a helicopter and then once it is in flight, the rotors can be switched to horizontal so it can be flown like a normal airplane. This will result in saving on the complex and expensive infrastructure of an airport required for operation of fixed-wing aircraft. With India becoming the fastest growing domestic aviation market globally in terms of number of domestic tickets sold, this could be a potential avenue for the Indian government to look at in terms of saving cost and fighting traffic congestion. Not just aircraft, even flying cars could be the future of transport." With Sinha also rooting for the rickshaw drones, flying cars does not seem that far-fetched.
A Shot for Seaplanes
The Minister of Finance also mentioned the need for a "necessary framework for higher investment in seaplane operations". He, however, did not elaborate about it in his speech. With SpiceJet sharing plans to buy about 100 seaplanes from Japan's Setouchi Holdings and Union Minister for Transport, Nitin Gadkari, urging the firm to manufacture seaplanes in the country following the successful trial runs, looks like a new way of flying is in the offing. Meanwhile, SpiceJet has expressed possibility of manufacturing seaplanes in West Bengal and the work on building the infrastructure has already begun. A joint team comprising officials from the Ministry of Civil Aviation, the Airports Authority of India (AAI) and the Directorate General of Civil Aviation (DGCA), will conduct a "preliminary feasibility study" to build water aerodromes for operating seaplanes. There is also a possibility of fine-tuning of the Indian aviation rules for such carriers, after the study. The Chief Minister of Andhra Pradesh, Chandrababu Naidu has also encouraged the move and asked the Minister of Civil Aviation, P. Ashok Gajapathi Raju and the SpiceJet CMD Ajay Singh to make at least five seaplanes operational within the next two months.
An allocation of 1,014.09 crore for the upcoming financial year was announced for reviving 50 airports and viability gap funding in the North Eastern states under the flagship regional connectivity scheme
Not only expanding the infrastructure, improving flight schedules also seems to be the goal with the Minister of Finance announcing a special scheme to help the states in North India affected with air pollution. The union government will assist the state governments to set up in-situ machinery for disposing of crop residue in a manner that does not adversely affect the environment. The recent smog in North India affected flight operations in a big way and this development may just get a sigh of relief for the aviation industry.
Mumbai Plays Spoilsport
However, there are some unaddressed issues in the budget. Amitabh Khosla, Country Director, India, International Air Transport Association (IATA) says, "We welcome the focus on airport infrastructure capacity announced in the budget. In our 20-year passenger forecast, IATA anticipates India will become the third largest aviation market by 2024. But this is by no means guaranteed. To make this a reality, airport capacity in India needs to be augmented and expanded quickly. IATA has earlier recommended and is supportive of leveraging AAI's balance sheet for infrastructure creation and expansion. But the big question mark on capacity and a critical area of concern for IATA, continues to be the Mumbai airport. The new international airport at Navi Mumbai airport is still a distant dream. In the meantime, Mumbai continues to fall behind in aviation activity and the state of Maharashtra is unable to fully exploit the economic potential that can be delivered by the aviation industry. We urge the government to urgently look at innovative approaches to bridge the infrastructure shortfall."