Without any big ticket aircraft deal, the industry focused more on components, maintenance, repairs and overhauls contracts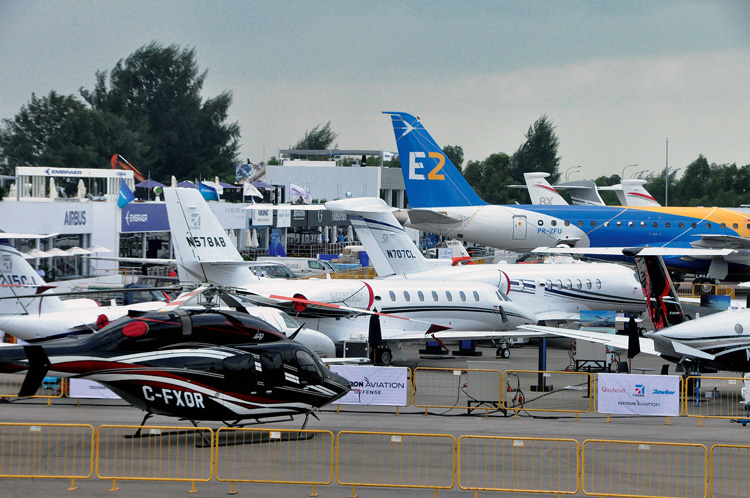 One of the leading airshows in the world, the Singapore Airshow 2018, held at the Changi exhibition centre from February 6-11, was high on component and service contracts but low on aircraft deals. The show saw the debut of What's Next @ Singapore Air show which gave opportunity to nearly 70 start-ups from nine countries, including China, India, Israel, Japan, Malaysia, Russia, Singapore, United Kingdom and the United States, to showcase their latest innovations, interact and pitch their 'business ideas and offerings to potential investors, accelerators and corporate partners.'
The highlight of the static display at the show was the Lockheed Martin's fifth generation F-35B Lightning II, the world's first supersonic short takeoff/vertical landing (STOVL) stealth aircraft. Also, Gulfstream G500 and G600 aircraft made their Asia debut.
The Managing Director of Experia Events, organisers of Singapore Airshow, Leck Chet Lam, said, "By focusing on both vital aviation-centric technologies like avionics and connected aircraft, predictive maintenance and additive manufacturing, as well as innovations in the areas of cyber security and autonomous technology, the Singapore Airshow will empower stakeholders to effectively harness the vast potential of technology innovation to shape the industry's future."
Around 1,062 companies from 50 countries showcased their products and innovations to around 50,000 trade visitors, 10 per cent more than last edition, and 287 VIP delegations. The organisers claimed that "over 70 per cent of exhibitors have committed to returning to the Singapore Airshow 2020." It attracted nearly 80,000 visitors during the public days that were treated to the flying display by the Republic of Singapore Air Force (RSAF)'s aerobatics team, "comprising of an F-15SG with a special livery to commemorate RSAF's 50th anniversary, along with two F-16Cs fighter jets." The Royal Thai Air Force (RTAF)'s JAS-39 C/D Gripen made its first appearance at the show.
SINGAPORE AIRLINE-ROLLS-ROYCE SIGNS $1.7 BILLION CONTRACT FOR TRENT ENGINE
Singapore Airlines signed a $1.7 billion contract with Rolls-Royce for supply of Trent 1000 engines for 19 Boeing 787 Dreamliner aircraft. It also includes engine support service through the Rolls-Royce's flagship TotalCare®.
"The signing comes as the airline prepares for the entry into service of its first 787-10 aircraft powered by the latest version of the Trent 1000, the Trent 1000 TEN (Thrust, Efficiency, New Technology). A full-size Trent 1000, which is on display at the Rolls-Royce stand and has been a great attraction for visitors, provided the backdrop for the signing," Rolls-Royce said in a statement.
In 2013, SIA Group had ordered for Trent 1000 engines for 50 aircraft.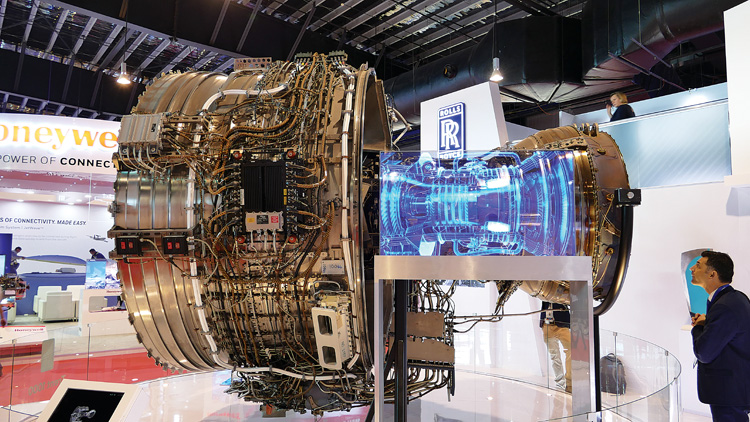 ROLLS-ROYCE TRENT 1000 ENGINE
GULFSTREAM G500 AND G600 MAKE ASIA DEBUT
The show saw the Asia debut of the flight-test aircraft of Gulfstream G500 and G600 which were part of the company's static display. "Customers based in the Asia-Pacific region require aircraft that have the range, speed and payload capacity to travel easily between world business centers. Each aircraft we're showcasing in Singapore, including the G500 and G600, is at the top of its class. We're excited to have the G500 and G600 in Asia, so customers can explore their exquisite interiors, unparalleled comfort and superior craftsmanship," said Mark Burns, President, Gulfstream.
There are more than 330 Gulfstream aircraft in service in the Asia-Pacific region, out of which, 280 of them are large-cabin.
"Following impressive regional growth since 2012, we have continued to invest in and grow our customer product support network which now includes Gulfstream Beijing, our service center; two additional Gulfstream-authorised service centers; four Gulfstream-authorised warranty facilities; and 10 field service representatives," said Derek Zimmerman, President, Gulfstream Product Support.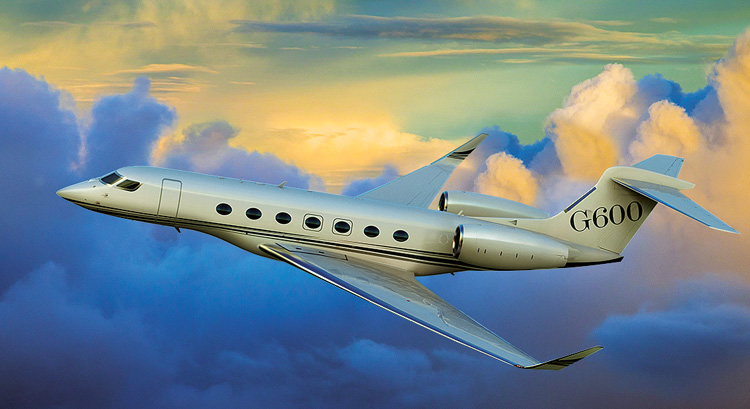 GULFSTREAM G600 MADE ITS ASIA DEBUT IN SINGA PORE AIRSHOW
LEAP ENGINE ON TRACK TO REACH ONE-MILLION FLIGHT HOURS
Speaking on the success of LEAP engine, Gaël Méheust, President and CEO of CFM International, "The fleet is on track to reach the one-million flight hour milestone after less than two years of service, which is unprecedented for a new engine. Most importantly, though, is the fact that our customers are very, very pleased with all that the engine is delivering - fuel efficiency, reliability, and industry-leading utilisation level of 96 percent of available days flown."
LEAP gives 15 per cent fuel efficiency along with reduction in CO2 emissions and reductions in engine noise. Since, the first commercial flight in August 2016, CFM International's advanced LEAP engine has logged over 600,000 flight hours. Around 210 LEAP-1A and LEAP-1B-powered aircraft are operational with 33 airlines across the globe which has logged more than 610,000 flight hours in 290,000 flight cycles.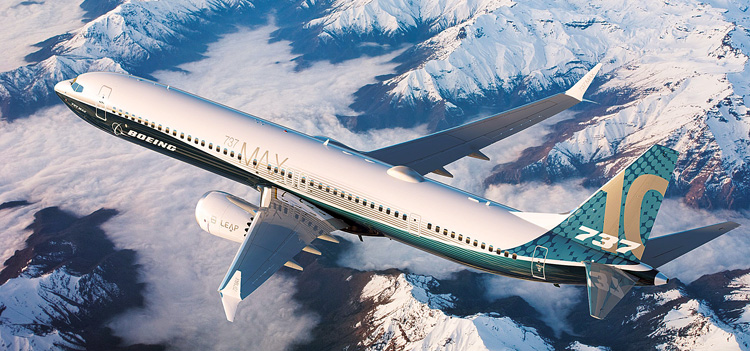 BOEING 737 MAX 10
BOEING WILL BEGIN DELIVERY OF 737 MAX 10 IN 2020
Boeing has firmed up the configuration of its 737 MAX 10 aircraft, company made the announcement during the show. The fuselage of the aircraft is 66 inches longer than the MAX 9 and will carry 230 passengers. It is expected to save around five per cent in trip cost in comparison to its rivals.
"The steps we've taken to reach this point ensure the MAX 10 will be the most efficient and profitable single-aisle airplane the market has ever seen. We're working closely with our airline customers to deliver on the performance and efficiency benefits we've promised," said Randy Tinseth, vice president of Marketing, Boeing Commercial Airplanes.
The aircraft was launched at the Paris Air Show, 2017 and Boeing has received 416 orders from 18 customers worldwide. The deliveries are expected begin in 2020.
BOEING GETS SERVICES ORDER WORTH A BILLION DOLLARS
Boeing, during the show, announced receiving services orders worth nearly one billion dollars which includes demand for spare parts, modifications, training and its aviation solution software Boeing Analytx. "Boeing is serious about helping customers optimise the performance of their fleets and reduce operational costs throughout the lifecycle. Predicted growth for aerospace services in the Asia Pacific brings opportunities to partner with local industry to understand the region's greatest needs, invest in new capabilities to meet those needs, and then bring them to market quickly," said Stan Deal, President and CEO of Boeing Global Services.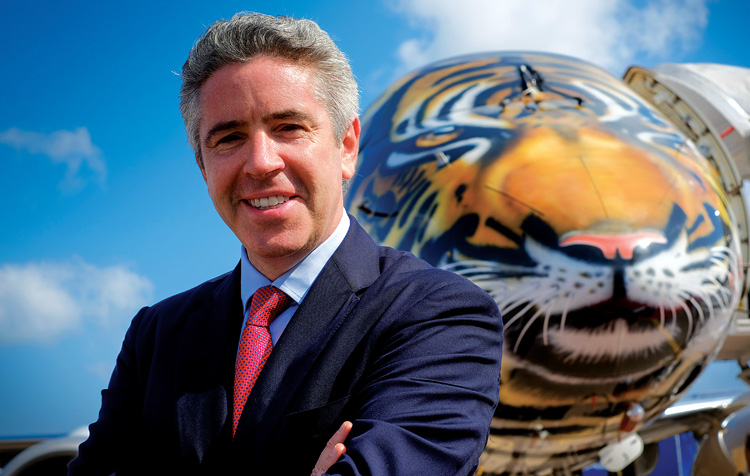 JOHN SLATTERY WITH THE PROFIT HUNTER
EMBRAER DEFENSE TO DELIVER 6 KC-390 TO SKYTECH
Embraer Defense & Security signed a Letter of Intent(LoI) with military aviation service provider SkyTech for six new multi-mission KC-390 transport aircraft. They also agreed to jointly explore opportunities in the area of training and services. "We have been following the KC-390 program since its inception and believe that it will be a game-changer in the medium-sized airlift category as well as a multi-role platform", said Paulo Mirpuri, President of SkyTech.
Speaking on the LoI, Jackson Schneider, President and CEO of Embraer Defense & Security, said, "Embraer is keen to have SkyTech as a strategic partner for some of our own planned projects, where we see them adding value and enhancements by providing various ongoing solutions to our own defense customer base."
The KC-390, a tactical transport aircraft, can carry upto 26 tons of cargo under all kinds of operational environments and can also land at unprepared runways.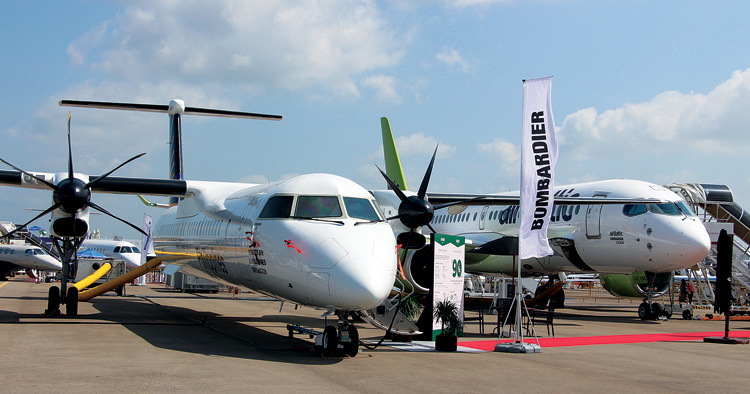 BOMBARDIER Q400 ON STATIC DISPLAY
EMBRAER EXPECTS OVER 3,000 AIRCRAFT DELIVERIES IN ASIA-PACIFIC
In a market forecast released during the show, Embraer Commercial Aviation estimates deliveries of 3,010 new aircraft of upto 150-seats to the airlines in the Asia-Pacific region over next two decades. The worldwide estimation for the segment is over 10,550 aircraft in next 20 years.
On the market forecast, César Pereira, Vice-President for Asia-Pacific, Embraer Commercial Aviation, said, "The ongoing over-capacity and intense competition in the region has prevented airlines from delivering higher profits. In this regard, the E-Jets E2 can help airlines to open new markets at the lowest possible risk, complement larger fleet types to maximise profit, and achieve sustainable growth with higher profitability."
"We continue to identify to airlines opportunities in markets that are currently underserved or not served at all. With the E2's, we can offer great operational flexibility, broaden the network reach to Tier-II and -III cities, adding frequency to build competitive advantage and access to more airports without any limitations," he added.
AIRBUS A350-1000 ON STATIC DISPLAY
SIA ENGINEERING AND GE AVIATION TO FORM JV
SIA Engineering Company Limited (SIAEC) and GE Aviation (GE) will join hands to form an engine overhaul joint venture based in Singapore. GE will hold 51 per cent of the stake in the collaboration and rest will be with SIAEC.
On the JV, Png Kim Chiang, Chief Executive Officer of SIAEC, said, "SIAEC is pleased to partner with GE to create a state-of-the-art facility in Singapore, which is strategic to broadening our capabilities on next generation aircraft. The joint venture will leverage on the joint strengths of GE's technical knowhow and SIAEC's MRO experience, to offer high quality and competitive maintenance solutions for GE engines."
"This partnership with SIAEC is a fitting extension of our growing relationship. The new joint venture will ensure our GE90 and GE9X operators have access to high-quality maintenance, repair and overhaul capabilities," said Jean M. Lydon-Rodgers, President and Chief Executive Officer of GE Aviation Services.
PAPUA NEW GUINEA RENEWS 'SMART AIRPORTS' CONTRACT WITH ROCKWELL COLLINS
To accommodate the new security requirements and initiatives of the International Air Transport Association (IATA), the National Airports Corporation (NAC) of Papua New Guinea has renewed its contract with Rockwell Collins' ARINC Airport Solutions for its Port Moresby Jacksons International Airport - country's main airport. The East Asian country has 22 airports under NAC and it plans to convert 15 of them into smart airports by 2030.
"The latest version of vMUSE will optimise business operations by providing the NAC with data analytics to monitor what's working and what needs further attention," said Yun Chong, global head of sales, Airport Systems for Rockwell Collins. "We are honored to be a part of NAC's smart airports mission and value our collaborative relationship in customising a solution for POM."
Managing Director and Chief Executive Officer of the NAC Richard Yopo said, "Our work with Rockwell Collins dates back five years. We are confident that with the deployment of these solutions, we will be able to improve the passenger experience, streamline the passenger reconciliation processes and strengthen security at the airport."
ASIA-PACIFIC HAS POTENTIAL FOR 750 TURBOPROPS - ATR
Global leader in turboprop aircraft, ATR anticipates huge demand for the company's aircraft in the Asia-Pacific region. Company foresees demand for around 750 turboprops airplanes in next 20 years in the region. This does not include China.
Asia-Pacific is ATR's largest market globally accounting for over one third of the global fleet. As of today, there are nearly 1,200 ATRs around the world, of which some 420 are in Asia-Pacific.
"Asia-Pacific is a fast-developing region of the world with strong economies, but there is a real need for greater air connectivity in the region to further drive economic growth. ATR are the best aircraft for developing new air routes and new markets. In 2017, our aircraft created 70 new routes in Asia Pacific alone, thus bringing regional connectivity to new places and expanding business opportunities for regional carriers," said ATR CEO Christian Scherer.
PIPER TO SELL 152 AIRCRAFT TO CHINA
Piper Aircraft, manufacturer of trainer and general purpose turboprop aircraft, signed a contract worth $74 million with Chinese Fan-Mei Aviation Technologies for 152 aircraft with follow on order of another 50 aircrafts. This is company's biggestever order for trainer aircraft. The deal includes 100 Archers, 50 Seminoles and one each of the Seneca and M350 aircraft.
The delivery for the order is expected to commence next month with the first aircraft going to the Fanmei Flight School in Sichuan province.
AIRBUS EXPLORING MILITARY NEO
Airbus is looking into a possibility to introduce a military version of the A320neo aircraft capable of military missions like intelligence, surveillance and reconnaissance; maritime patrol and communications. Company believes that the efficiency of these engines will increase the capability of the military aircraft. Airbus expects the conversion of the aircraft to neo will take around eight months. Company is discussing its possibility with armed forces of various Asia-Pacific nations.
AIRBUS COMPLETES FIRST FLIGHT DEMONSTRATION OF PARCEL DELIVERY DRONE 'SKYWAYS'
Airbus, on February 8, successfully completed the first demonstration flight of its parcel delivery drone 'Skyways' at the National University of Singapore (NUS). Airbus Helicopters' Skyways "took off from its dedicated maintenance centre and landed on the roof of a specially designed parcel station where a parcel was automatically loaded via a robotic arm."
In February 2016, Civil Aviation Authority of Singapore (CAAS) launched an experimental project to develop an unmanned air delivery system. In April 2017, Singapore Post (SingPost) became the local logistic partner to the project.
"Today's flight demonstration paves the way positively to our local trial service launch in the coming months. It is the result of a very strong partnership among the stakeholders involved, especially the close guidance and confidence from the CAAS," said Alain Flourens, Airbus Helicopters' Executive Vice President of Engineering and Chief Technical Officer.
Giving SingPost perspective, Alex Tan, Group Chief Information Officer, said, "The trial service that is taking off later this year will be an important step forward for SingPost in our efforts to develop solutions for the future logistics needs of Singapore and other cities of the world."
This project seeks to develop an economically viable unmanned aerial parcel delivery system for dense urban environment.
PUTTING THE ASIAN FIGHTER MARKET IN PERSPECTIVE
Singapore Airshow is important to the world's fighter manufacturers as Asia imports 24 per cent of the world's combat aircraft exports by value which is second-largest import fighter market in the world, after the Middle East. Over the past 10 years, a total of 561 jets worth $39.1 billion in 2018 dollars were exported by the world's fighter manufacturers, excluding Russian and Chinese designs. Of these, 128 aircraft worth $9.2 billion went to Asian countries, including Australia.
The Asian fighter market is also growing at a strong pace; the region's fighter order backlog is considerably larger than the historical market. Almost 200 Lockheed Martin F-35s are on order for Australia, Japan and South Korea, with Singapore likely to join the F-35 club in the next 10 years. More Korea Aerospace Industries T-50/FA-50s are on the way for Thailand, with more likely for the Philippines. Regional demand for major upgrade packages, such as the South Korean, Singaporean and Taiwanese F-16 enhancement programmes, mean further work for Western fighter primes.
With the Asia-Pacific market showing no signs of abating, both on the commercial aircraft and fighter aircraft requirements in the future, Singapore Air show seems to have a prosperous future as the favourite meeting ground for the buyers and the sellers.