The week-long biennial event, being held from July 16-22, is the perfect opportunity for veterans as well as newbies in the aerospace field. Over 1,500 trade exhibitors, 150 aircraft and 1,50,000 trade and public visitors are expected to visit the show this time.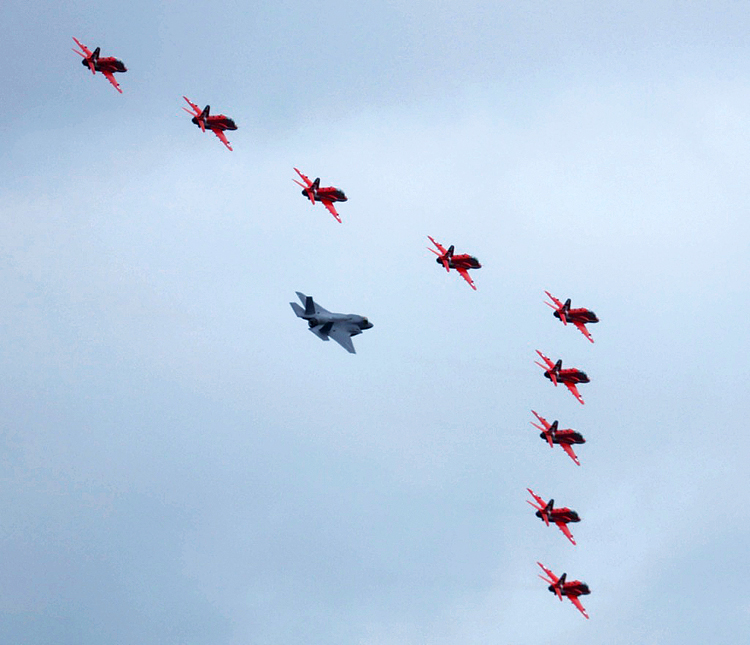 Likely to Exceed Expectations: 2018 edition of Farnborough is likely to surpass all expectations built by its previous editions. The show will witness spectacular displays like iron man in flight and flying display by red arrows (seen here with F-35).
REAL-LIFE 'IRON MAN' TO FLY AT THE FIA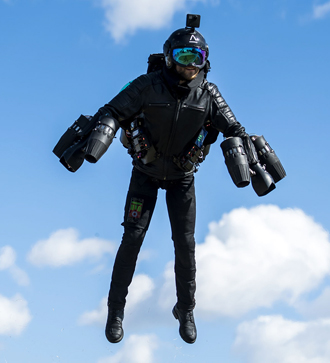 From the jet engine through to the designs for the Concorde, Farnborough is the home of pioneering spirit and this July's Farnborough International Airshow will honour the town's heritage by featuring the next leap in aviation progress: the man who defies gravity.
Real-life 'Iron Man', Richard Browning, will fly - using more horsepower than a Formula 1 car - above the runway at the Airshow on Saturday 21 and Sunday 22 July 2018.
Wearing the specially designed, lightweight Gravity Jet Suit, Richard is pioneering a new era of human flight.
The £250,000 Gravity Jet Suit is in effect, a miniature Harrier aircraft. Small jet engines are mounted on each arm and behind the back. The suit can produce 144KG of thrust to achieve vertical take-off and flight. Using his body as the airframe, Richard's arms control speed, thrust and direction.
Richard Browning, Founder and Chief Test Pilot, Gravity Industries, says: "We are delighted to be demonstrating the Gravity Jet Suit at the Farnborough International Airshow in July this year. Alongside other leading industry pioneers, Gravity will be shining a light on a whole new era of aviation now made possible."
Former City oil trader, entrepreneur and Royal Marine Reservist, Richard Browning founded Gravity Industries in April 2017. Since then the company has grown rapidly as has the patent pending Jet Suit capability. Last November he entered the Guinness World Records books for the fastest speed in a body controlled jet engine powered suit.
Group Marketing Director for Farnborough International, Andrew Pearcey says: "All aspects of flight are celebrated at the Farnborough Airshow. Richard's incredible invention is a glimpse into the future and we hope our visitors will feel incredibly excited watching him defy gravity and fly."
Though it comes second when it comes to airshow rankings, this time Farnborough International Airshow, the biennial air show of Britain, is all about firsts as a slew of aerospace brands are set to announce their latest ventures. Considered as one of the biggest events of the aviation world, with over 70,000 sqm of exhibit space, it will witness more than 1500 exhibitors from 52 countries, out of which 71 per cent of exhibitors are from outside the UK. It will have 150 aircraft at display and is expected to see a footfall of around 1,50,000.
In 2016 edition of the show, 82 of the top 100 aerospace companies participated and placed orders and commitments of around $124 billion. This time around, the six day show will also witness some of the finest vintage aircrafts, which will participate in a mock up Battle of Britain, the famous air battle of World War II. In addition, the visitors will be enthralled by the Red Bull air race, AeroSuperBatics – Stearman (Wingwalkers), Bristol Blenheim – Historic Military Planes among others.
PREVIEW
Apart from the Royal Air Force's aerobatics team flying at speeds of up to 645 mph, many developments are also looking to speed up at the event.
Aviation giant Boeing is expected to arrive with a bang with the introduction of the 797, their new small twin-aisle aircraft, at the airshow. The Boeing VP Marketing, Randy Tinseth has reportedly confirmed that the 797 design is complete but the manufacturing plan needs more work. The aviation giant is also reportedly lining up cargo jet deals following their deal to sell 24 air cargo freighters to FedEx. The company is also set to showcase their concept for a hypersonic plane that could travel from Australia to Europe in just five hours.
Meanwhile Saudia, the Saudi Arabian Airlines, is expected to order about 20 Boeing wide body aircraft at Farnborough Airshow, according to weekly business magazine Arabian Business. Though the buzz is around the airline's interest in the superjumbo A380 but the Boeing 777X aircraft is also a strong choice.
European plane maker Airbus is also expected to use this opportunity to improve their mediocre spell. The company delivered only 303 planes in the first half of 2018, 76 A320neo planes and 34 of the larger A321neo, because of issues from engine suppliers for the single-aisle A320neo. The muchawaited C Series aircraft can also foresee major developments. Airbus has a majority stake in this joint venture with Bombardier for these jets. Airbus CEO Tom Enders reportedly said "you will see the first results in the next couple of weeks as we go to Farnborough." There's also been talks about changing the C Series model names, CS100 and CS300, in accordance to Airbus' naming scheme. The production of the C Series for the American markets is set to commence in 2019 with the deliveries kicking off a year later.
In light of the recent Trump administration sanctions, Airbus is likely to be looking to bag orders at Farnborough. Especially since AirAsia has been pushing back delivery dates on its order for A330neo widebody jets to replace its older first-generation A330s. The airline is also in talks with Boeing regarding procuring the 787-10 jet as an alternative and a decision is expected later this year.
Ethiopian Airlines is also expected to narrow down on possible orders for Boeing 787 Dreamliner and smaller CSeries or Embraer E2 jets at the Farnborough air show as confirmed by the airline's chief executive Tewolde Gebremariam to Reuters.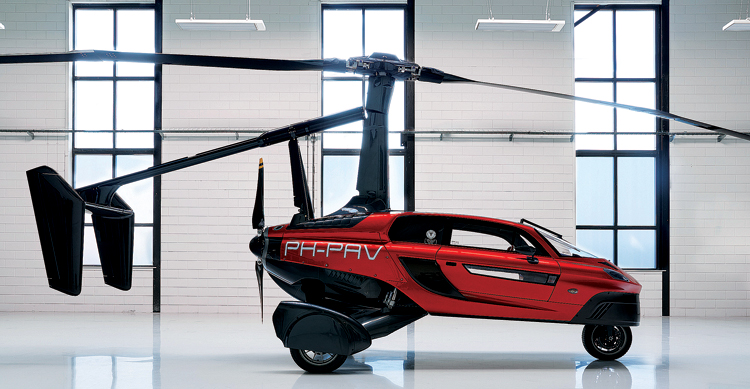 Pal-V Liberty: World's first production flying car will be on display at the airshow and is touted to be the star attraction
Bombardier will also showcase a CRJ900 painted in Delta Air Lines' colours and equipped with the new Atmosphere cabin. The jet is among the 20 CRJ900s ordered by the airline, making Delta Airlines the first to receive an Atmosphere-equipped CRJ. So far, a mock-up of the new cabin has been public. The latest model has overhead bins on one side that are 50 per cent bigger than previous first-class cabin and also has a one-by-two seat layout. The bins in the economy class are also 40 per cent larger. The new cabin has a larger entranceway and includes a wheelchair-accessible lavatory apart from translucent cabin dividers, LED lights and in-seat electric power.
Talking about bigger cabins, Qatar Executive, the private aircraft charter division of Qatar Airways will also debut its Gulfstream G500. The jet is the first unit from a 2014 order for 30 Gulfstream business jets, including the larger, longer range model G600 and the flagship G650ER.
FLYING IN A DIFFERENT LEAGUE
Pal-V Liberty, world's first production flying car will also be on display at the airshow and is touted to be the star attraction. In development since 2001 by the Dutch company Pal V, Liberty is a threewheeled automobile that converts into a two-seat gyroplane within 10 minutes.
Farnborough Airshow is known for showcasing an excellent mix of commercial jets, cargo planes, fighter jets, military transport aircraft and UAVs
According to luxury lifestyle magazine Robb Report, the Liberty will be cleared for takeoff by global aviation and transportation authorities by 2020, and the deliveries will begin shortly thereafter. It is available in two models: the fully loaded Liberty Pioneer Edition and the base model Liberty Sport. The magazine reports "a maximum speed of just under 100 mph in driving mode and a zero-to-60-mph time of less than 9 seconds. In flying mode, both will have a high cruising speed of nearly 100 mph and a range of about 250 miles with two people aboard and 310 miles with just a pilot. Pal-V recommends a runway—paved or level grass—of at least 900 feet for takeoff and a 100-foot strip for landing."
The real-life Iron Man, Richard Browning, will also jet in Farnborough. Browning will be flying above the runway in a jet suit that can produce 144KG of thrust. The suit is made from small jet engines that are mounted on each arm and behind the back.
RUSSIA TO GIVE A MISS
Amidst the military sanction on Russia, Russian military aviation companies have decided not to attend the show. According to Russian media, the Roscosmos, Russian State Corporation for space, will not attend the show. Another Russian conglomerate with significant interest in military Rostec, reportedly, is not participating in the show. The exhibitor list of the show enlists only two companies, Russian Commercial Aircraft and Metallurgica Electrostal Plant. The move is being attributed to the ban imposed on Russian companies from exhibiting military equipment.
US TO PROMOTE 'BUY AMERICA'
With an objective to increase the American exports, the Trump administration is sending an official delegation to the show with a mandate to promote the concept of 'Buy American' in the military domain. Reportedly, the delegation will be led by White House trade adviser Peter Navarro. A similar team was also sent during the Singapore Airshow.
BOEING TO SHOW ITS BEST FOUR
This edition of the show will witness Boeing (defence) participating with four aircraft, two each from fixed and rotary wing. With an equal mix of transport and commercial aircraft, the company is showcasing AH-64 Apache – the world's most advanced multi-role combat helicopter along with CH-47 a twin rotor advanced multi-mission helicopter. On the fixed wing side, the visitors will see the F-15 EAGLE a twin-engine, all weather air superiority fighter that is the backbone for the US Air Force's air superiority and homeland defense missions. On the military transport side, Boeing will have C-17 Globemaster III A highwing, four-engine, T-tailed military transport aircraft, the multi-service C-17 can carry large equipment, supplies and troops directly to small airfields in harsh terrain anywhere in the world.
BAE SHOWCASING TECHNOLOGY, PRODUCTS AND SERVICES
British defence and aviation giant, BAE Systems will showcase number of products including the Eurofighter Typhoon, fourth-generation multirole fighters, to advanced electronic systems. The company is showcasing three kinds of helmet-mounted display – Striker® II, Digital Light Engine and LiteHUD®.
The electronic product portfolio for the show includes Advanced Precision Kill Weapon System guidance kit which transforms an unguided rocket into a precision-guided rocket; Advanced Threat Infrared Countermeasure (ATIRCM) system, US Army standard for directable laser-based countermeasure systems, protects aircrafts against a variety of advanced infrared threats; Common Missile Warning System (CMWS) – combatproven missile warning and hostile fire detection for rotary-wing and fixed-wing aircraft; Digital Electronic Warfare System (DEWS) – protects new and legacy aircraft by providing radar warning, situational awareness, offensive targeting support and selfprotection, among others.
In the air systems, Eurofighter Typhoon – the main strike aircraft of many of the European nations, Advanced Jet Trainer Hawk – considered as world's most successful and proven military aircraft trainer with more than 1,000 aircraft ordered to date.
In addition, BAE will put on show their capability in the arena of applied intelligence which includes Cyber Capability, Threat Intelligence, Open Source Collection and Analysis, Smart Device Monitoring and Advanced Security Operations Centres.
IT TO SHOWCASE FLIGHT-CRITICAL COMPONENT
ITT, with its portfolio of innovative technologies engineered to the requirements of the aircraft manufacturers. As per the ITT, these solutions ensure efficient, reliable operation of critical systems and enhance the in-flight experience for passengers and crew. "At ITT, we enable the next generation of flight by looking for unexpected ways to solve the complex application challenges of today's modern aircraft," said Farrokh Batliwala, President of ITT's Connect and Control Technologies business. "Partnering closely with our customers' engineering teams and leveraging the diversity of our product portfolio, we are able to deliver innovative, dependable solutions that meet our customers' requirements for reliability, performance, quality and safety. We look forward to showcasing our array of innovative, proven solutions at the Farnborough International Airshow."
RAFAEL TO SHOW ANTI-DRONE CAPABILITY
Rafael, a pioneer in air defence systems from detection to interception, is participating with its wide range of systems including, munition, electro-optics systems, anti-drone systems and air defence systems.
In what could be one of the most sought after capabilities in the show, Rafael will present Drone Dome – an Innovative end-to-end system designed to provide effective airspace defense against hostile drones – which has 360° circular coverage and is designed to detect, track, and neutralize drones either by jamming their communication or destroying them using a laser beam.
In light of the recent Trump administration sanctions, Airbus is likely to be looking to bag orders at Farnborough
In air-to-ground, it will showcase Spice Family (2000, 1000, 250) – stand-off air-to-ground gliding bombs based on Rafael's unique scene-matching technology for precise hits at ranges of up to 100 km. In electro-optics, the company will have a new advanced air space monitoring system called SKYSPOTTER which is armed Advanced EO sensor for real-time airspace monitoring, early detection and accurate tracking of aerial objects, including drones, aircraft, UAV's, etc. When connected to Rafael's Drone Dome, the integrated system also enables interception of the targets, using a high-power laser beam.
In addition it will have LITENING 5 – Multi-spectral airborne targeting pod for targeting and RECCELITE XR – New generation, day/night electro-optical tactical reconnaissance pod for real-time imagery collection and data transfer. It will also have MIC4AD – Advanced, unified, integrated Air Defense Command & Control system.
SAAB TO UNVEIL NEW RBS15 GUNGNIR
Swedish defence and aviation leader, Saab will display full scale replica of Gripen E, a single engine fighter designed "for today and tomorrow" alongside the new RBS15 Gungnir antiship missile system, which is being unveiled at Farnborough. It also showcase Gripen E flight demonstrator along with other demo stations of electronic warfare, air and ground based surveillance and command and control.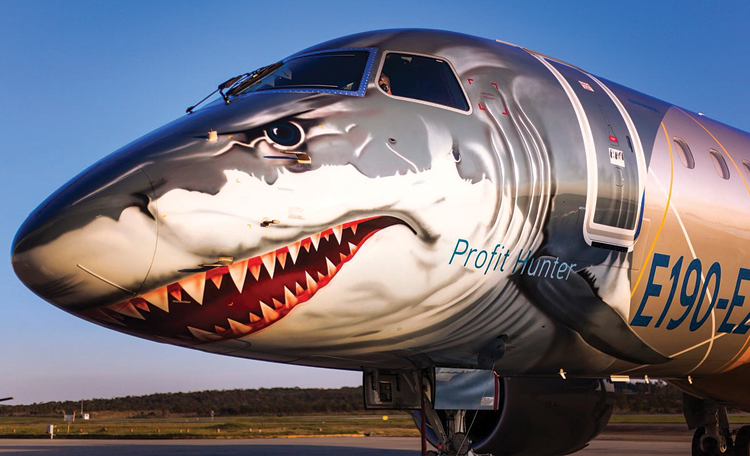 Out of Box Portrayal: Eagle, Tiger and now Shark – part of imagery campaign by Embraer for its E2 Series will create buzz yet again
"The E190-E2 is hunting for profits - this time as a shark! The jet has a stunning image of a shark painted on the front. See it at F'boro!" —John S. Slattery, President & CEO, Embraer Commercial Aviation
Company will brief reporters on Gripen E, RBS15 Gungnir and GlobalEye, airborne early warning aircraft which had its first flight earlier this year. It provides air, maritime and ground surveillance in a single solution. It combines a new extended range radar with the ultra-long range Global 6000 jet aircraft from Bombardier.
EMBRAER SHOWCASE KC-390
Following the announcement of Boeing-Embraer Memorandum of Understanding, on July 5, 2018, to form a strategic partnership which includes joint investments in the global marketing of the KC-390, Embraer will bring the military transport and aerial refueling aircraft to the show. Embraer which is celebrating its golden jubilee is one of the spotlight exhibitors of the show.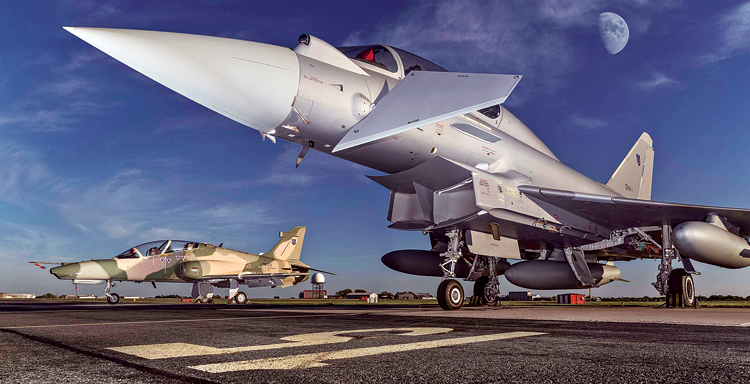 Proven Capability: Eurofighter Typhoon and Advanced Jet Trainer Hawk will be on display at the airshow
According to company, KC-390 is a new generation multimission aircraft which combines highly flexible platform with the lowest life cycle cost in the medium airlift market. The KC-390 is capable of transporting and launching cargo and troops and performing a wide array of missions: medical evacuation, search and rescue, humanitarian search and rescue, humanitarian aerial refueling (fighters and helicopters), aerial firefighting and assistance.
FN HERSTAL WILL BRING NEW AIRBORNE DIGITAL SUITE
Belgium-based FN Herstal, global firearms major, will introduce its newly developed comprehensive Airborne Digital Suite to meet challenging market demands and expectations on integrating machine guns into modern platforms. The suite will provide the highest level of operational capability and is fully in line with company's strategy to further develop its customisable integrated weapon systems for airborne applications.
The system is comprised of three interconnected component a head-up display, armament management system and a selfcontained fixed-forward pod system, featuring the well-known .50 cal machine gun.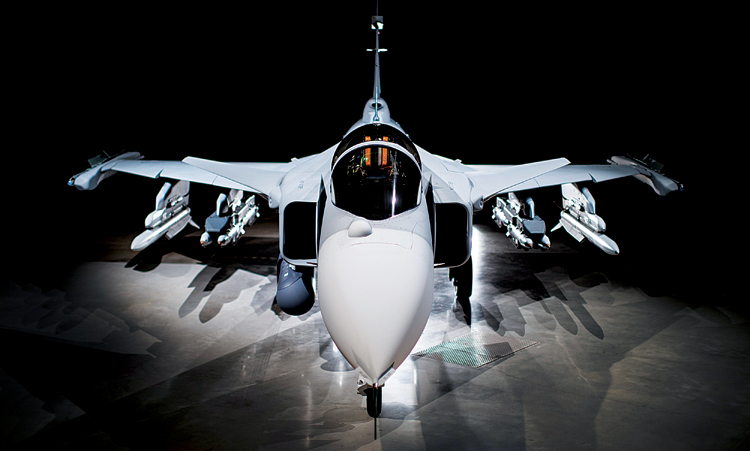 Gripen E flight demonstrator will be on display at the airshow
Farnborough Airshow (FIA) is known for showcasing an excellent mix of commercial jets, cargo planes, fighter jets, military transport aircraft and UAVs to the latest aviation technologies. This year, from July 16-22, industry, users and members of the public will gather to view the latest in this eclectic combine of aircraft and aerospace technologies.
VINTAGE AIRCRAFT DISPLAY
Many historic military aircraft will be on display this year. A Supermarine Spitfire, which made its first flight in 1936 and the Lockheed P-38 Lightning, production of which ceased in 1945 are just some of the mentions that visitors can look forward to seeing at the show.
FLYING DISPLAYS
F-35 flyover
One of the highlights of the show is a flyover by the US aviation major Lockheed Martin designed and manufactured, RAF's F-35 Joint Strike Fighter, one of the only two fully operational fifth-generation stealth aircraft of the world. The current restrictions on aerobatics will apply. A spokesperson for FIA said while the Red Arrows will conduct a fly past, there will be no aerobatics this year.
TECHNOLOGY AND INNOVATION EVENTS
Aerospace 4.0
A host of companies will demonstrate how they can incorporate digital technologies into aerospace manufacturing. Concepts such as big data, 3D printing, mobile and edge computing, augmented reality, machine learning, and the internet of things (IoT) to make production cheaper will be addressed. Aerospace 4.0 will have a dedicated exhibition hall showcasing hundreds of innovative products and additions throughout the week.
Cargo Village
For the first time, a Cargo Village will be set up at the Farnborough Airshow as a dedicated static display area with around 20 exhibitors to carry out demonstrations and showcase capabilities in the air cargo sector. It will also host the 'New Routes to Market – The Future of Unmanned Aircraft' panel discussion.