Not so long ago, very light jets (VLJs) were a buzzword in the aviation world as plane manufacturers saw the huge potential for small, efficient, and simple jets. With an impressive combination of range, economy, load-carrying capability, comfort and price, VLJ offer a lot of bang for the buck. Here are some of the excellent very light jets available in the market today.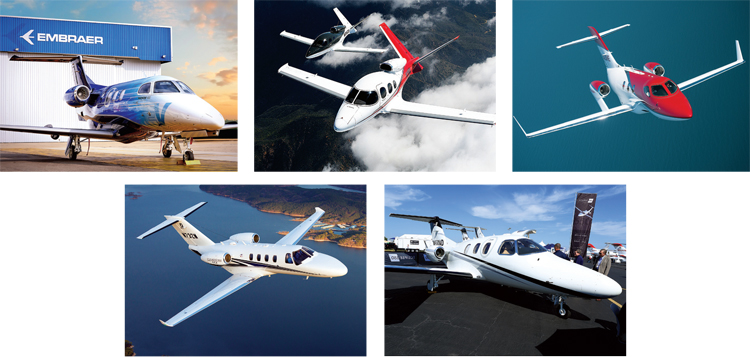 Choice Unlimited: (top) Embraer Phenom 100 EV, Cirrus Vision Jet, HondaJet; (above) Cessna Citation M2 and Eclipse 550.
As the world is becoming more and more connected, there is an increasing need for private jets for high net worth individuals to travel distances. There is a growing demand for business jets and more and more people want smaller jet which can land at smaller places. This need has created a new segment of jets aircraft, the very light jet – jet powered aircraft with maximum take-off weight below 10,000 lb. With time this was expanded to include aircraft like Citation Mustang, with around 13,000 lb take-off weight.
Aircraft in this segment is just above the light personal turbo-prop and piston engine aircraft. But they provide significant advantage in terms of range, flight ceiling and speed. Following are some of the best aircraft in this segment.
PHENOM 100
The entry level executive jet from Brazilian Embraer Phenom 100, with an updated engine full authority digital engine (or electronics) control (FADEC) giving it a 400-knot cruise-speed, is one of the leaders in the category. The seven-time winner of Robb Report's Best of the Best award in its segment, it can fly up to seven passengers in its spacious cabin with a private lavatory and 70 cu ft of luggage space.
The Phenom 100EV leads the way for performance. It flies just under 1,200 nm and takes off from runways as short as 3,199 ft (975 m). With maximum mach operation at Mach 0.7, it is considered as one of the fastest jets in its category, yet still has similar operating costs to a turboprop. The aircraft can fly at a maximum altitude of 41,000 ft (12,497 m).
In June last year, the aircraft celebrated tenth anniversary of its first flight. It was certified in December 2008, when the first aircraft was delivered to a customer. Over 350 aircraft are flying in 37 countries. In July 2016, the Phenom 100 EV was introduced; delivering greater performance, especially in hotand-high operations, and the first aircraft was delivered to a customer in March 2017. It costs over $4.5 million.
HONDAJET
Since, its type certification from the Federal Aviation Administration (FAA) in 2015, HondaJet finished 2017, with 43 deliveries across the globe, as the most delivered jet in its category. Company made its first delivery in December 2015. To match the increasing demand, Honda has ramped up its production at its Greensboro, North Carolina plant to four aircraft per month. In just two years time, HondaJet is flying across the globe in Europe, Middle East, South America to China.
Designed and developed by Honda Aircraft Company, founded in 2006, is a wholly owned subsidiary of American Honda Motor Company.
In the very light business jet category, the HA-420 is emerging as a front runner. On February 8, HondaJet signed a Memorandum of Understanding (MoU) with Wijet, French air taxi company, for multiple HondaJets to upgrade its fleet. The MoU was signed during the Singapore Airshow. Wijet is expected to take delivery of its first HondaJet during the first quarter of 2018.
The HondaJet boasts of many innovations that maximises the performance of the aircraft and takes a step ahead of its peers. Digressing from the normal aluminum fuselage, the aircraft has a light but strong composite fuselage made from the combination of co-cured integral structure and honeycomb sandwich structures which increases the cabin space and fuel efficiency.
The aircraft flies at a maximum cruise speed of 422 knots (486 mph) and has a maximum altitude of 43,000 feet. The aircraft is certified for single pilot operation and can seat up to six passengers. It is priced at $4.85 million and has an NBAA IFR range of 1,223 nautical miles (1,408 miles). One of the main reasons behind its catching the fascination of the customers could be the number of innovative design features of the aircraft giving it edge over its rivals.
CIRRUS VISION JET
The seven seater, five adult and two kids, jet is product of an outcome of a vision to reimagine and reinvent the jet airplane. The Cirrus Vision Jet, in April, was awarded the 2017 Robert J. Collier Trophy for developing the world's first single engine Personal Jet™ and implementing the Cirrus Airframe Parachute System® (CAPS®) on the aircraft.
The aircraft comes with two high-resolution flight displays and is designed with three landscape touch screen controllers, in a clean and ergonomically designed cockpit, which provides detailed information to the pilot.
One of the unique features of the aircraft is its Cirrus Airframe Parachute System®-whole-airplane parachute. According to company, "The parachute system is designed to protect occupants in the event of an emergency by lowering the aircraft to the ground after deployment. CAPS revolutionised general aviation safety by providing an additional measure of safety to occupants, similar in theory to the role of seatbelts in automobiles. No other certified general aviation aircraft manufacturer in the world provides this safety feature as standard equipment."
Considered as innovation in the area of personal aviation, the aircraft, with 300 KTAS cruising speed and range of 1,200 nm, can reach up to 28,000 ft. The aircraft is priced around $2 million. Cirrus has delivered 25 of these jets to customers since its certification in late 2016.
CESSNA CITATIONJET M2
Entry level jet from the Textron family, the CitationJet M2, suitable for corporate, charter or private use, comes with advanced avionics with touch-controlled suitable for a single pilot. With a striking exterior, the aluminum airframe of the aircraft holds two FJ44 engines which give it a cruising speed of up to 400 knots with more than 1,500 nautical miles of range and a 24-minute direct climb to FL410.
The aircraft has a flexible cabin configuration which provides seats for up to seven passengers to travel in comfort with optional cabin management system. The aircraft cost over $4 million. Cessna, one of the leaders in the light jet segment, with 5,000 light jets around the world. It offers from the popular entry level Citation Mustang and Citation M2 jets, to the upgraded efficiency and comfort of the CJ3+ and the top performing CJ4. The M2 was introduced in 2013 and by 2017 nearly 150 aircraft delivered to customers around the world.
ECLIPSE 550
The only twin engine jet in below $3 million, Eclipse 550, with a max cruise of 430 mph, can fly up to six passengers to a maximum altitude of 41,000 feet. It is considered as one of the most efficient twin-engine jet on the planet. The Integrated Flight Management System (IFMS) in the aircraft acts as a virtual copilot. It features Class 3 E-charts, XM Satellite Weather and provides digital avionics with demonstrated airline reliability and systems capability. The company claims that "every aspect of the airplane has been optimised for cost reduction."
The aircraft comes with Limited Aircraft Warranty which covers all defects in material and workmanship for a period of 5 years or 1,000 hours. With the direct operating costs and fixed annual costs comes as little as $2.02 per nautical mile.
VLJS AT FARNBOROUGH AIRSHOW 2018
HondaJet isn't the only cool kid on the aviation bloc as a bevy of micro jets gear to swarm over to the Farnborough Airshow. New to the Farnborough International Airshow, the Light Aircraft Association (LAA) will demonstrate how you can make the dream of flying a reality. See the LAA members in action and take part in their interactive activities where you can put a rivet in an aircraft or help put the fabric covering on a vintage aircraft wing.
The LAA are bringing down their own static-display of home-built aircraft. Be inspired to build your own plane or hear how you can design one from scratch. If you don't fancy building a plane but want to fly, then the Light Aircraft Association will be sharing their knowledge and ideas to make flying your new hobby. New to the Farnborough International Airshow, the Light Aircraft Association (LAA) will demonstrate how you can make the dream of flying a reality.
Rolls Royce will also be repping the mini bandwagon with an interactive session that will let attendees build their own mini jet engine using aluminum engine kits comprising 9 components each. Interested groups will be taken through how the jet engine works, learn about the key components and how they perform. They will be shown how to take the engine apart into its 9 component pieces, and taken through how to build the jet engine themselves followed by an exciting competitive build-off session.
The Farnborough International Airshow 2018 is one of the biggest aviation events in the world and light jet seek to gain back their popularity with a bang and how!