The AH-64 Apache is the only combat helicopter in service with the ability to rapidly detect, classify, prioritise and engage stationary or moving enemy targets at standoff ranges in allweather conditions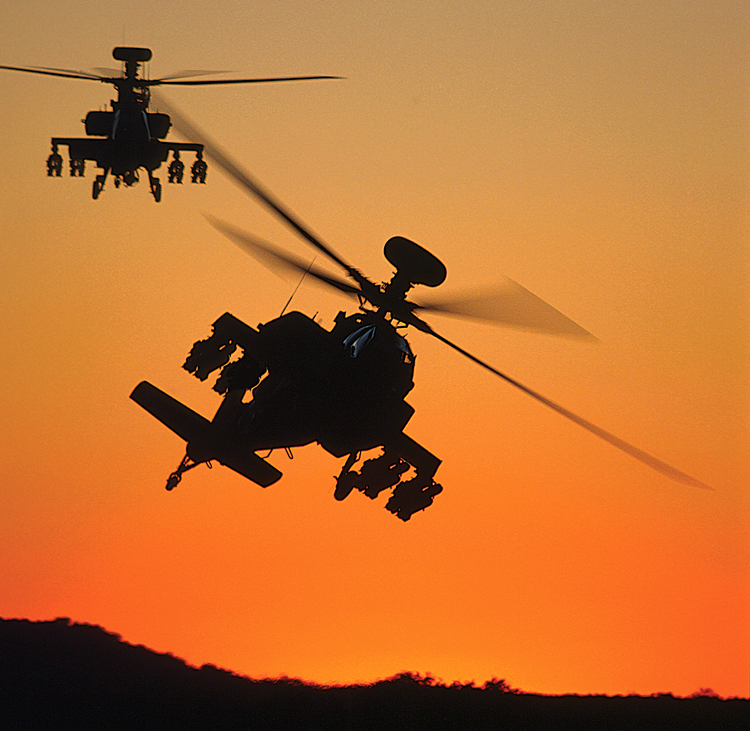 AH-64E APACHE
TECHNICAL SPECIFICATIONS
| | |
| --- | --- |
| Length | Maximum Level Flight Speed |
| Height | 15.24 ft (4.64 m) |
| Wing Span | 17.15 ft (5.227 m) |
| Primary Mission Gross Weight | 15,075 lb (6,838 kg) |
| Vertical Rate of Climb | More than 2,000 ft per minute |
| Maximum Rate of Climb | More than 2,800 ft per minute |
| Maximum Level Flight Speed | More than 150 knots (279 kmph) |
In 1976, the US Army selected the AH-64 Apache over the YAH 63 fielded by Bell Helicopter. Hughes Helicopters were initially contracted by the US Government for production of the Apache. However, this company was taken over by McDonnell Douglas in 1984. The first AH-64D Apache, a substantially upgraded version of the original AH-64 Apache, was delivered to the US Army in March 1997. AH-64 Apache attack helicopters are now produced by the Boeing Defense, Space & Security. The AH-64 Apache is also being produced under licence in the UK and is known as the AgustaWestland Apache. The AH-64 Apaches have been employed by the US Army in the conflicts in Panama, Persian Gulf, Kosovo, Afghanistan and Iraq. Israel has also deployed the Apaches in military conflicts in Lebanon and the Gaza Strip.
Like several other US Army helicopters, this platform too has been named after an American Indian tribe, the Apache. The very name in this case suggests an aggressive spirit and confidence in the capabilities of the platform as also in its other attributes such as mobility, agility, flexibility, firepower and endurance. The AH-64 Apache attack helicopter is a twinengine, four-bladed platform that is operated by two pilots. As for its operational attributes, the AH-64 Apache has a cruising speed of 284 kmph and has scored high ratings for its capability to carry heavy weapon loads and its exceptional ability to acquire both fixed and moving targets on the ground.
AH-64 APACHE QUICK FACTS
Boeing produced 937 AH-64A Apaches between 1984 and 1997. Some remain in service today, and have:
Two high-performance turbo shaft engines and maximum cruise speed of 284 kmph.
Laser, infrared, and other systems (including target acquisition designation sight/pilot night vision sensor) to locate, track, and attack targets.
A combination of laser-guided precision Hellfire missiles, 70mm rockets, and a 30mm automatic cannon with up to 1,200 high-explosive, dual-purpose ammunition rounds.
Boeing's AH-64D Apache and the AH-64D Apache Longbow have numerous enhancements, including:
Longer-range weapons accuracy and all-weather/night fighting.
Detection of objects (moving or stationary) without being detected.
Classification and threat-prioritisation of up to 128 targets in less than a minute.
Integrated sensors, networking, and digital communications for situational awareness, management of the combat arena in real time, and digital transmission of images and target locations to joint operations battlefield commanders.
The AH-64 Apache is the only combat helicopter in service with the ability to rapidly detect, classify, prioritise and engage stationary or moving enemy targets at standoff ranges in allweather conditions. The AH-64 Apache's advanced avionics suite gives combat pilots an unmatched advantage over enemy threats through the integration of the Longbow fire control radar, advanced Hellfire missiles, and an advanced avionics suite.
According to Boeing, "More than 2,300 Boeing-made Apache helicopters are operated by customers around the world since the aircraft entered production. The United States Army Apache fleet alone has accumulated more than 4.3 million flight hours, including more than 1.2 million in combat, as of January 2018. The helicopter has been fielded or selected for acquisition by the armed forces of 16 countries, including India." Other nations who have bought Apache are Egypt, Greece, Indonesia, Israel, Japan, South Korea, Kuwait, Netherlands, Qatar, Saudi Arabia, Singapore, United Arab Emirates, United Kingdom and the United States.
WHY APACHE FOR INDIA?
Considered as one of the world's best attack chopper, in league of its own, the AH-64 Apache, when inducted, will give a major flip to Indian Air Forces' (IAF) anti-armour capability. As reported earlier by SP's Aviation, the IAF has for some years been badly in need to augment if not totally replace its fleet of ageing Mi-25 and Mi-35 attack helicopters acquired from the Soviet Union over three decades ago. The IAF is now eagerly looking forward to inducting the latest model of the Apache attack helicopter designed, developed and manufactured by the US aerospace major Boeing Defense, Space & Security.
On June 12, United States approved "direct commercial sale of six (6) AH-64E Apache helicopters for an estimated cost of $930 million." The sale will come through Foreign Military Sale (FMS) route. The approval for the choppers was notified by the Defense Security Cooperation Agency (DSCA) of the US Department of defence to the US Congress. In August 2017, Indian Ministry of Defence gave its approval for the purchase. These six choppers are in addition to the 22 AH-64D Block III Apache that were approved for sale to India in 2010 for $1.4 billion.
In September 2015, India placed order for the 22 of these helicopters to Boeing which is expected to begin deliveries sometime next year. According to a DSCA press statement of June 12, the Indian government, along with helicopter, has asked for "fourteen (14) T700-GE-701D engines; four (4) AN/APG-78 Fire Control Radars; four (4) Radar Electronic Units (REU) Block III; four (4) AN/APR-48B Modernised Radar Frequency Interferometers (M-RFI's); one hundred eighty (180) AGM-114L-3 Hellfire Longbow missiles; ninety (90) AGM-114R-3 Hellfire II missiles; two hundred (200) Stinger Block I-92H missiles; seven (7) Modernized Target Acquisition Designation Sight/Pilot Night Vision Sensors (MTADS-PNVS); and fourteen (14) Embedded GPS Inertial Navigation Systems (EGI). Also included are rockets, training and dummy missiles, 30mm cannons and ammunition, transponders, simulators, communication equipment, spare and repair parts, tools and test equipment, support equipment, repair and return support, personnel training and training equipment, publications and technical documentation, US Government and contractor engineering and logistics support services, and other related elements of logistic and program support."
RECENT MILESTONES
US Army Sign $3.4 Billion Contrac t for 268 AH-64E
In March last year, US Army and Boeing "signed a five-year, $3.4 billion contract," for the "E" variant of Apache, through which "Army will receive 244 remanufactured Apaches while 24 new ones will go to the international customer."
50 AH-64E Apache helicopters for UK
In July 2016, an agreement signed was between the US and UK governments for sale of 50 AH-64E Apache to the British Army.
Remanufacture of 117 Apache Helicopters
In April, 2016, Boeing signed a a contract to remanufacture 117 AH-64D Apaches to AH-64E model. The agreement, which also includes the acquisition of Longbow Crew Trainers, logistical support and spares, carries a total contract value of about $1.5 billion. The agreement modifies an existing contact among Boeing and the Army for the full-rate production of lots 5 and 6 Apache helicopters. The Army will return 117 AH-64D Apaches to Boeing's Mesa, Arizona, production centre to be remanufactured into the AH-64E configuration. The Army followed a similar model when the AH-64A Apaches were remanufactured into AH-64Ds.
Similarly, the 22 AH-64D will come with "812 AGM-114L-3 Hellfire Longbow missiles, 542 AGM-114R-3 HELLFIRE II missiles, 245 STINGER Block I-92H missiles, and 23 Modernised Target Acquisition Designation Sight/Pilot Night Vision Sensors, rockets, training and dummy missiles, 30mm ammunition."
The stand-out features of the Block III as compared to earlier variants of the legendary platform include an all composite rotor (with a 6-inch extension), which provides a life-saving increased hover out of ground effect (HOGE) capability. The IAF has been shown that this principally translates into a 540 lbs higher payload carrying capability during HOGE. Sporting unprecedented blade tip erosion protection, the composite blades come with increase reliability of 10,000 calculated fatigue life and a 4,000 MTBR — all qualities crucial to the IAF.
MADE IN INDIA FUSELAGE
On June 1, Tata Boeing Aerospace Limited (TBAL), a joint venture between Boeing and Tata Advanced Systems Ltd (TASL), delivered the "first AH-64 Apache fuselage ahead of schedule" from its manufacturing facility in Hyderabad. The state-of-theart facility was inaugurated by Defence Minister Nirmala Sitharaman on March 1. While inaugurating, Sitharaman had said, "The manufacturing of advanced defence platforms and being integrated with the complex global supply chain will help our aerospace industry acquire technology, build local capability, provide employment and become a global exporter."
Talking on the delivery of the fuselage, Pratyush Kumar, president, Boeing India said, "This is a major step forward in Boeing and Tata Advanced Systems' continued commitment to make advanced, high quality aerostructures in India. "Our investments in technology, capability and skilling are clearly paying off as evident from the quality and speed at which this delivery milestone has been achieved. As we accelerate our efforts, we see this as a major step towards future opportunities to pursue the co-development of integrated systems in aerospace and defence."
"The delivery of the fuselage within a year of the facility being operational is a huge boost to indigenous manufacturing and also demonstrates our commitment to deliver high quality products within a short span of time," said Sukaran Singh, Managing Director and Chief Executive Officer, TASL.
According to Boeing, the facility is "spread over 14,000-square meters and employing 350 highly skilled workers, the facility will be the sole global producer of fuselages for AH-64 Apache helicopter delivered by Boeing to its global customers including the US Army. The facility will also produce secondary structures and vertical spar boxes of this multi-role combat helicopter. The delivery of the first fuselage is expected in 2018."