In 115 years of powered flight, there have been many great aviators, but Robert Hoover was considered to be one of the most accomplished of them all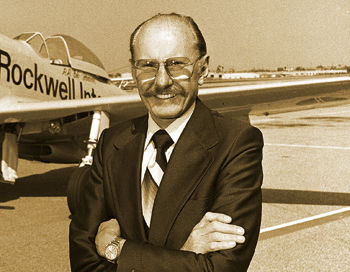 It was February 9, 1944 when Robert Hoover was flying off the coast of Southern France on a combat mission during the Second World War when his Spitfire Mk V malfunctioned. As the United States Army Air Corps pilot struggled to regain control of his aircraft, he was shot down by a Focke-Wulf Fw-190. He soon found himself in a German prison camp. He tried thrice to escape; but each time, his effort came to naught and he was severely punished. Finally after spending 16 months as a POW, the other prisoners staged a fight to divert the attention of the guards, while Hoover scaled a barbed-wire fence and made good his escape. He started walking towards Allied territory. But when he came across an abandoned Fw-190 and found it still airworthy, he commandeered it and flew towards Holland, running the gauntlet of both German and Allied fighter aircraft. He somehow made it safely to Holland and landed in a field, only to be attacked with pitchforks by some fierce farmers who assumed him to be German. Thankfully a British Army truck happened to pass that way and Hoover was whisked away to safety.
Robert "Bob" Hoover was born on January 24, 1922 in Nashville, Tennessee. He learned to fly as a teenager while working at a grocery store, paying $2 from his wages for a 15-minute lesson. His first aerial display was in a Piper J-3 Cub when he was just 16. He yearned to be a fighter pilot, but to his horror he found that flying made him terribly airsick. So he set himself to throw the plane violently around in loops, rolls and spins to accustom his stomach to the manoeuvres. By the time he commenced fighter training, he was not only comfortable, but had become the best aerobatic pilot for miles around. When the US entered World War II, Hoover's dream of combat flying was realised and he was sent to Casablanca. He flew a total of 58 missions during the War.
After the War, Hoover turned to test flying. His first assignment was in a top secret project to fly an aircraft supersonic for the very first time. Many pilots had died in the attempt, but the engineers had gradually solved most of the problems and chose close friends Chuck Yeager and Bob Hoover for the final attempt. Hoover was the backup and chase pilot for Chuck Yeager who broke the sound barrier on October 14, 1947, taking his rocket-powered Bell X-1 to a speed of approximately Mach 1.06 (1,300 kmph). In 1950, Bob Hoover joined North Aviation and Rockwell International where he remained a test pilot for another 36 years.
During his long and illustrious career, Bob Hoover flew over 300 types of aircraft and tested nearly every type of American fighter aircraft. But it was for his civil air show displays that he gained the greatest fame. In 62 years of demonstration flying, he reportedly flew more air shows for more people than anyone else in history. Most of these shows were in "Old Yeller", a P-51 Mustang fighter aircraft painted bright yellow. When he was first asked to demonstrate the capabilities of Aero Commander's Shrike Commander, he performed rolls, loops and other aerobatic manoeuvres on this staid twin-engine business aircraft. Finally, he shut down both engines and went into a terrifying dive towards the ground before pulling up at the last possible instant. He then executed an unpowered loop and an eight-point hesitation roll prior to touching down on one tyre followed gradually by the other. This became his trademark stunt. He could also demonstrate how to pour iced tea while rolling his aircraft, without spilling a drop. But he was not needlessly reckless, employing painstaking preparation and risk analysis before performing any manoeuvre.
In 115 years of powered human flight there have been many great aviators, but Robert Hoover was considered by many to be one of the most accomplished of them all. General Jimmy Doolittle called him "the greatest stick-and-rudder man who ever lived." And the Centennial of Flight edition of Air & Space/Smithsonian magazine named him as the third greatest aviator in history. Part of the reason for Hoover's remarkable lifelong popularity was that unlike the stereotypical brash and arrogant fighter pilot, he was modest, gracious and generous. He was a true gentleman who never tried to project himself, but preferred to let his plane do the talking. He once said, "I don't think I possess any skill that anyone else does not have. I have just had perhaps more of an opportunity, more of an exposure and have been fortunate to survive a lot of situations that many other were not so lucky to make it." Bob Hoover died in Los Angeles on October 25, 2016 at the ripe old age of 94.