Dispelling all speculation of a dull show due to the shadow of Brexit, Farnborough saw attendance from around 100 countries, 80,000 visitors and a record Chinese presence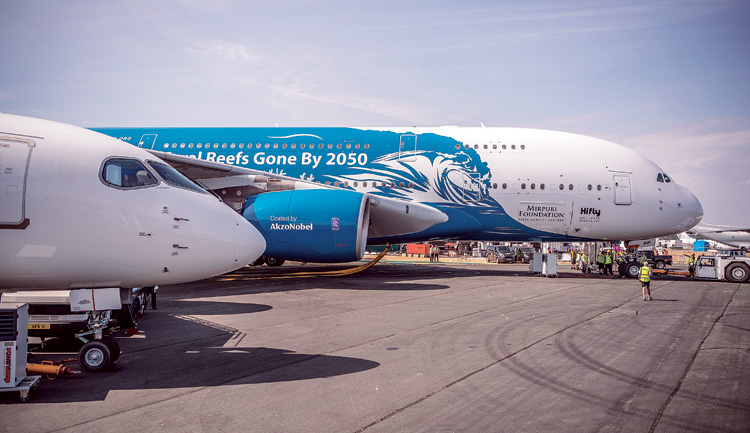 Aircraft leasing company Hi Fly opened a new chapter in A380 operations by offering the very large Airbus jetliner on wet lease with the aircraft provided to users with crew, maintenance and insurance; this A380 was flown to UK for display at Farnborough Airshow 2018
Considered as the foremost Airshow of the world, Farnborough International Airshow (FIA) 2018 witnessed some crazy billions in terms of aircraft deals. Probably for the first time in any Airshow such numbers were discussed. This is when the global aviation industry is coming out of recession. Going by the numbers, one can say that in the near future, aviation industry most certainly, is going to fly very high. According to the show release, "The Farnborough International Airshow 2018 has seen $192 billion in deals, up by $67.5 billion from the previous edition of the Airshow in 2016." This includes deals of over 1,400 commercial aircraft valued at $154 billion and around 1,432 aero engines for $21.96 billion. The numbers are staggering indeed!
Calling the numbers as a sign of the confidence of the aerospace industry, the Chief Executive of Farnborough International Airshow, Gareth Rogers said, "Going into the airshow, the industry backlog is at a record high, in excess of 14,000 aircraft on the order books. The major deals announced this week demonstrate how confident the aerospace industry is and the role of Farnborough International Airshow as an economic barometer." "The Farnborough International Airshow continues to be at the epicentre of the aerospace community and we look forward to growing this pivotal role over the next two years as we head towards the Airshow in 2020," he added.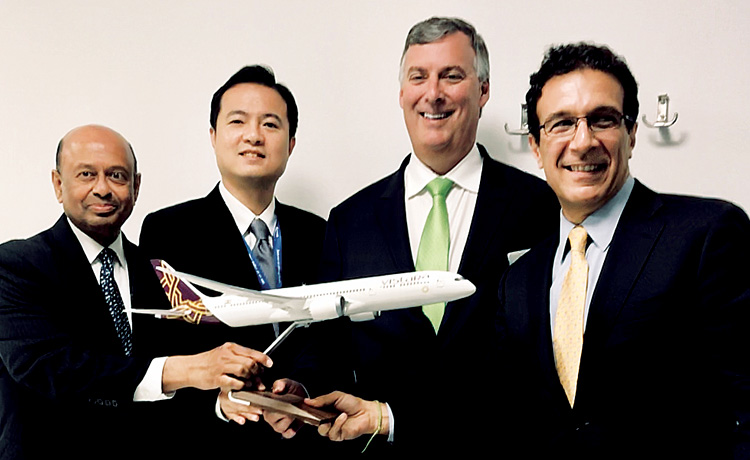 Boeing, Vistara confirm agreement for up to ten 787 Dreamliners at FIA 2018
Dispelling all speculation of a dull show due to Brexit, Farnborough saw attendance from around 100 countries and a record Chinese presence. This edition witnessed more than 80,000 visitors which was nearly ten per cent more than the previous year. "The Delegations Programme saw major growth up by 20 per cent with a total of 156 civil and military delegations. Military delegations saw a rise of 30 per cent to 133. Overall, 831 meetings took place with 201 companies," FIA said in a statement. "The airline customer asserted itself with a 163 per cent increase in attendance. Ten airline CEOs attended a roundtable event," it added.
The Airshow was inaugurated by the British Prime Minister Theresa May along with Gareth Rogers, Chief Executive of Farnborough International. In her inaugural speech, the Brirish Prime Minister said, "This is an incredibly exciting time for aerospace. Not only is there a huge growth potential, but many of the developments taking place have the potential to transform the way we fly."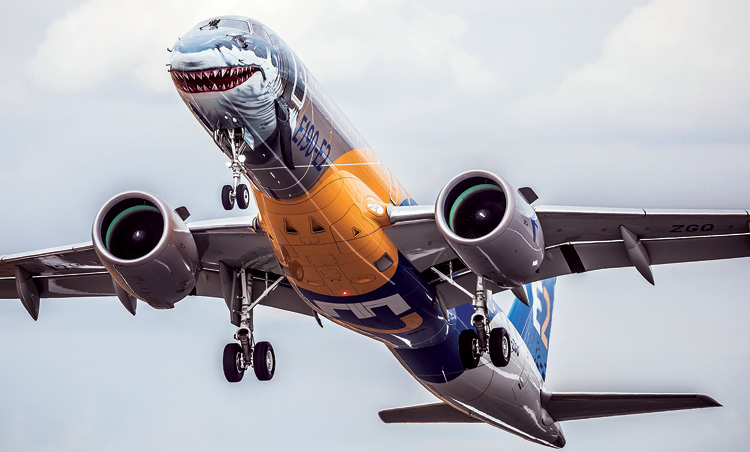 E190-E2 Shark Profit Hunter air display at Farnborough Airshow 2018
The Airshow was attended by 1500 exhibitors from 48 countries and there were 29 country pavilions, six more than in 2016. One of the highlights of the Airshow was the 70 per cent increase in Chinese presence as compared with that in 2016. In terms of display, the visitors got to see 84 aircraft on static display and 34 on flying display. Out of these displays, Mitsubishi MRJ, Airbus A330neo, Airbus A220, Red Bull Air Race, Embraer E190-E2, Embraer KC-390 and Lockheed Martin LM-100J made their debut.
THE LOCKHEED MARTIN LM-100J "FIREHERC"
During the Airshow, the US aerospace major Lockheed Martin, introduced the LM-100J "FireHerc," a civil-certified firefighting air tanker variant of the medium size airlifter C-130J Super Hercules used by 18 nations across the globe. It is an updated version of the legacy L-100 commercial Hercules freighter. "With the presence of wildfires increasing on a global scale, there is a real-time need to provide more advanced assets to protect our people, communities and the environment," said George Shultz, Vice President and General Manager, Air Mobility & Maritime Missions at Lockheed Martin. "As a variant of the C-130J Super Hercules, the FireHerc delivers a powerful combination of established performance advantages and innovative technology that will truly change the way we fight and defeat wildfires."
UNDISCLOSED LESSOR COMMITS TO 80 A320NEO AIRCRAFT
Airbus announced signing of a Memorandum of Understanding (MoU) with a leading global lessor for 80 A320neo family aircraft. The agreement was completed during the Farnborough Airshow 2018. Engine selection for the aircraft will be made at a later date. Featuring the widest single-aisle cabin in the sky, the efficient A320neo family aircraft incorporate the very latest technologies including new generation engines and Sharklets, which together deliver more than 15 per cent saving in fuel consumption and reduction in emission of CO2 from day one and 20 per cent by 2020. There will be 50 per cent reduction in noise levels as well. With more than 6,100 orders by over 100 customers, the A320neo family of airliners have captured some 60 per cent of the market.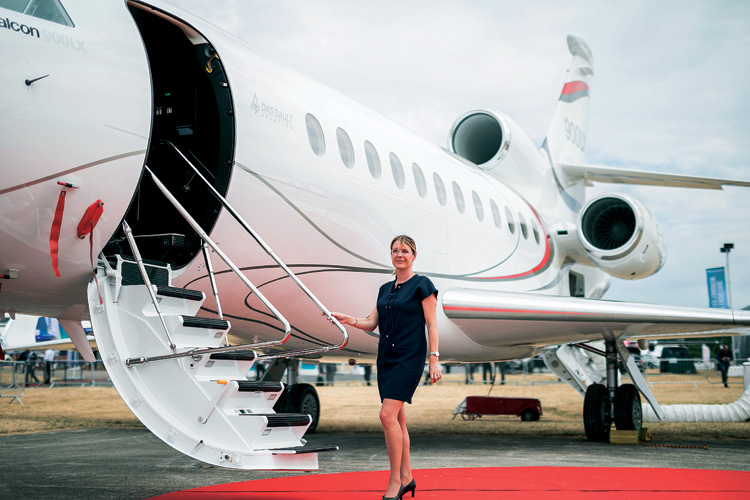 Dassault Falcon 900LX display at FIA 2018
KUWAIT'S WATANIYA AIRWAYS TO ADD 25 A320NEO AIRCRAFT
Golden Falcon Aviation, the exclusive aircraft provider of Wataniya Airways, has confirmed an order for 25 Airbus A320neo family aircraft. The order follows an earlier MoU announced at the Airshow in Dubai last year. The firm order was signed during the Farnborough International Airshow by Rakan Al-Tuwaijri, Chief Executive Officer of Golden Falcon Aviation and Eric Schulz, Airbus Chief Commercial Officer. Wataniya Airways resumed operations in July 2017 and currently operates a fleet of four A320 family aircraft serving destinations in the Middle East, Europe, Africa and Asia from its home base in Kuwait.
BOEING, SPARKCOGNITION JOIN HANDS
Boeing and artificial intelligence (AI) technology leader SparkCognition announced their collaboration to deliver unmanned aircraft system traffic management (UTM) solutions which may revolutionise air transport. They will use artificial intelligence and blockchain technologies to track unmanned air vehicles in flight and allocate traffic corridors and routes to ensure safe and secure air transportation. Through this collaboration, they will also provide a standardised programming interface to support package delivery, industrial inspection and other commercial applications. Boeing HorizonX Ventures previously invested in SparkCognition to support its development of a cognitive, datadriven analytics platform for the safety, security and reliability of data technology. "By taking a holistic approach that combines Boeing's strength in technological innovation with new business models and nontraditional partnerships, we are laying the foundation for the future commercial mobility ecosystem," said Steve Nordlund, who will lead Boeing NeXt in addition to his role as Vice President of Boeing HorizonX. "Estimated by some analysts at $3 trillion, the urban aerial mobility opportunity will lead to the creation of the largest new market in our lifetimes," said Amir Husain, founder and CEO of SparkCognition.
BOEING'S MARKET FORECAST
In its annual Commercial Market Outlook (CMO) for commercial airplanes, revealed during the Airshow, Boeing indicated that over the next 20 years, it expects rising passenger traffic and upcoming airplane retirements to drive the need for 42,730 new jets valued at $6.3 trillion. The global airline fleets will also sustain growing demand for commercial aviation services, leading to a total market opportunity of $15 trillion.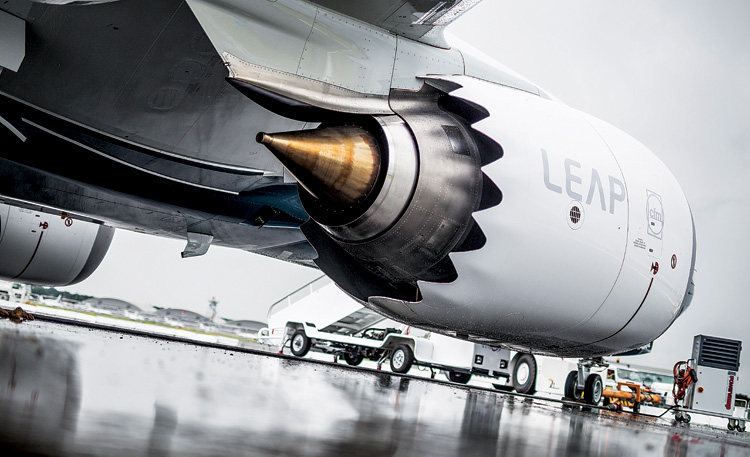 LEAP-1B exclusive powerplant for the Boeing 737 MAX
The company's annual forecast include detailed analysis of the dynamic aviation services market recognised as an industry benchmark for global air travel forecasting. The 2018 CMO projects the total number of airplanes increasing by 4.1 per cent over the previous forecast. "For the first time in years, we are seeing economies growing in every region of the world. This synchronised growth is providing greater stimulus for global air travel. We are seeing strong traffic trends not only in the emerging markets of China and India, but also in the mature markets of Europe and North America," said Randy Tinseth, Vice President of Commercial Marketing for The Boeing Company. "Along with continued traffic expansion, the data shows a big retirement wave approaching as older airplanes are phased out of the global fleet."
According to fleet data, there are more than 900 airplanes today that are over 25 years old. By the mid 2020's, more than 500 airplanes a year will reach 25 years of age – double the current rate – fueling the retirement wave. Tinseth said the data explains why 44 per cent of the new airplanes inducted by airlines will be needed to cover replacement alone, while the rest will support future growth.
EMBRAER, HELVETIC AIRWAYS SIGN LETTER OF INTENT
Embraer and Zurich-based Helvetic Airways signed a Letter of Intent (LoI) for 12 E190-E2 airliners and purchase rights for a further 12, with conversion rights to the E195-E2. If executed, the deal will be valued at S1.5 billion. The first 12 E190-E2 aircraft will begin replacing Helvetic's five Fokker 100s and seven E190s, starting in late 2019 and completing in autumn of 2021. The purchase options for a further 12 aircraft (E190-E2 or E195-E2) will enable Helvetic Airways to grow according to market opportunities and demand.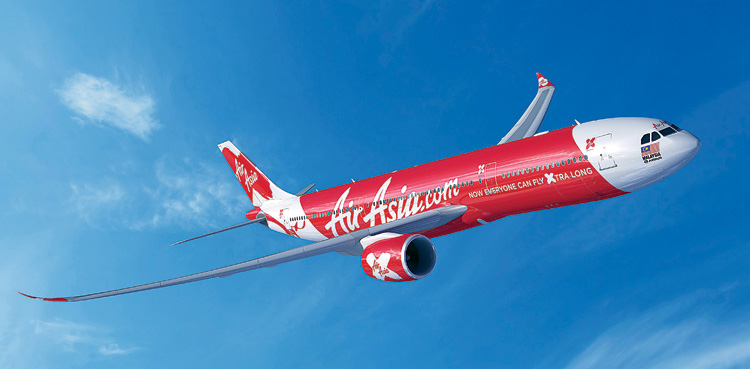 A330-900neo
KUWAIT'S WATANIYA AIRWAYS SIGNS A CONTRACT FOR THE E195-E2
In a deal that will see the Middle East's first E2 operator, Embraer, during the Airshow, signed a firm order for 10 E195-E2 airliners with Kuwaiti airline, Wataniya Airways. The contract also includes follow on order for ten more aircraft. The order has an estimated value of $1.3 billion at current list prices, with all the purchase rights being confirmed. The deliveries will begin in 2020. "It is great to welcome Wataniya Airways to the E-Jets operator family", said John Slattery, President & CEO, Embraer Commercial Aviation. "Wataniya will not only be the first E2 operator in the Middle East, but also the worldwide launch customer of our staggeredseat business class, which will establish a new level of comfort in business class for crossover narrow-body jets." The airline will configure the E195-E2 in comfortable layout of 118 seats, with 12 in business class and 106 in economy class.
EMBRAER AND REPUBLIC AIRWAYS SIGN LOI
Embraer and Republic Airways, the world's largest E-Jet operator, announced signing of an LOI for a firm order of 100 E175, with the right to convert to the E175-E2 model and purchase rights for an additional 100 E175 aircraft. If all purchase rights are exercised, the contract would a value of up to $9.3 billion based on current list prices.
Kuwait's Wataniya Airways will be the first E2 operator in the Middle East as also the worldwide launch customer for this airliner
"We are pleased to expand our partnership with Republic Airways as one of our largest and most valuable customers," said John Slattery, President & CEO, Embraer Commercial Aviation. "With a relationship spanning 20 years, we are immensely honoured to continue being an integral part of their success as they expand their fleet with additional E175s. Republic Airways is a critical component of Embraer's history and we are absolutely committed to providing a product that appeals to their customers while delivering solutions that increase profitability."
AGREEMENT BETWEEN BOEING AND GECAS
Boeing and GE Capital Aviation Services (GECAS) signed an agreement for 35 additional Boeing 737-800 Converted Freighters (CF) at the Airshow. The deal, which includes 20 firm orders and an option for 15 more, would take the order book of GECAS for Boeing 737-800BCF aircraft from 15 to 50 and enable GECAS to serve the growing express air cargo market. "This order and future commitment with Boeing, reflects the confidence GECAS has in the Boeing 737-800BCF to replace and grow the narrow body freighter market," said Richard Greener, Senior Vice President and Manager GECAS Cargo Aircraft Group. "With the total firm and option aircraft commitments now at fifty Boeing 737-800BCFs, GECAS will commit nearly $1.5 billion worth of 737-800s with conversions to the narrow body freighter sector," he added.
The new Global Services Forecast by Airbus predicts a $4.6 trillion worldwide market for commercial aircraft services in the period 2018 to 2037
The commercial aircraft leasing and financing arm of General Electric is the launch customer of the new Boeing 737-800BCF. It took delivery of the first converted jet in April and leased it to a Swedish cargo carrier. "The Boeing 737-800BCF is a great example of how Boeing's Global Services business can extend the life of an airplane with new technology and help operators reduce their operating costs," said Ihssane Mounir, Senior Vice President of Commercial Sales and Marketing for The Boeing Company. "We are delighted that GECAS intends to commit to a big repeat order for the airplane. We look forward to finalising this deal and adding to their worldclass portfolio."
LEAP ENGINES FOR AVIATION CAPITAL GROUP
CFM International and Aviation Capital Group LLC (ACG) announced the selection of LEAP-1A engines to power 10 Airbus A320neo family aircraft. ACG has also secured the option to purchase 18 additional LEAP-1A engines to power Airbus A320neo family aircraft. This firm engine order is valued at $300 million at list prices. "LEAP technology is delivering some impressive operating economics," said Khanh T. Tran, CEO of ACG. "The engines in service are providing very high daily utilisation rate and significant fuel burn savings, resulting in enhanced value for our airline customers." In addition, the two sides also announced an order for LEAP-1B engines to power 20 additional Boeing 737 MAX aircraft. CFM values the order at $528 million at list prices. "We are pleased by what we have seen of the LEAP-1B-powered Boeing 737 MAX in commercial service," said Khanh T. Tran, CEO of ACG. "Our customers like this airplane and it is proving to be a very good investment for ACG."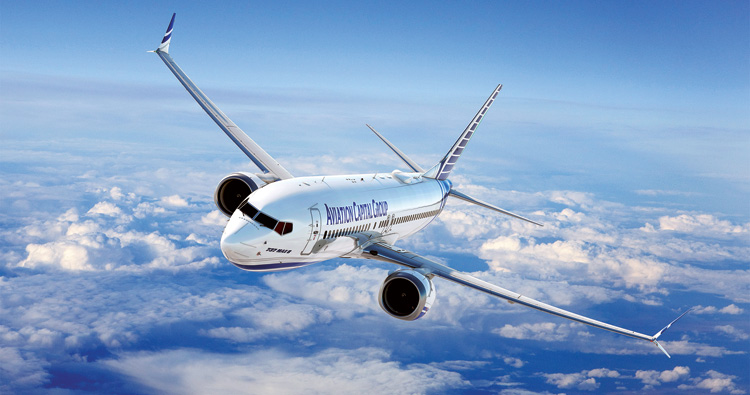 Boeing 737 MAX 8
AIRBUS A220-300 AIRCRAFT FOR FUTURE US AIRLINE
A new US airline start-up announced a commitment for 60 Airbus A220-300 aircraft with deliveries beginning in 2021. The Memorandum of Understanding was revealed at the Farnborough Air Show. This new airline is backed up by a group of experienced investors led by David Neeleman, founder of JetBlue, investor in TAP in Portugal and controlling shareholder in Azul airlines in Brazil. "After years of US airline consolidation, the conditions are improving for a new generation of US airlines to emerge, focused on passenger service and satisfaction," said David Neeleman, majority investor in the new venture. "The Airbus A220 will enable us to serve thinner routes in comfort without compromising cost, especially on longer-range missions. With deliveries starting in 2021, we will have ample time to assemble a world-class management team and another winning business model." "This decision by the startup US airline for the Airbus A220 as the platform on which to launch their new business model, is a testament to the passenger appeal and operating economics of this outstanding aircraft," said Eric Schulz, Chief Commercial Officer for Airbus. "This commitment confirms the important position the Airbus A220 aircraft now occupies in our Airbus single-aisle portfolio."
MARKET FORECAST BY AIRBUS
The new Global Services Forecast by Airbus predicts a $4.6 trillion worldwide market for commercial aircraft services in the period 2018 to 2037. The new analysis is based on a threeway market segmentation, respectively focusing on the aircraft, airline operation, and passenger experience. Aircraft-focused lifecycle services represent the largest segment of growth and include maintenance, spares pool access, tooling, technical training and system upgrades which are needed to keep the airlines aircraft flying. This market represents a cumulative value of $2.2 trillion over the 20-year period – growing from $76 billion per annum in 2018 to more than $160 billion per annum by 2037.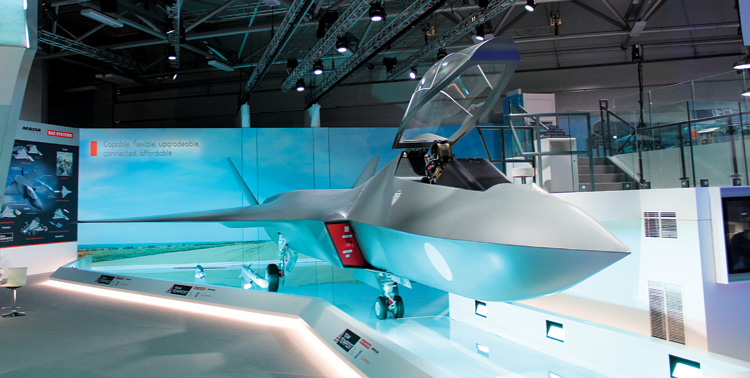 BAE Systems Tempest Fighter Jet Model
AIRBUS AT FARNBOROUGH AIRSHOW 2018
Airbus announced strong commercial aircraft business during the Farnborough Airshow 2018, with successes across its broad product portfolio – including the new A220 and A330neo families. Airbus came into the show with orders booked already in 2018 for 177 single aisle and 84 wide body airliners, complemented by a pre-show order for 60 A220-300s. During the Airshow, the company won further new business for 431 aircraft (93 firm orders and 338 MoUs). These 431 commitments comprise 60 A220-300s, 304 Airbus A320 Family aircraft, 42 Airbus A330neos and 25 Airbus A350 XWBs. Notably, the commitment for 42 airliners of the new Airbus A330neo includes both the -800 and -900 models – a strong endorsement at the Airshow for this family of airliners.
ALC PLACES ORDER FOR CFM LEAP-1B ENGINES
Air Lease Corporation (ALC) has finalised an order for additional CFM International LEAP-1B engines valued at $2.3 billion at list prices. These engines are to power 83 Boeing 737 MAX aircraft, the deal for which was announced earlier on. ALC specialises in purchasing new commercial aircraft and leasing them to its airline customers worldwide through customised leasing and financing solutions. "The LEAP-1B is performing exceptionally well in airline services," said Gaël Méheust, President and CEO of CFM International. "This continued vote of confidence from ALC signifies that they recognise the real value that the LEAP-1B delivers. Ten years after we launched this engine programme, we are proud to say that we met all of our commitment to our customers." In addition, ALC has selected CFM International's advanced LEAP-1A engine to power 34 previously announced Airbus A321neo aircraft in an order valued at just over $1.0 billion at list prices.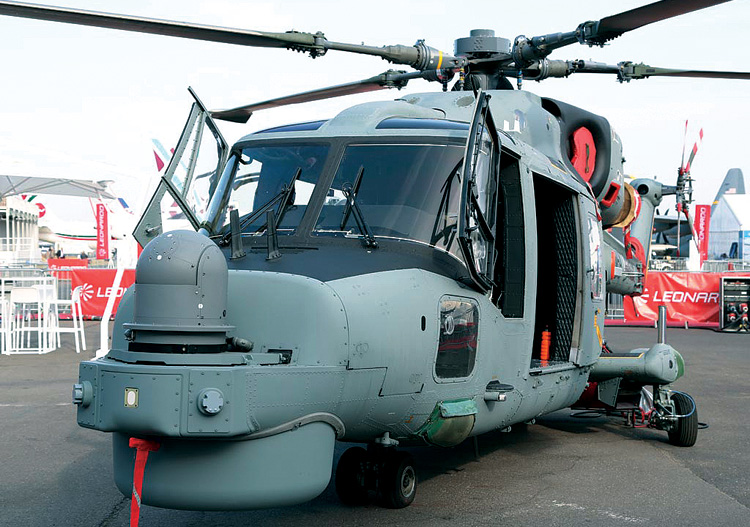 Leonardo's upgraded Brazilian Navy Super Lynx Mk21A
BOEING, VIETJET SIGN AGREEMENT FOR BOEING 737MAX AIRLINERS
Boeing and VietJet signed an MoU for an additional 100 Boeing 737 MAX airplanes. The agreement, which includes 80 Boeing 737 MAX 10s and 20 Boeing 737 MAX 8s, is valued at more than $12.7 billion at current list prices. The Vietnamese low-cost carrier will become the largest Boeing 737 MAX 10 customer in Asia once the deal is completed. VietJet plans to leverage the added capacity of the Boeing 737MAX 10 to satisfy the surging demand on high density domestic routes as well as on popular destinations throughout Asia.
With more than 6,100 orders by over 100 customers, the A320neo family of airliners have captured some 60 per cent of the market
BOEING'S COMMITMENT FOR 100 BOEING 737 MAX AIRPLANES
Boeing reached an agreement with an unidentified customer for an additional 100 Boeing 737 MAX airplanes, the company announced. The commitment carries a list-price value of $11.7 billion and will be reflected on Boeing's Orders and Deliveries website once it is finalised. "We are honoured that so many customers continue to see the unmatched value of the Boeing 737 MAX airplane family and are coming back to place repeat orders. This is a significant commitment that reflects the strong demand for the Boeing 737 MAX airliners and the health of the single-aisle market," said Ihssane Mounir, Senior Vice President of Commercial Sales & Marketing for The Boeing Company.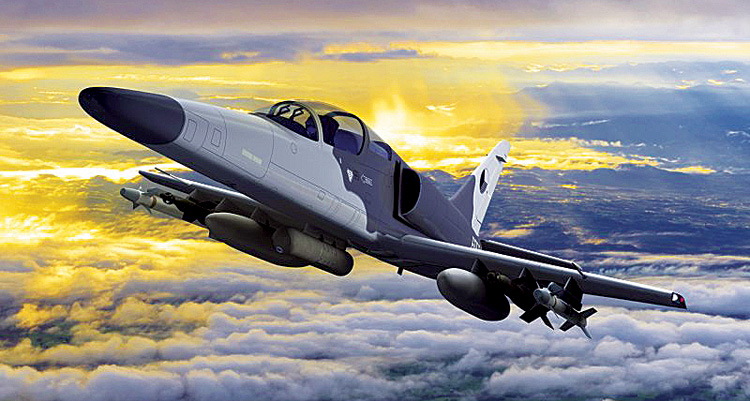 Aero Vodochody and IAI introduced multirole F/A-259 Striker aircraft
REPUBLIC AIRLINES ORDERS 100 CF34-8E-POWERED E-JETS
Republic Airlines ordered 100 CF34-8E-powered Embraer E170/175 regional jets. The engines are valued at more than $1.4 billion at list prices. "With this order, Republic Airlines will be the largest operator of CF34-8E-powered Embraer E170/175 aircraft with close to 300 aircraft, and we are proud to partner with Republic and Embraer on this significant milestone for all of us," says Chaker Chahrour, Vice President and General Manager of Global Sales & Marketing at GE Aviation.
ORDERS FOR GE AVIATION AND CFM
GE Aviation and CFM International, a 50/50 company of GE and Safran Aircraft Engines, received more than $22 billion in orders and commitments for its jet engines and services at Farnborough Airshow 2018. Orders and commitments for engines included more than 850 LEAP and CFM56 engines, 250 CF34 engines, close to 100 GE90-115B engines and around 50 GEnx engines.
BOEING BAGS ORDERS AND COMMITMENTS FOR $100 BILLION
Boeing strengthened its position as the leader of the global aerospace industry, booking historic orders and showcasing its innovation and strategy for growth at the Farnborough International Airshow 2018. At the close of the industry portion of the Airshow, Boeing announced a total of $98.4 billion in orders and commitments for commercial airplanes at list prices and $2.1 billion in commercial and defence services orders and agreements. Boeing marked an outstanding week for order capture in commercial aviation, with customers announcing 673 orders and commitments in total, reflecting a continued resurgence in demand for freighters and strong order activity for the Boeing 737 MAX and Boeing 787 passenger airplanes. Boeing secured 48 orders and commitments for the Boeing 777F, five for the Boeing 747-8F, reflecting continued strengthening in the cargo market globally. Customers also continued to demonstrate a strong preference for Boeing's passenger airplane portfolio, with 52 orders for the Boeing 787 and 564 for single-aisle Boeing 737 MAX, including a major commitment from VietJet for 100 airplanes and strong demand for the largest variant of the Boeing 737 MAX family, with 110 orders and commitments for the Boeing 737 MAX 10 airliners.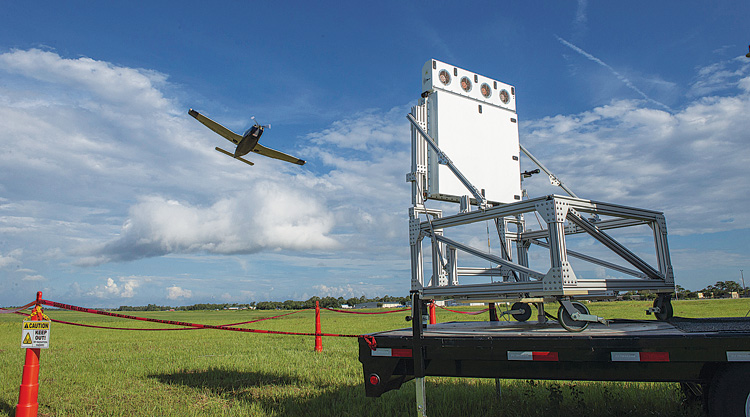 Raytheon demonstrates ATEs small x-band precision approach radar
BRITAIN UNVEILS ITS TEMPEST FIGHTER JET MODEL
It is not yet clear whether the newly unveiled Tempest would be piloted aircraft or a drone. The next generation concept aircraft which is expected to replace Euro Fighter Typhoon, to everyone's surprise, resembles the existing fifth generation fighters. The model was unveiled with UK's future Combat Air Strategy by the Ministry of Defence.
According to BAE Systems, it "is working alongside the UK Government, the Ministry of Defence, the Royal Air Force and industry partners MBDA, Rolls-Royce and Leonardo to develop technologies to support the UK's world-leading combat air capability today and into the future."
The aircraft will be designed and integrated by the BAE Systems. It's propulsion will come from Rolls Royce whereas Leonardo will contribute sensors and avionics. And MBDA will provide adavanced weapon systems. The project is expected to get GBP 2 billion of development money.
LEONARDO MAINTAINS DIRCM EXPORT DRIVE, SIGNS MIDDLE EASTERN CUSTOMER
Leonardo, during the Airshow announced that it has secured a customer in the Middle East region for its 'Miysis' Directed InfraRed Counter Measure (DIRCM) system. The product will be provided to the end user to protect aircraft from advanced heat-seeking missiles.
Over the next 20 years, Boeing expects rising passenger traffic and upcoming airplane retirements to drive the need for 42,730 new jets valued at $6.3 trillion
Over the last few years, the global demand for DIRCM systems has dramatically increased as an aircraft's standard countermeasures, such as decoy flares, are no longer able to defeat the latest generation of infrared guided missiles. The Miysis DIRCM can defeat these threats. It works by accurately locating and tracking an inbound missile and then shining a high-powered laser onto the missile's targeting sensors, confusing the missile and directing it away from the aircraft. Because of the high-level of engineering expertise required to create such technology, DIRCM systems are only available from a handful of providers. Leonardo is part of this elite group, with three decades of experience in designing and manufacturing DIRCM technology. The Miysis system contains the latest DIRCM technology and is designed and manufactured by Leonardo in the UK, meaning that it is readily exportable around the world.
LEONARDO MARKS MAJOR SUCCESS FOR OSPREY AESA RADAR
Leonardo, at the Airshow, highlighted the success of its Osprey Active Electronically Scanned Array (AESA) radar family, announcing that more than 40 Osprey radars have been ordered by eight different customers. Leonardo expects Osprey to continue to rapidly grow its market share as it remains the only radar of its type available to offer full spherical coverage with no moving parts.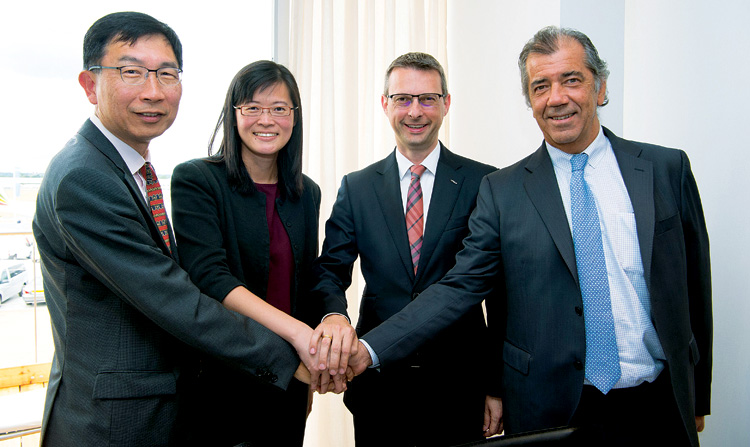 (Left-right): DSTA Chief Executive Tan Peng Yam; DSTA Director Air Systems Ngiam Le Na; Airbus Defence and Space Head of Military Aircraft Services Stephan Miegel; and Airbus Defence and Space Head of Military Aircraft, Fernando Alonso after the signing at FIA 2018.
Osprey is already on-board Norway's new Leonardo AW101 search and rescue helicopters, which have now started to be delivered, and has also been selected by the US Navy to equip its new MQ-8C Fire Scout unmanned helicopters. The reasons for the success of Osprey include exceptional mission performance and low through life costs due to its innovative AESA design.
COBHAM VIGILOX™ PILOT BREATHING SENSORS FLY ON F-18 AND T-45
Cobham, during the Airshow, announced it's support for NAVAIR F-18 and T-45 test flights with its Cobham VigilOX™ breathing sensors, as acknowledged by Rear Admiral Sara Joyner during the House Armed Services Committee Hearing in February, 2018. VigilOX™ is the first pilot worn sensing system to comprehensively capture real-time physiological, breathing gas, and cockpit environmental data during flight, which will be used to help inform conditions around unexplained physiological episodes.
Cobham, along with the NAVAIR test team and aerospace physiologists, are processing and reviewing the data, which will be correlated to reported hypoxia-like symptoms in support of root cause corrective action. This data will form the basis of a predictive algorithm that will ultimately drive oxygen equipment to automatically adjust oxygen dose as needed to protect the pilot.
SNC & IAI PARTNER TO CO-DEVELOP A TACTICAL VTOL UAS
Sierra Nevada Corporation (SNC) signed a strategic agreement with Israel Aerospace Industries (IAI) to support development of a new tactical Vertical Takeoff and Landing (VTOL) Unmanned Aircraft System (UAS) for the US market. The companies see great potential in this collaboration for special mission applications in the American tactical UAS market over the next decade as the increased use of unmanned aircraft continues to enhance the operational flexibility, safety and effectiveness of US military air operations.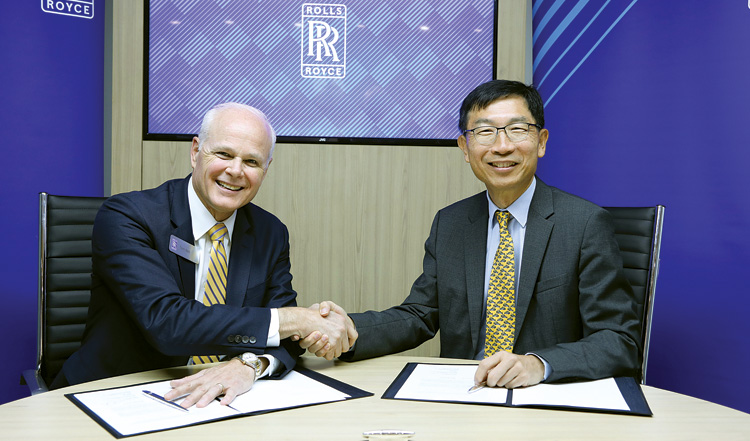 Tom Bell, Rolls-Royce President, Defence (left) and Tan Peng Yam, Chief Executive, DSTA, signed an agreement for both organisations to partner on digital service solutions on 18 July 2018 at the Farnborough Airshow, UK.
The VTOL UAS will give forward-positioned units the ability to deploy expeditionary wide-area UAS Intelligence, Surveillance Reconnaissance (ISR) assets in austere environments without needing access to a runway, while providing increased safety and reduced risk throughout the range of operations and mission locations.
This agreement builds on a five-year relationship between the two companies, combining SNC's experience developing and testing customizable UAS in various launch conditions and environments with IAI's vast expertise and capabilities to create an innovative VTOL solution for the tactical UAS market.
AERO VODOCHODY AND IAI INTRODUCED MULTIROLE F/A-259
Aero, the biggest Czech aircraft manufacturer, and Israeli Aerospace Industries, world leader in defense systems technologies, introduced cost-effective, combat proven fighter attack aircraft. The F/A-259 Striker is a multirole aircraft for close air support, counter-insurgency operations and border patrolling with interception capabilities.
The F/A-259 Striker combines the robustness and effectiveness of its successful predecessor, the L-159 Alca, with the latest advances in avionics and aircraft systems technology. Powered by the same "best in its class" Honeywell F124 engine and using benefits of a wet wing, F/A-259 Striker provides superior performance, great maneuverability, and a high range.
US ARMY SELECTS RAYTHEON FOR NEAR-TERM COUNTER-UAS MISSION
The U.S. Army will use Raytheon Company's Coyote® unmanned aircraft system and the KRFS radar (Ku band radio frequency system) to counter the escalating threat of enemy unmanned aerial vehicles in the skies above the battlefield.
Equipped with an advanced seeker and warhead, the Coyote-enabled system can successfully identify and eliminate threat UAVs when paired with an advanced electronically scanned array KRFS radar, which acquires and accurately tracks all sizes of UAS threats.
Coyote is a small, expendable and tube-launched UAS. It can be deployed from the ground, air or a ship. Coyotes can be flown individually or netted together in swarms, and they are adaptable for a variety of missions including surveillance, electronic warfare and strike.
RAYTHEON DEMO NSTRATES SMALL X-BAND PRECISION APPROACH RADAR
Raytheon Company's Intelligence, Information and Services business, during the airshow, demonstrated its Low-Power Radar's ability to provide precision approach guidance to landing aircraft from 15 nautical miles, which is five more than the current capability, to military officials representing the US Navy, Army and Air Force in Brooksville, Fla.
LPR is a small, one-meter square Active Electronically Scanned Array, or AESA, multi-mission x-band radar ideal for precision approach landings, aviation surveillance, precision weather observations, and small drone detection and tracking.
LPR's origin as a weather radar gives it an advanced dualpolarization capability that allows it to discern between heavy rain, hail, snow and sleet. It can also detect non-meteorological echoes from ground clutter, birds, and tornado debris. It does this by transmitting and receiving both horizontal and vertical polarizations, unlike most radars that only transmit and receive radio waves with a single polarization.
AIRBUS & SINGAPORE TO CO-DEVELOP DIGITAL SERVICES FOR MILITARY AIRCRAFT
Airbus and Singapore's Defence Science and Technology Agency (DSTA) have agreed upon details of the first initiative under their recently announced digital technology collaboration which pertains to the development of 3D-printing of spare parts to be initially tested on Singapore's new fleet of Airbus A330 Multi Role Tanker Transport (MRTT) aircraft. Under the terms of the implementation agreement signed at the Farnborough international Airshow 2018, Airbus Defence and Space will support DSTA in designing and certifying parts produced by additive manufacturing for the Republic of Singapore Air Force (RSAF) aircraft. Head of Military Aircraft Services at Airbus Defence and Space, Stephan Miegel, said, "It is absolutely clear that digitalisation represents the future of military aircraft services and we are now at a point where we can begin to explore the most promising techniques on operational fleets. We greatly appreciate the innovative approach of DSTA in going on this journey with us". He went on to add "Following this first agreement on 3D-printing, we have further agreed to collaborate on data analytics for predictive maintenance. The collaboration will add on to the development of the new SmartForce suite of maintenance data analytics for Airbus, launched at Farnborough."
JAPAN COAST GUARD SIGNS HCARE SMART FOR ITS H225 FLEET
Japan Coast Guard (JCG) has signed with Airbus Helicopters for an HCare Smart full-by-the-hour material management contract for a period of five years. Beginning in July 2018, the contract will cover comprehensive maintenance support, including parts-by-the-hour for JCG's H225 fleet. With the provision of all the parts needed for the maintenance of the rotorcraft in one single contract, this will yield better cost control and forecasting, as well as more efficient day-to-day management for JCG. Earlier this year, JCG had placed an additional order of H225 helicopter, bringing its overall H225 fleet to a total of ten units by March 2021. The newly-signed HCare Smart contract will also cover the ten H225s currently on order, of which five are already in service.
GA-ASI EXPANDS RELATIONSHIP WITH GKN AEROSPACE
General Atomics Aeronautical Systems (GA-ASI) and GKN Aerospace signed a Letter of Interest (LOI) to collaborate on composite tails for GA-ASI's Predator® B Remotely Piloted Aircraft (RPA). "We are pleased to expand our relationship with GKN Aerospace as part of our growing industrial collaboration team in the UK," said Linden Blue, CEO, GA-ASI. "We have seen the results of GKN Aerospace's extensive experience in advanced composite manufacturing first-hand and look forward to working with its team."
GA-ASI has been partnered with GKN Aerospace's Fokker business unit in the Netherlands since 2016 for production and sustainment of Predator B/MQ-9 Reaper® landing gear subsystems. In April of this year, GKN Aerospace Deutschland and GA-ASI entered into a Technical Assistance Agreement (TAA) to expand GA-ASI's carbon-composite manufacturing capabilities significantly by manufacturing major aero-structures for MQ-9B SkyGuardian, the latest evolution of the multi-mission Predator B, in Germany. Following the successful completion of the required technical and commercial evaluations and agreement, GA-ASI also intends to perform composite manufacturing for Predator B tail structures at GKN facilities in the UK.
DSTA AND ROLLS-ROYCE TO HARNESS DIGITAL TECHNOLOGIES FOR DEFENCE
A Memorandum of Understanding (MoU) to partner on digital service solutions was signed by Singapore's Defence Science and Technology Agency (DSTA) and Rolls-Royce at the Airshow. Collaboration between DSTA and Rolls-Royce will focus on the use of data analytics and digital twins aimed at optimising the time and resources spent on engine maintenance and thereby improving the availability and performance of the Republic of Singapore Air Force (RSAF) aircraft. These capabilities will potentially transform engine support and maintenance training. DSTA Chief Executive Tan Peng Yam said, "Rolls-Royce supports an extensive and diverse fleet of aircraft, which provides a data source to dive deeper and generate insights on aircraft engine performance for defence. Partnering Rolls-Royce to co-develop data-driven digital solutions will boost DSTA's efforts in enhancing the efficiency of aircraft maintenance and operations." Tom Bell, Rolls-Royce President, Defence, said: "We are delighted to have the opportunity to work together with DSTA to develop exciting new digital technologies that will enable us to bring greater capability to the Republic of Singapore Air Force."