In view of limited budgetary support, the IAF needs to carefully select cost-effective force multipliers that will speedily enhance its operational potential, power and reach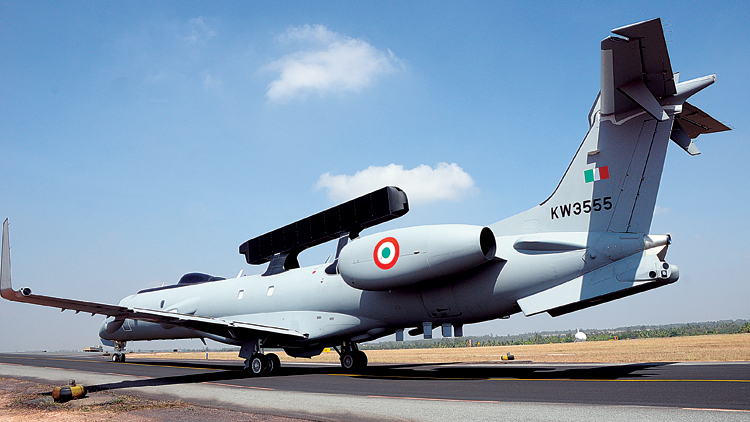 Embraer EMB 145 AEW&C
Force multipliers, as the name suggests, are a means to rapidly enhance combat potential and dramatically increase the effectiveness of a military force of given size and capability. No modern air force can operate effectively without these. However, the critical shortage of combat squadrons in the Indian Air Force (IAF) today, is tending to obscure the unsatisfactory state of its force multipliers, especially Airborne Warning and Control System (AWACS) aircraft and Flight Refuelling Aircraft (FRA).
AWACS and its somewhat less-capable cousin, Airborne Early Warning and Control (AEW&C) aircraft, fuse the radar pictures from all ground- and air-based radars so as to accurately direct strike aircraft on to enemy targets as well as vector friendly fighters to intercept incoming raids. FRAs significantly enhance the operational range of combat aircraft such as the Sukhoi Su-30 MKI and the Dassault Mirage 2000, thus increasing their punch. Both these force multipliers could help the IAF tide over deficiencies in its combat fleet to some extent. Unfortunately there are nowhere near enough of them.
INADEQUATE AWACS
The IAF needs at least 18 AWACS/AEW&C platforms to cover simultaneous operations on the Western and Northern fronts, but it has just three AWACS consisting of Israeli Phalcon systems mounted on Ilyushin Il-76TD jet transport aircraft. These advanced systems with 360-degree coverage and over 400 km detection range, were inducted in 2009-2011 under a $1.1 billion deal. The IAF is also acquiring three Netra AEW&C systems based on the Embraer ERJ 145 regional jet. Netra, developed indigenously at a cost of over 2,200 crore, has a limited surveillance zone of 240 degrees and detection range of 250 km. The first Netra was inducted into the IAF in February 2017 and the second was to be delivered in April 2018, but is yet to be done.
Looking ahead, the ambitious "AWACS-India" project, estimated to cost 5,113 crore, seeks to indigenously develop an active electronically scanned array (AESA) radar with 360-degree coverage and up to 300 km range and mount it on an Airbus A330-200 derivative of the commercial jet. However, even the first step – acquisition of the A330-200 platform – is still awaiting approval by the Cabinet Committee on Security (CCS) and thereafter the project needs at least seven years to fructify.
Meanwhile, China is well endowed with AWACS/AEW&C aircraft, having at least 26 in service already. Pakistan too has eight systems, sourced from China and Sweden. Though none of these can match the capability of the IAF's Phalcon, their sheer numbers make them a significant factor in any conflict.
TOO FEW FLIGHT REFUELLING AIRCRAFT
The IAF wants all its frontline combat jets to be capable of inflight refuelling. However, it has a pathetically small fleet of six Ilyushin Il-78M tanker aircraft that it inducted in 2003. Not only are these inadequate numerically, they are also somewhat unreliable. The IAF made two attempts spread over several years to induct new FRA. Both times the Airbus A330 Multi Role Tanker Transport (MRTT) was selected. With its internal fuel capacity of 1,11,000 kg, plus space for the carriage of 45,000 kg of cargo, the twinjet MRTT is a big improvement over the four-engine Il-78M. However, both times the negotiations stalled over pricing issues. In January 2018, the IAF issued a third Request for Information (RFI) for procuring six FRAs. Significantly, this time the IAF specified that only two-engine aircraft are eligible, which rules out the unwanted Il-78M. The Airbus A330 MRTT and the Boeing KC-46A Pegasus are now the two main contenders. The first Boeing KC-46A Pegasus was delivered to the US Air Force in January this year.
UNMANNED SURVEILLANCE
Unmanned Aerial Vehicles (UAV) for surveillance and Unmanned Combat Aerial Vehicles (UCAV) for strikes have numerous operational advantages. They also enable immense force multiplication as Israel and the US have repeatedly proved. The IAF has a small fleet of Israeli Heron, Searcher Mark II and Harop UAVs and is inducting Heron TPs, but these are inadequate. While efforts are on to produce indigenous unarmed surveillance systems, it is unlikely that an indigenous UCAV will be operational for several years. China lays special emphasis on unmanned systems and is producing a growing variety of unarmed and armed systems in large numbers.
While indigenous efforts to develop AWACS and unmanned systems need to be encouraged and expedited, the IAF cannot afford to wait indefinitely for these to materialise
A long-awaited and welcome addition to the IAF's force multipliers is a military satellite for its exclusive use. GSAT-7A, launched on December 19, 2018, is designed to enable networkcentric warfare. It will significantly boost the operational capabilities of the IAF by linking combat aircraft with ground stations, radars and other surveillance and military communication systems. It will also enable the operational control of UAVs at long distances. At present, UAVs are controlled only from the ground and airborne platforms. Satellite-linked control will increase their range, endurance and flexibility. GSAT-7A will be particularly useful if the IAF succeeds in inducting armed/unarmed General Atomics Predator-C Avenger UAVs.
India with 43 operational satellites (13 of them with some military capability) is far ahead of Pakistan in space technology, but it lags behind China. India's NavIC is a 7-satellite independent regional navigation satellite system (IRNSS) designed to provide positional information over India and 1,500 km around the Indian mainland. It has an excellent position accuracy of five metres against 20 to 30m for the GPS. It will enable IAF aircraft to execute military strikes with great precision. China is making spectacular progress in space exploration, both civilian and military. Many of its satellites are dual-use and it deliberately hides its military aspirations in space behind a thick veil of secrecy. However, independent observers believe that China already has satellite jammers and has even tested anti-satellite (ASAT) weapons against satellites in low earth orbit.
OPTIONS FOR THE IAF
In view of limited budgetary support, the IAF needs to carefully select cost-effective force multipliers that will speedily enhance its operational potential, power and reach. It is already well equipped with some force multipliers such as Electronic Warfare (EW). Most combat jets of the IAF have Airborne Self Protection Jammers (ASPJ), Radar Warning Receivers (RWR), chaff and flare cartridges to act as decoys. The IAF also has a few specialised aircraft with advanced EW equipment. However, various efforts over the last decade or so to induct low observable (stealth) aircraft that can avoid detection and engagement by hostile air defence systems, have failed. The IAF currently has no option but to await the indigenous fifth-generation stealth fighter known as the Advanced Medium Combat Aircraft (AMCA). The 24-tonne AMCA is in the preliminary design stage and is unlikely to be operational before 2035 at best.
Any force multiplier is most effective when the opponent either does not have it or cannot defend against it. Therefore, without enough force multipliers, the IAF would be highly vulnerable to its potential adversaries. It would also be unable to use its considerable offensive and defensive aircraft in an optimal manner. While indigenous efforts to develop AWACS and unmanned systems need to be encouraged and expedited, the IAF cannot afford to wait indefinitely for these to materialise. In the medium term, there is no credible alternative to acquisition from foreign sources.
The AWACS platforms currently in the IAF, are woefully insufficient to cover its area of responsibility. Therefore, efforts to purchase two additional Phalcon systems, which have apparently stalled due to cost escalation, need to be redoubled. The same goes for FRA, which are essential for the IAF's combat jets to reach China's heartland. It is unfortunate that despite the IAF having projected an urgent need for six new FRA as far back as 2006, they are nowhere in sight. Once the AWACS and FRA holdups are resolved, the IAF could turn its attention to unmanned systems and thus gradually bring its inventory of force multipliers to a satisfactory level.