Tie-ups with HAL, Mahindra and Tata aimed to give edge to the F-A/18 Super Hornet offer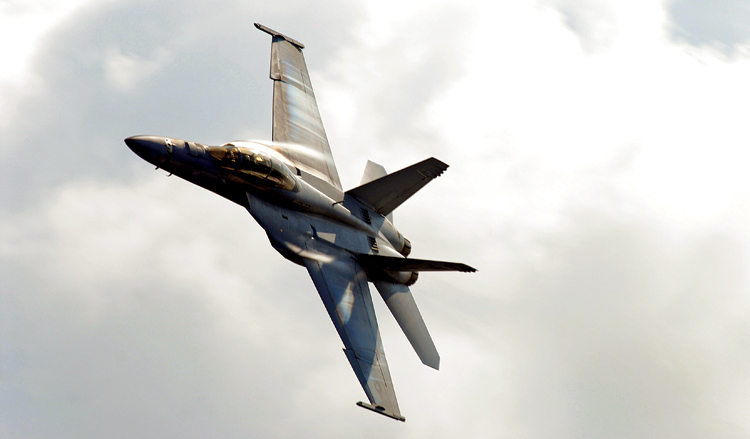 F/A-18F Super Hornet
Having bagged contracts worth almost $ 11 Million for the sale of four iconic military aircraft types to India over the last decade, Boeing is now positioning itself for the re-run of India's fighter aircraft competition, which could result in procurements of 114 aircraft worth $ 20 billion for the Indian Air Force (IAF).
The MMRCA re-run, now christened the Multi-Role Fighter Aircraft (MRFA) by the Indian Air Force, will shape the Indian Defence and Aerospace Industry over the next two decades.
Having lost out in the earlier aborted MMRCA competition for 126 fighter aircraft in which the French Dassault Aviation's Rafale was declared the winner, Boeing will field its F/A-18 Super Hornet to a new offer against a similar global competition.
The IAF is now in the process of firming up the Air Staff Quality Requirements for the MRFA after obtaining responses to its Request for Information to leading fighter manufacturers.
This procurement will be under the new Strategic Partnership Model, in which the RFP will be issued to an Indian company with financial heft and proven capability as a system of systems integrator. The company selected through a competitive process will be designated the Strategic Partner for manufacture of Fixed Wing Fighter Aircraft, and will team up with a foreign OEM selected through a parallel process to produce India's next fighter.
The Super Hornet is also being pitched for the Indian Navy's requirement for 57 deck-borne fighters. As a deck-based fighter, the Super Hornet is the world's most proven platform.
In 2018, Boeing announced a partnership with HAL and Mahindra Defence Systems for manufacturing the Super Hornet in India.
Although the Strategic Partnership Model was originally intended to create defence and aerospace complex in the private sector, the Government appears to have had a rethink and is likely to allow HAL to bid as a Strategic Partner.
"Boeing is excited to team up with India's only company that manufactures combat fighters, HAL, and Indian company that manufactures small commercial airplanes, Mahindra. This partnership brings the best of Indian public and private sectors," it had stated earlier. Boeing reckons that no private sector company would be able to compete for Strategic Partner status against HAL because of the infrastructure it has built up as a state-owned monopoly for decades, Industry watchers infer. But this advantage would accrue only if Boeing presents a winning bid. Global OEMs are awaiting more detail on the Strategic Partnership Model.
Boeing also has a collaborative agreement with Tata Advanced Systems Limited (TASL) for aerospace and defence manufacturing and potential integrated systems development opportunities, including unmanned aerial vehicles. TASL is already manufacturing aero structures for Boeing's Chinook and Apache helicopters.
Other Tata companies, Tata Advanced Materials Limited (TAML) and TAL Manufacturing Solutions (TAL), are also supplying components to Boeing. TAML has delivered power and mission equipment cabinets and auxiliary power unit door parts for the P-8I long range maritime surveillance and anti submarine warfare aircraft.
With tie-ups with what Industry watchers regard as perhaps the most credible public and private sector players in the Aerospace sector in India, Boeing has positioned itself well for the mega Indian MRFA competition.
2019 is very visible year for Boeing in India's defence acquisitions programme. The first lot of the 15 Chinook heavy lift helicopters have already arrived in India in early February. The induction of the iconic helicopter gunship, the Apache AD 64D Longbow will also commence in the IAF this summer. Deals aggregating to about $ 3 billion were signed in 2016 for acquiring 22 Apaches and 15 Chinook helicopters for the IAF.
The IAF is widely expected to avail of the options clause to buy an additional 11 Apaches and 7 Chinooks. The Indian Army too has a programme to acquire 6 Apaches.
In 2020, Boeing will commence delivery of the 4 additional P8I long range maritime reconnaisance aircraft which were ordered under the options clause of the original $2.1 billion deal for 8 aircraft in 2009. The additional four were signed for $ 1 billion.
In another development, the US on February 6 cleared the Foreign Military Sale of large aircraft infrared countermeasures (LAIRCM) self-protection suites (SPS) for retrofitment on two VVIP Boeing 777 aircraft for India. The estimated value of this deal is $ 190 million. These are missile warning and countermeasures systems.