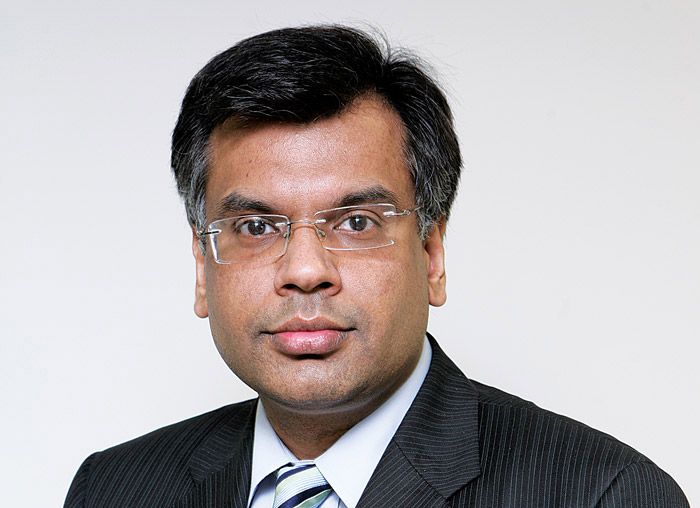 Dr Vivek Lall, Vice President of Strategy and Business Development, Lockheed Martin
Dr Vivek Lall – A rigorously evolving aerospace personality
Vivek Lall, 49, was appointed Vice President of Strategy and Business Development at Lockheed Martin in January 2018 based in Fort Worth, Texas. Lockheed Martin is the world's largest defence company.
In May 2018 he was appointed by the United States Government in a key advisory role for a two-year term to the US Cabinet Secretary, heading Department of Transportation (encompassing entities like the Federal Aviation Administration), in Washington DC which affects US and global aviation policies and technologies.
Prior to his appointment at Lockheed Martin, he was Chief Executive in charge of U.S. and International Strategic Development at General Atomics (makers of the Predator UAV's) based in San Diego. He led the path breaking agreement by the White House to release category 1 UAV's to India, a non-NATO country. From 1996-2011, Vivek held numerous marketing and engineering leadership roles with The Boeing Company in Seattle including the Airplane Performance and Propulsion Group. He was appointed as Vice President and India Country Head, Boeing Defense Space & Security in May 2007. He led a team to conclude path breaking and largest ever US-India defence deals. He oversaw multiple campaigns as well as pan India strategic industrial tieups. He also worked as an adjunct faculty member at Embry- Riddle, McConnell Air Force Base. He also served as the founding Co – Chair of the US – India Aviation Cooperation Program launched by Norman Mineta in 2005. Prior to Boeing he worked for Raytheon and conducted research with NASA Ames Research Center in various multi-disciplinary engineering fields.
Vivek earned a Bachelor of Mechanical Engineering degree from Carleton University in Canada and a Masters of Aeronautical Engineering degree from Embry-Riddle Aeronautical University in Florida. He also has his Ph.D. in Aerospace Engineering from Wichita State University in Kansas and his MBA from City University in Seattle. He has completed management and executive courses at the American Management Association in Washington DC. Vivek has been the recipient of several honours, including the 2008 OCA National Asian Pacific American Corporate Achievement Award in the US. Cambridge (UK) listed him as one of only 2000 Outstanding Scientists of the Twentieth Century. He has also been cited in Who's Who several times. He is in the Sigma Gamma Tau Aerospace Honor Society as well as the Pi Mu Epsilon Mathematics Honor Society. He was President of the Mathematical Association of America. He has authored over hundred articles in various journals. He also trained as a private pilot at the Phoenix International Flight Training Center in Florida.
USIBC Executive Delegation to Aero India 2019
Delegation Chair
Dr. Vivek Lall, Vice President of Strategy and Business Development, Lockheed Martin US
Delegation Members
Linden Prause Blue, CEO, General Atomics Aeronautical Systems, Inc.
Kevin McSweeney, President, Telephonics Corporation
Jeff Shockey, Vice President – Global Sales and Marketing, Boeing Defense, Space & Security
Dennis D. Swanson, Vice President, Global Marketing - Boeing Defence, Space and Security
Ambika Sharma, Managing Director – India, US-India Business Council
Ravi Nirgudkar, President, Raytheon India
Barton Roper, Senior Vice President – Strategic Development, General Atomics Aeronautical Systems, Inc.
Vincent Logsdon, Vice President, Textron
Richard Weir, Director Global Policy and Campaigns, Northrop Grumman Corp.
Andrew Dunn, Vice President, International Business Development, EW Business Unit, Harris Corporation
Rahul Madhavan, Vice President Global Defense, AECOM
Vaibhav Vorah, Managing Director, Continental Carriers
David Keith Sutton, Director, Lockheed Martin International
Ben Schwartz, Head for Defense and Aerospace, US-India Business Council
Bob Schoeffling, Program Manager, General Atomics Aeronautical Systems, Inc.
Vikram Narayanasamy, Director - Business Development, Telephonics Corporation
David Park, Regional Director, BAE Systems
Faran, Siddiqi, Director, BAE Systems
James Ryan, Senior Manager – Business Development, Harris Corporation
Sajal Singh, Partner, J. Sagar Associates
Osamazaid Rahman, Deputy Director, US-India Business Council
Jayant Baranwal (SP's): What's your overall focus for India?
Vivek Lall (Lall): Partnership. Lockheed Martin is committed to strategic, long-term international defence partnerships with India. We believe our proposed partnerships with India—for new fighter aircraft, helicopters and precision systems—are ideally suited to not just meet but exceed India's capability and defence-industrial needs in the near-term and well into the future. We are proposing game-changing defence partnerships that benefit multiple stakeholders in India, the US and beyond.
SP's: What's so special about your F-16 offering to India?
Lall: Our proposed fighter aircraft partnership with India will deliver advanced, scalable capabilities to the Indian Air Force, provide unmatched 'Make in India' opportunities, and accelerate closer India-US cooperation on advanced technologies. This unprecedented 'Make in India' opportunity combines the strength of the world's largest defence contractor, with India's premier industrial house to deliver a historic win-win for India and the US.
SP's: In view of fast depleting fighter squadrons of Indian Air Force, what role do you foresee your F-16 offering can play to assist this matter of serious concern?
Lall: India has a pressing need to field advanced, scalable defence capabilities. We believe our fighter aircraft proposal is ideally suited to address the Indian Air Force's nearer term capability needs and accelerate India's path toward an even more advanced airpower future. Lockheed Martin has unmatched experience designing, developing, producing and sustaining the world's most advanced fighter aircraft. A partnership with us enables India's armed forces and Indian industry to leverage that experience, which certainly includes but is not limited to fighter aircraft.
SP's: It's overheard that F-16 Block 70 derives some technologies from F-22. Is this correct? Can you elaborate a little on such features?
Lall: The fighter aircraft we're proposing leverages innovative technologies derived from Lockheed Martin's F-22 and F-35 – the world's only two operational 5th Generation fighters. For example, Northrop Grumman's advanced APG-83 Active Electronically Scanned Array (AESA) radar provides 5th Generation radar capabilities because of the commonality of hardware and software of the F-22 and F-35 AESA radars. The APG-83 radar shares more than 95 per cent software commonality with the F-35 radar and more than 70 per cent hardware commonality.
SP's: How do you feel as you get close to the signing of MH-60R for Indian Navy's MRH program?
Lall: The Indian government has issued a Letter of Request (LOR) for Letter of Offer and Acceptance (LOA) to the US Government for the acquisition of 24 MH-60R helicopters. The US Navy is preparing its response, which expected to be delivered shortly. We are confident the MH-60R "Romeo" is the right aircraft for India's Navy as it provides a vital capability for the Navy in the Indo-Pacific region.
SP's: What are the pillars of Lockheed Martin strategy for partnership with India and Indian authorities?
Lall: Public-private partnerships will likely play a key role. Having government, industry, academia and others at the table helps align everyone toward a common strategic goal and leverages the unique strength of each stakeholder. The quality of research and development at Indian universities is world-class. There are also tremendous opportunities for universities to play a larger role in further developing India's aviation and defence future.
Startups are another important part of building strategic defence partnerships and unlocking innovation. The advantage of startups is that they bring new ideas and passion to the table. We want to engage and potentially partner with these smaller startup companies to help them build up capacity. Lockheed Martin has a $200 million venture fund we use to invest in small companies and we've invested $100 million in startups in the last two years alone. We have 16,000 industry partners and suppliers around the world. Of those, 9,000 are small and medium-size companies.
SP's: How do you see future with India? Mid-term or Long term? If Long-term, then what all are the factors, you believe, lead towards this direction?
Lall: Long term. While we are indeed proposing partnerships with India for fighter aircraft, the MH-60R helicopter and other platforms, we're looking to build far more than aircraft or other products for India. We aim to build enduring, long-term relationships and partnerships with India. In our view, the ultimate game-changers will be strategic, long-term international defence partnerships that benefit multiple stakeholders.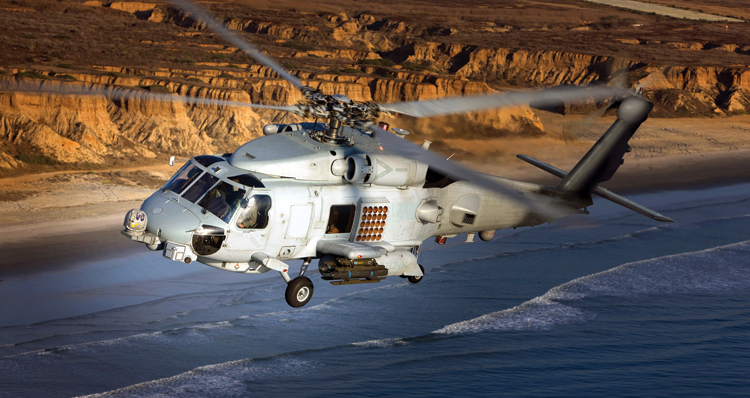 MH-60R Seahawk is the right aircraft for Indian Navy
As the world's largest democracy, India has many stakeholders. India also has a pressing need to field advanced, scalable defence capabilities. The time is indeed now to lean into game-changing defence partnerships. India-US ties are growing ever closer and we are very encouraged by the positive trend we're seeing in US-India relations, particularly on the defence and security front.