The main principles of the first successful major LCC were: point-to-point routes, single-class travel, single-type fleet of Boeing 737s to save on training/ maintenance and using only cheap secondary airports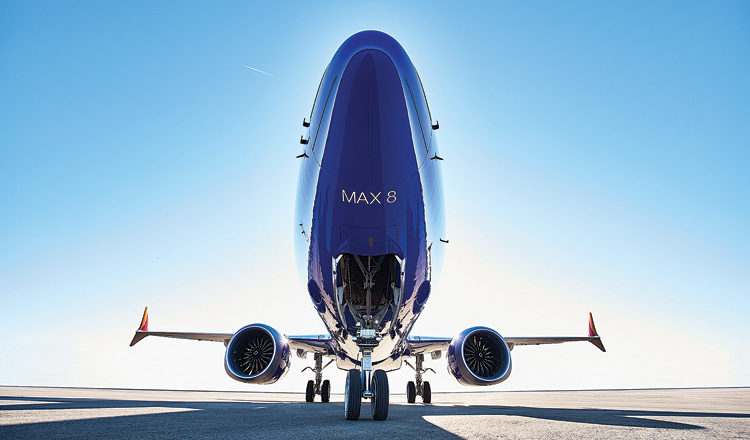 Southwest 737 MAX 8
Seventy years ago, on May 6, 1949, the world's first low-cost carrier (LCC), Pacific Southwest Airlines, took to the skies, connecting Southern and Northern California. It had limited impact on the American aviation scene. Today, however, LCCs have spread across the globe and their star is still on the ascendant. According to the International Air Transport Association (IATA), commercial airlines carried about 4.34 billion passengers on scheduled flights in 2018. Of these, the LCC's share was 29.83 per cent. In India – home to LCCs IndiGo, SpiceJet, GoAir and AirAsia India – it's already 69 per cent. The world's top LCCs ranked by total seats on offer are Southwest Airlines, Ryanair, easyJet and IndiGo Airlines, and it would be useful to recall their stories.
SUCCESS IS SPELT 'SOUTHWEST'
Southwest Airlines with its headquarters in Dallas, Texas, is the world's largest LCC by far. Although Herb Kelleher established it in 1967, the entrenched airlines like Braniff and Texas International were determined not to let it fly. They sprang a series of court challenges, effectively grounding Southwest for four years. It was only in 1971 that all cases finally ended and the airline launched operations. Kelleher later insisted that he had been fighting for the right of free enterprise and the need to take aviation to customers who had never been able to afford flying. Actually he was less interested in competing with rival airlines than with bus services and he succeeded beyond his wildest expectations. Keeping things simple, he said, "I can teach you the secret of running this airline in thirty seconds. This is it: We are the low-fare airline." He added, "Once you understand this, you can make any decision about this company's future as well as I can."
The main principles of the world's first successful major LCC were: point-to-point routes, single-class travel, single-type fleet of Boeing 737s to save on training/maintenance, using only cheap secondary airports and aiming for lightning-fast turnaround to save time and money. Costs were pared to the minimum by selling seats directly to passengers and by eliminating most freebies. By redesigning the product and automating flying, he transformed the staid US air transportation industry. As the US Department of Transportation observed in 1993 "The principal driving force behind dramatic fundamental changes that have occurred and will occur in the US airline industry over the next few years is the dramatic growth of low-cost Southwest Airlines."
Notably (and this is a lesson for airline managers everywhere), Southwest's 58,000 employees are among the happiest in America, fiercely loyal to their company and ready to go the extra mile to ensure its continued prosperity. In November 2018, Southwest Airlines had a fleet of 745 Boeing 737 jets – the world's fourth largest. It currently carries the most domestic passengers of any US airline. Its nearest LCC competitor is JetBlue with just 253 aircraft.
ACROSS THE ATLANTIC
It took some years for the "Southwest effect" to waft overseas to Europe. Freddie Laker's famous "Skytrain" service between London and New York City was inaugurated in September 1977 with a McDonnell-Douglas DC-10 jet. The first airline offering no-frills transatlantic service proved an instant success and recorded a profit of over £2 million in its first year of operation. But its success proved short-lived because of the 1980s recession and because its envious competitors, British Airways and Pan Am, simply priced Skytrain out of the market. However, as part of Skytrain's legacy, Europe became the continent where LCCs really took off and Europe still boasts of the largest LCC market share by region.
In 1985, Ryanair with headquarters in Dublin, Ireland, had a modest launch flying a 15-seat Embraer EMB 110 Bandeirante turboprop between Waterford, Ireland and London. Ryanair got its name from one of its founders, the Irish businessman Tony Ryan. But it expanded spectacularly under Michael O'Leary who as CEO refined the low-cost model of Southwest Airlines. Thanks to the deregulation of the aviation industry in Europe in 1997 and the creation of a common aviation area in the European Union, Ryanair, easyJet, and other LCCs were able to cast their net across the continent.
Within a short span of time, India's LCCs have established the second largest LCC market in the world, behind only that of the United States
O'Leary is known for his ruthless pursuit of cost-cutting, seemingly unconcerned about either passenger comfort or amenities. Aircraft are stripped down to the bare minimum, thus reducing overall weight, and costs of acquisition, fuel and maintenance. To hasten aircraft cleaning and turn-around, seats neither recline nor have rear pockets. O'Leary famously even contemplated making passengers stand for short-haul flights, but safety regulations got in the way. While keeping fares at rock-bottom, Ryanair is perhaps Europe's most profitable airline because it charges extra and sometimes grossly, for every conceivable item – even to print the boarding pass a passenger was supposed to bring but forgot. Consequently Ryanair has the reputation of being Europe's most hated airline.
Like it or not, Ryanair serves 35 countries in Europe, North Africa and the Middle East and carries more international passengers than any other airline in the world. Europe's largest LCC currently has a fleet of over 445 Boeing 737 aircraft. Its nearest rival is easyJet, a British LCC, with headquarters in London. Established in 1995, easyJet grew thanks to some judicious acquisitions and by entering new markets. The carrier is far less in the news than Ryanair, but is nonetheless the world's eighth largest by passengers carried. Both airlines improved on Southwest Airline's approach by making passengers check-in online and carry their own bags to the plane – thus saving time and costs.
AN ASIAN CENTURY
An Asian airline the world's best LCC? AirAsia was a desperately sick Malaysian state-owned carrier with $11 million worth of debts when it was purchased in December 2001 by Tune Air, owned by Tony Fernandes, for the token sum of one ringgit. It was re-launched as an LCC and rapidly switched from being a sleepy government concern into a nimble and innovative enterprise. Based at Kuala Lumpur, it introduced scores of new routes, pricing Malaysia Airlines out of the market with rock-bottom promotional fares. Such was its cost-consciousness that it was operationally profitable right from the start. In fact AirAsia's costs per-available-seat-km (CASK), have consistently been near the lowest in the industry globally. Consequently, when the Skytrax World Airline Awards 2018 were announced last July, it was no surprise that the winner was AirAsia – for the tenth year running. Despite some setbacks, AirAsia's subsidiaries have gradually expanded across Asia and currently operate in Indonesia, Malaysia, Thailand, Philippines, Vietnam, India and Japan.
INDIA FLIES INDIGO
When Air Deccan, India's first LCC, started out with a tiny fleet of two ATR 42s, few could have predicted that in 15 years, LCCs would corner nearly three fourths of the domestic market. And the credit largely goes to IndiGo Airlines.
IndiGo launched operations in August 2006. Fanatical costconsciousness without overly sacrificing service and excellent on-time performance, were its hallmarks. By August 2012, it had become India's largest airline by market share. IndiGo was the launch customer for Airbus' fuel-efficient A320neo jet, having placed an order for 180 in 2011. In 2015, it placed another order for 250 A320neo aircraft – the largest order in Airbus' history till then. IndiGo made these huge orders financially viable by following the sale-and-leaseback model, where the lessor accepts the aircraft back after six years and the fleet remains perpetually young. For some years, IndiGo was India's only profitable carrier.
Successful LCCs start with what travellers want and are willing to pay for and then set about providing it. It's a daily battle to cut seat costs while increasing ancillary revenue, save time and maximise efficiency. Sooner or later, a new challenger will emerge to rewrite the LCC rulebook. And only the most stouthearted can survive.
Within a short span of time, India's LCCs have established the second largest LCC market in the world, behind only that of the US. What's more, India is the fastest growing LCC market globally. Considering its estimated 1.37 billion populace, thriving economy and rapidly growing middle class, it still has immense potential for growth. IndiGo could one day well rival Southwest Airlines and Ryanair.