With an unwavering focus by Embraer on producing exceptional jets with enviable economics and focus on innovation, it is a lesson for all in aviation on what is indeed possible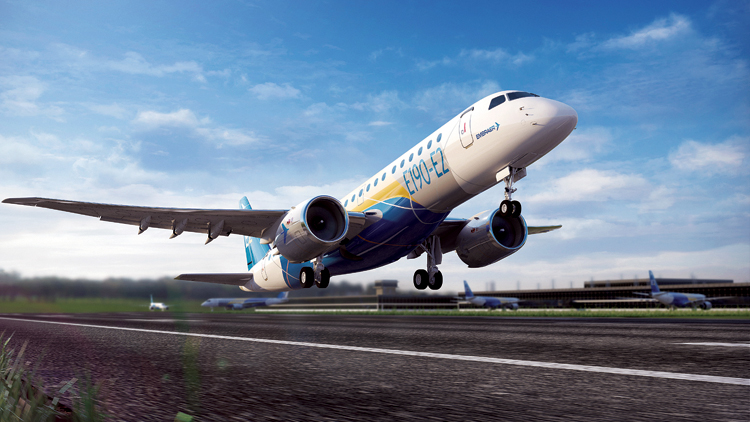 Satyendra Pandey
Empresa Brasileira de Aeronáutica, popularly known as Embraer, is a Brazilian aviation conglomerate. Founded in 1969 as a government enterprise, it was privatised in December 1974 during a period of economic challenges. Thereafter, Embraer went from strength to strength with the company evolving into four distinct business segments: Commercial Aviation, Executive Jets, Defence and Services & Support. A capital market listing in 2000 further bolstered its position and most recently, it clocked in revenues of almost $5.9 billion with approximately 43 per cent coming from commercial aviation. Indeed, the commercial aviation arm has delivered steadily for Embraer with a history of gauging the market accurately, finding a niche and constantly focusing on innovation. As Embraer states on its website: "Our task is to see the world of aviation from different eyes and construct new perspectives."
FOCUS ON REGIONAL JETS
This philosophy is seen both in its ability to carve out and focus on a niche market and its product lines. Focusing on the regional jet segment, Embraer has delivered aircraft with a comprehensive redesign --from advanced avionics and high wing aspect ratios to seat pitch and overhead bin space. The innovation is not all inhouse and large part of it is driven by a collaborative culture of maintaining partnerships with over 50 institutions. Approximately 10 per cent of revenue is reinvested in research, development and innovation. More importantly, new ideas are actively taken up and incorporated. Additionally, from its very inception, Embraer has been open to procurement from global suppliers enabling it to adopt best practices to stay ahead of the curve in design, technology and manufacturing.
Embraer targeted markets that were too small for the larger aircraft to be flown profitably, yet demanded the same level of service and importantly jet service, as larger markets
The niche market that Embraer carved out for itself and targeted effectively is that of exceptional regional jets. This came about by observing the market, given the focus on lower seatmile costs, the large manufacturers were going for aircraft that were 180 seats or higher as the costs were amortized over more seats. Embraer took a considered and perhaps contrarian view and saw an opportunity in the segment of 80 to 100 seats. Thus was born the E170 which evolved into the E175, E190 and E195 variants. Via constant innovation, capacity and range dynamics were addressed while efficiency improvements continued to deliver lower overall costs. With this, Embraer targeted markets that were too small for the larger aircraft to be flown profitably, yet demanded the same level of service and importantly jet service, as larger markets. By choosing to focus exclusively on jet-powered aircraft, Embraer further strengthened its niche and indeed several campaigns from airlines such as American Airlines from 1999, focused on the regional jet proposition in contrast to turboprops. Delivering lower trip costs and extremely competitive seat costs further strengthened its position. Interestingly, now Embraer is engaging airlines that have witnessed overcapacity in markets with higher seat capacity and highlighting to them the profit potential of Embraer jets. The chart below highlights the niche market for Embraer and how it is positioned to dominate.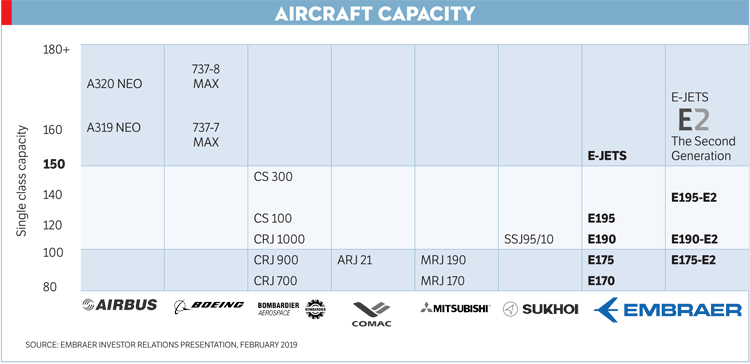 As the chart highlights, Embraer is now focusing on the E2 programme which was launched in 2013 with the first flight of the E190-E2 in 2016. Certification followed in early 2018 and as of now, the E2s deliver a 17 per cent better fuel economy with the use of geared turbofan engines, higher wing aspect ratios, improved aerodynamics, smaller tail surfaces and state-of-the-art fly-by-wire systems. A comparison of the earlier programmes with impact on seat capacity and range is as below in Comparison Chart.
STRIVING FOR MARKET SHARE
The lines above also on Embraer's website, certainly ring true when one looks at numbers. Embraer commands a 29 per cent share of deliveries for regional jets up to 150 seats market and is the leader in this segment. Its global presence is remarkable with 100 airline customers across 60 countries. The United States is its largest market with four large operators namely Republic Airlines, Envoy, SkyWest Airlines and ExpressJet Airlines. All of these airlines have an active fleet of over 100 Embraer aircraft. Brazil is the next largest market with Azul as a leading customer with a fleet of 61 Embraer jet. Europe has also seen operators such as KLM, HOP (AirFrance) and FinnAir with sizeable Embraer fleets and the jets are increasingly penetrating the Asian markets. India has seen two operators namely the now defunct Paramount Airways which flew the E170s and most recently StarAir which is flying the E145s. In a sign of how far the company has spread its wings, most recently, Mongolia leased four Embraer aircraft for use in the country's skies via their airline Hunnu Air. The delivery stream over the last five years for commercial aviation has been as below:
Comparison
| | | | | |
| --- | --- | --- | --- | --- |
| Aircraft type | Seats | Range | % increase in seats vs first generation jet | % increase in range vs fist generation jet |
| E175-E2 | 80-90 | 2060 | 8% | 3% |
| E190-E2 | 97-114 | 2880 | 0% | 20% |
| E195-E2 | 120-146 | 2600 | 16% | 18% |
Source: Embraer investor relations, seat capacity taken as an average
Deliveries
| | |
| --- | --- |
| Year | Total Deliveries |
| 2014 | 92 |
| 2015 | 101 |
| 2016 | 108 |
| 2017 | 101 |
| 2018 | 90 |
Source: Embraer investor relations
The order book is also fairly strong with 1000+ orders across 25 airlines and lessors. The United States continues to lead with Brazil and Europe having sizeable orders. Recently, China has also shown interest in the jets with airlines like Tianjin and Colorful Guizhou Airlines ordering several jets. This is quite significant as the Chinese airlines have chosen this over the domestically manufactured aircraft COMAC and this speaks volumes.
In a further testament to the innovation and potential for Embraer, Boeing has entered into a joint venture to form a Commercial Aviation unit
In a further testament to the innovation and potential for Embraer, Boeing has entered into a joint venture to form a Commercial Aviation unit. Interestingly, the initial focus of Boeing was on a competitor – Bombardier — that had suggested collaboration between the two, but during evaluation of strategic fit and potential synergies, it was Embraer that came out on top. That said, in 2005 a transaction could not go through due to opposition by the Brazilian government which was a major shareholder. A decade later, the talks were on again with the announcement of a joint venture (JV) in 2018. With the JV, Boeing will acquire 80 percent of the Commercial Aviation unit while Embraer will retain 20 percent. This is a win-win with Embraer getting access to Boeing's marketing, financing, procurement and supply chain capabilities while Boeing will be able to leverage Embraer's innovative DNA and also fill in the market gap in the up to 150 seats aircraft market. While the merger still involves significant anti-trust examinations, approvals and filings, a tentative date of December 2019 is given and the merger is almost certain to go through.
OPPRTUNITIES IN THE FUTURE
Embraer believes that there will be significant opportunities for its commercial aviation jets going forward. These will be driven by opportunities in replacement of existing Embraer fleets of current operators, replacement and upgrading of the 50-70 seat jets, replacement of existing turboprops as airlines move towards jet engine fleets and finally, right sizing where airlines look at capacity and costs and move to more efficient jets. Embraer forecasts that from 2018 to 2027, there will be a demand for around 10,550 aircraft in the up to 150-seat market. The order book as of now, is stable with a backlog of $1.6 billion worth of aircraft orders. More are likely in the upcoming air ahows in Paris and Dubai.
For the Indian market, Embraer will debut the E190-E2 on March 19, 2019 with the first stop being the Chatrapati Shivaji Maharaj International Airport in Mumbai. Overall, Embraer's success is awe inspiring. With an unwavering focus on producing exceptional jets with enviable economics, and a constant focus on innovation, it is a lesson to all in aviation on what is indeed possible.

The Author. Satyendra Pandey has held a variety of appointments within the aviation business community. Most recently was the Head of Strategy & Planning at Go Airlines (India) a fast growing LCC. Previously he was with the Centre for Asia Pacific Aviation (CAPA) where he led the Advisory and Research teams. He joined CAPA after a working through a merger and restructuring of a legacy US carrier. He is an alumnus of the University of New South Wales and the London Business School. He is also a certified pilot with an Instrument rating. He has lived and worked across four continents.