BOEING APPOINTS SALIL GUPTE AS NEW BUSINESS LEADER IN INDIA
Boeing announced the appointment of Salil Gupte as president of Boeing India, effective March 18. He will be based in New Delhi, serve as Boeing's senior executive in India, and report to Marc Allen, president of Boeing International.
Gupte, who was vice president of Boeing Capital Corporation, a whollyowned subsidiary of The Boeing Company, succeeds Prat Kumar.
Gupte will advance the development and execution of Boeing's strategy in India, integrate business activities across Boeing Commercial Airplanes, Boeing Defense, Space and Security, and Boeing Global Services, lead Boeing's growth and productivity initiatives in India, and manage Boeing's partnerships with India's government and business stakeholders. He will lead a team of over 3000 employees and joint venture personnel located in New Delhi, Bengaluru, Hyderabad, Mumbai and Chennai. His leadership will extend to cover Boeing's large supply chain presence in India, its engineering and technology center in Bengaluru, and Boeing joint venture with Tata in Hyderabad.
BOMBARDIER
On January 17, 2019, Bombardier Business Aircraft announced the appointment of Peter Bromby as Vice President, Worldwide Sales, Learjet Aircraft.
RAVI NIRGUDKAR APPOINTED AS PRESIDENT, RAYTHEON INDIA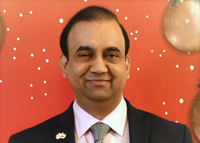 Raytheon Company has appointed Ravi Nirgudkar as the President of Raytheon India, effective immediately. Ravi is based in the company's New Delhi office.
Ravi will focus on growing Raytheon's long-standing partnership with India and collaborating with local partners to meet global defense needs and expand contributions to the growth of India's indigenous defense capability.
Ravi has over 25 years of experience in international business development and program management, including 19 years with Raytheon's Intelligence, Information and Services and Space and Airborne Systems businesses.
AIRBUS
Airbus has appointed Jean-Marc Nasr as President Asia-Pacific, effective January 1, 2019. He will be based in Singapore.
AIRBUS HELICOPTERS
Alain Flourens, 61, currently Head of Engineering for Airbus Helicopters, has been appointed Head of Industry for Airbus Helicopters, following Christian Cornille's departure from the company.