Airlines need to induct aircraft of the right size and guard against over-capacity as both these could be detrimental to their business strategy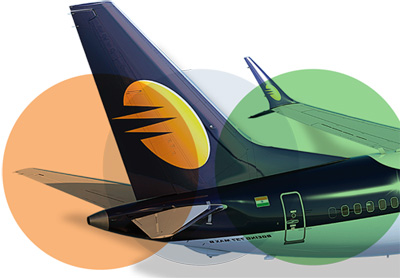 India's largest full services carrier Jet Airways, is currently in the midst of a serious financial crisis that has become a threat to its very survival. Incorporated as a limited liability company on April 1 1992, soon after the liberalisation of the Indian civil aviation sector that opened the doors to the private sector, Jet Airways was granted 'scheduled airline' status in January 1995. After the launch of Air Deccan a decade later that ushered in the low-cost concept, Jet Airways took over the failed Air Sahara and established its low-cost arm - JetLite and JetKonnect. However, these were wound up in 2014 making Jet Airways the third full services airline in India after Air India and Vistara.
In a move to further liberalise the Indian civil aviation sector, in September 2012, the government permitted foreign airlines to buy stake of up to 49 per cent in Indian carriers. In response to a proposal by Etihad Airways to enter into a strategic partnership, on November 12, 2013, a deal between the two airlines was finally clinched for $379 million. Naresh Goyal, a Non Resident Indian business tycoon and the founder Chairman of Jet Airways, retained 51 per cent share in the airline.
Trouble for Jet Airways began at the end of the financial year 2017-18 when the airline suffered heavy financial loss in the quarter January-March 2018 amounting to 1,045 crore. This was followed by a loss of 1,323 crore in the quarter April-June 2018. Financial difficulties for the airline were further aggravated when it suffered a loss of 1,297.5 crore in the quarter July-September 2018. Massive financial loss suffered continuously for several quarters drove the airline to a point where it did not have adequate funds to sustain operations beyond a period of two months.
Before the airline was hit by financial crisis, Jet Airways had 119 aircraft on its inventory that were operating regular flights and had 230 on order. As of March 23, 2019, the airline had grounded 77 aircraft of its fleet due to non payment of lease charges leaving only 42 in operation. Jet Airways has been compelled to cancel a large number of flights and suspended operations to several destinations including Abu Dhabi. Unfortunately, its strategic partner Etihad Airways has not been able to help Jet Airways tide over the crisis as the Middle East carrier has been battling its own financial problems. Serious differences had cropped up, between the two strategic partners as Etihad Airways did not want its stock holding to be capped at 24 per cent and also was insistent that the shareholding by the promoter and Chairman Naresh Goyal be reduced to relegate his position to a less important role in the management of Jet Airways. This, for obvious reasons, was not acceptable to Naresh Goyal.
An airline in India facing financial crisis is not unique to Jet Airways. In fact all the players in the Indian airline industry have been battling with a number of adverse factors, most important of these being the inordinately high and perpetually escalating cost of Aviation Turbine Fuel (ATF). As expenditure on ATF consumed accounts for more than half the operating cost of an airline, the increasing burden of ATF has serious implications for the financial health of the airlines. The problem is compounded by the fact that while the cost of operations for the airline is increasing, air fares have remained depressed on account of the intensely competitive environment. In fact, there has not been any significant increase in air fares over the last two decades. Besides, a full service carrier such as Jet Airways is clearly at a disadvantage financially when compared with low-cost carriers such as IndiGo or SpiceJet who seem to have a better grip over the market share.
While both Jet Airways and Etihad have reportedly been engaged in trying to contain the burgeoning financial crisis, the government too appears to be concerned and keen to assist in finding a solution to the problem. With national elections round the corner, the government can ill afford to see Jet Airways collapse leading to a loss of 16000 jobs. The government has therefore asked the state-owned banks to pitch in to bail out the Indian carrier in distress. But what is more relevant and urgently needed is a solution in the long term. For this, the government needs to go beyond formulating only regulatory framework; but more importantly, create a business-friendly environment wherein the Indian airline industry can hope for healthy growth. One immediate and important step that government needs to take is to bring ATF under the purview of GST. Also, the government must ensure that the regulatory authorities function as 'facilitators' and not as 'impediments'.
On their part, the airlines ought to restructure their business models periodically to be in harmony with the dynamics of the changing business environment. Airlines need to induct aircraft of the right size and guard against over-capacity as not paying heed to both these could be detrimental to their business strategy. Unless these are followed, airlines may continue to face adversities that can seriously undermine their business interests.