In the awards for 2018, over 24 million eligible entries were counted during the period August 2017 to May 2018 in which over 300 airlines across the globe were evaluated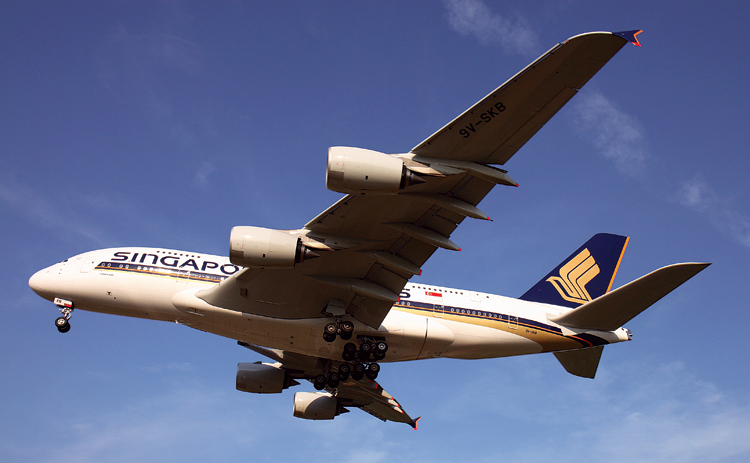 The Winner: The secret of SIA's success is probably summed up in one word – service
We live in an age where practically every type of product and service is put under the lens and ranked. This helps customers make informed choices, while the winning manufacturer or service provider gets welcome recognition for the brilliance and sheer hard work that has taken it to the top. Therefore, the global airline industry keenly anticipates the results of the various awards on offer. Indeed, there is a growing list of annual traveller-oriented rankings covering the entire industry, but perhaps none as prized as the World Airline Awards. Also known as the Skytrax awards, these are advertised as "the world's largest, annual airline passenger satisfaction survey."
In the most recent awards for 2018, over 24 million eligible entries were counted during the period August 2017 to May 2018. More than 300 airlines across the globe were evaluated by customers of over 105 nationalities. And these were the winners:
Singapore Airlines (No. 2 in 2017)
Qatar Airways (No. 1)
All Nippon Airways (No. 3)
Emirates (No. 4)
EVA Air (No. 6)
A glance at the list above shows that the world's five best carriers are from Asia and the Middle East. In fact, these two regions dominate the field in all categories. Secondly, the winners are sharply skewed towards long-haul. This is understandable because a long-duration flight accentuates everything that is good and bad about the travel experience. The strengths shine brighter and the shortcomings rankle all the more. On a short flight there isn't that much time to form an impression.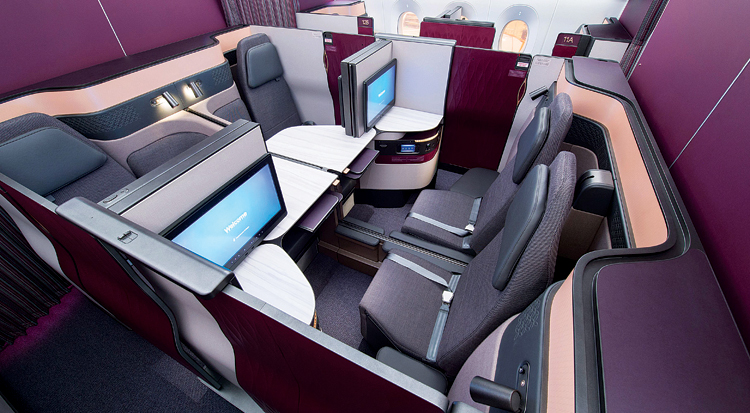 A Close Second: Qatar has one of the industry's youngest fleets of ultra-long-haul wide-bodies such as the Airbus A350-1000
So what is it that takes the winners to the top and keeps them there year after year?
SINGAPORE AIRLINES – 'A GREAT WAY TO FLY'
Singapore Airlines (SIA) usually tops or is close to the top of any "world's best" contest. With its hub at Changi Airport, the world's most awarded airline is the flag carrier of Singapore. In January, when Fortune Magazine selected the "World's 50 Most Admired Companies for 2019", SIA was placed 18th – the only airline on the list. SIA operates only wide-body aircraft totalling 122 jets as of January 2019, with average age seven years. SIA was the launch customer for the Airbus A380, the Boeing 787-10 and the long-range version of the Airbus A350-900. It currently operates the world's longest flight between Singapore and New York that takes around 19 hours and covers over 15,300 kilometres. Its next-gen jets such as the Boeing 787 Dreamliner and the Airbus A350 make such extreme ranges possible by increased fuel-efficiency, while higher cabin pressurisation and humidity help passengers cope better. Its A380 suites were designed by French luxury yacht designer Jean-Jacques Coste.
As the winners show, an airline simply needs to provide an all-round and consistent travel experience with service being the watchword
SIA regularly gets top marks from travellers for seat comfort, in-flight service and reliability. The Boeing B777 and A350 have just nine seats per row against ten for other airlines. All flights feature complimentary meals designed by world-class chefs (even in economy) and every item is tested in a simulator to ensure it is delicious at 30,000 ft. There is also an incredible entertainment package. But the secret of SIA's success is probably summed up in one word – service. Its graceful flight attendants known as Singapore Girls (and Guys) are famous for their deportment, etiquette and cultural sensitivity. It is no wonder that most SIA publicity campaigns and publications feature the Singapore Girl. SIA also has a reputation for being fiercely innovative and adept at skilfully negotiating the steep learning curve that defines the industry.
QATAR – 'GOING PLACES TOGETHER'
Qatar Airways, the state-owned flag carrier, has its headquarters in Doha. It has won the top Skytrax award four times since 2010, not bad for an airline that started flying only in 1994. Like SIA, Qatar has one of the industry's youngest fleets of ultra-long-haul wide-bodies such as the Boeing 787 and the Airbus A350-1000. In fact, it boasts of being the first carrier to operate only new-generation aircraft in its huge fleet numbering 220. Qatar has attracted accolades for its QSuite business class which can be configured with double beds and four-person dining suites. And the economy seats are comfy too.
Ranked Fourth: Emirates has cabin crew from 150 countries. Its gracious staff can almost read customers' minds and anticipate their needs
However, since June 2017, the tiny Arab country Qatar has been blockaded by Saudi Arabia, UAE, Bahrain and Egypt because of its alleged links to terrorism and closeness to Iran. Although Qatar Airways suffered a loss of $69m in 2017-2018, it is backed by the very deep pockets of the oil-rich state and continues to grow. In the last couple of years, it has ordered 200 Boeing jets and confirmed its deal for 37 Airbus A350-1000 airliners – the largest by any airline. This new Airbus promises to be one of the most fuelefficient airliners ever.
Qatar's success is largely attributable to the vision of Akbar Al Baker who was appointed to re-launch it in 1997 and has nurtured it ever since. He has an uncanny knack for choosing lucrative secondary airports that have plans and scope for growth. He is perhaps best placed to steer Qatar safely through the current turbulence.
ALL NIPPON AIRWAYS (ANA) – 'INSPIRATION OF JAPAN'
As its slogan proclaims, ANA is unabashedly Japanese. With its headquarters at Tokyo, as of March 2019, Japan's largest airline has a fleet of 220 passenger jets plus 96 on order. Japan is the world's fastest growing tourist destination and more than 40 million international passengers are expected in 2020 thanks to the Tokyo Summer Olympics. ANA is reinforcing its Japanese credentials through its 'We Are Japan' communications platform that celebrates the country's rich culture and heritage. It will have tips for travellers on what to eat, drink, see, stay, do, discover and go. ANA has also adopted an attractive livery for its new Airbus A380 bodies – beautiful blue sea turtles. Travellers report impeccable crew and excellent service. The rave reviews extend to economy class and perhaps make potential passengers wonder if the extra expense of business class is worth it when they can expect such good treatment in economy class.
EMIRATES – 'FLY BETTER'
Emirates Airline, based in Dubai, operates an exclusively widebody fleet of Airbus and Boeing airliners. It is the world's largest Airbus A380 operator with 109 jets in service plus 14 on order. It is also the largest Boeing 777 operator with 151 aircraft in service. The highly profitable airline has consistently grown at over 20 per cent annually. Its financial success is thanks to the rapid growth in demand for air travel in the region and beyond, its investment in modern aircraft and ample airport capacity.
Emirates has eye-popping perks for high-end fliers including cocktail lounges and in-flight showers. But all class of travellers appreciate it for seat comfort, food and beverages, inflight amenities and the ultra-modern entertainment system. Many different nationalities visit, work or transit through the Middle East and to cater for this, Emirates has cabin crew from an astounding 150 countries. Its gracious staff can almost read customers' minds and anticipate their needs.
EVA AIR – 'FLYING INTO THE FUTURE'
'EVA' standing for Evergreen Airways, is a Taipei-based Taiwanese international airline. The carrier is known for its outstanding service and well-trained crew. Its fleet includes widebody and narrow-body aircraft such as the Airbus A321, Airbus A330, Boeing 777 and Boeing 787. Its passenger fleet as of March 2019 is 73 plus 21 on order. If EVA Airways is mentioned, the globetrotter would instantly respond "Hello Kitty!" Indeed, the very popular Hello Kitty-themed planes that EVA Air deploys on select routes, have everything from food and napkins to seats and pillows customised with Hello Kitty.
WHY CAN'T WE?
It is a matter of concern that the highest ranked Indian carrier – IndiGo – comes in way down at No. 55 in the Skytrax list of "World's Top 100 Airlines 2018", with Jet Airways at No 80 and Vistara at 86. Will a day come when passengers say of an Indian carrier: "By far the best customer service I have received," or "Truly personal service" or "A genuine willingness to help" – as they do for Singapore Airlines? Or "Superb on every level" or "Literally the best airline I have ever flown – everything is wonderful," as Emirates is praised? If tiny Qatar's state-owned flag carrier can reach the top, why can't Air India? Can't SpiceJet promote Indian culture like All Nippon does that of Japan?
It is not that hard to be the world's best. As the winners show, an airline simply needs to provide an all-round and consistent travel experience with service the watchword. It helps to be innovative and farsighted.