For the Indian airline industry to take off, some changes are required in the way the government looks at it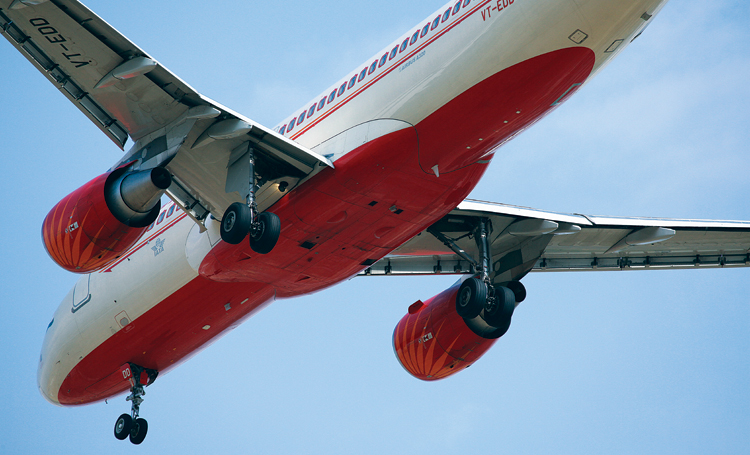 More than two-thirds of the air seats on offer by India's carriers are based on the low-cost model
One can be excused for being facetious about the incongruencies that afflict the current Indian civil aviation scenario. Projections are made at every aviation event of the Indian civil aviation market about to attain the world's third largest podium position in a couple of years from now. Meanwhile, scheduled airlines continue to operate in a starkly unkind and harsh environment with extortionate taxation regimes on fuel, aircraft import and MRO, woeful infrastructure leading to metros bursting at the seams and regional airports lacking minimum facilities, regulatory inadequacies with the Directorate General of Civil Aviation (DGCA) lacking strong disciplinary powers and autonomous budgetary control and governmental policies displaying a lack of feel of the wants and needs of civil aviation. According to the DGCA official website (accessed on 17 April 2019), there are 17 Indian airlines operating 691 aircraft and the number of aircraft is predicted to grow in the coming years although there are indications that infrastructure growth is not going to be commensurate with the increase in the size of the fleet with Indian carriers. So how are the airlines in India progressing and what is the prognosis on the airline market?
LOW-COST VERSUS LEGACY
The first postulate this article offers is that the Indian market is not favourable for any model except the low-cost one. More than two-thirds of the air seats on offer by Indian airlines are based on the low-cost model. Air India, the mammoth inherently inefficient public sector airline which continues to sustain the legacy model, does so at the cost of the tax payer. Its current accumulated losses are between 50,000 and 70,000 crore and efforts by the government to disinvest have come to naught. With every flight that Air India undertakes, it only contributes to the mounting losses. Kingfisher Airlines, which flaunted its 'King of Good Times' full service model at the peak of its service, refused to heed the portent of bad times, obstinately rejected the low-cost model and has its principal now fighting extradition proceedings in the UK where he fled to after his error of judgement led to an uncontainable implosion.
More than twothirds of the air seats on offer by Indian airlines are based on the low-cost model
The latest sordid, legacy model story is of Jet Airways which has suspended all operations due to fund flow problems reaching a crisis of epic proportions. Its original owner Naresh Goyal, who had nurtured the airline since 1993 through his shrewd management of the airline and the environment it operated in, is out of its management. The low-cost airlines which are all the other airlines except Vistara which continues with a watereddown, full-scale model, are waiting avariciously to gobble up routes that Jet Airways is unable to operate on any longer albeit that state may change as soon as a resuscitative dispensation is in place. However, there is a limitation on the routes that can be usurped by the other airlines on account of the aircraft they have on their inventory.
SINGLE-AISLE VERSUS WIDE-BODY
With almost all the national airlines meeting the requirements to fly international, one would expect that there would be a mad rush for the more lucrative routes out of India. However, the fleets of all airlines that have come up since 2003 in the second wave of liberalisation have all been single-aisle airliners from the Airbus A320 or Boeing 737 families. This choice was dictated by the fact that all airlines had to start as domestic carriers and then meet the criteria to fly international. The range of these machines (Airbus A320/Boeing 737) and India's geographical extent, renders these aircraft ideal for deployment by Indian domestic airlines.
In general, the lowcost airlines are on a prowl to undercut others whilst the full-scale ones are busy moving towards disaster
However, when an airline does meet the criteria to fly international, the single-aisle it has on its fleet, is limited to operation of flights to only some neighbouring countries. To fly to distant and hence more attractive routes such as to Europe, the Americas, Africa and distant Asian countries, the airlines would require wide-body, long-range aircraft. That is where these airlines come up against a stumbling block as acquisition of wide-body aircraft is expensive and goes against the grain of the lowcost airline philosophy of minimising types of aircraft held so as to keep costs of crew, training and equipment low. Precluding wide-body aircraft restricts their reach to very few international destinations, confining them largely to destinations in parts of South East Asia and the Middle East. Airlines with deep pockets and funds to feed wide-body acquisitions (lease or buy) are already in the process of doing so, but in general, airlines are barely able to subsist on account of the brutally competitive market conditions as far as pricing of air fares is concerned.
PREDATORY PRICING
Every Indian airline has a 24X7 office that monitors air fares being offered by other airlines on routes flown by it. In this context, 'dynamic' pricing acquires a fresh nuance: one airline's fare offered on a particular sector can vary suddenly in response to another's variation. Sporadically, one airline will offer a ridiculously low fare for a sector for a short time window to meet a fund flow deficit and set off a chain reaction from others who will offer similar discounted fares on the same or different sectors. In general, the low-cost airlines are on a prowl to undercut others whilst the full-scale carriers are busy moving towards disaster (a la Air India, Kingfisher and Jet). Either way, air fares hover dangerously close to levels which leave hardly any margin for making healthy profits. Short cuts in operations sometimes endangering safety, but are the inevitable result.
FINANCIAL AUDIT
The DGCA functionaries carry out routine and surprise safety audits as well as surveillance checks for airlines as a part of their task. However, a financial audit of an airline in trouble is likely to throw up indicators of risks and hazards in its operations as efforts to cut costs inevitably lead to short cuts in prescribed procedures so that practices on the ground and in the air depart from procedures and lead to situations potentially leading to accidents and incidents. As an illustration, non-payment of salaries by Jet Airways for some months to its pilots and engineers, was a safety hazard. In the past, the DGCA has indeed carried out a financial audit of airlines with very good intent. However, the DGCA lacks the skill to carry out a meaningful financial audit. It is the contention of this author that there is a need to carry out regular financial audit of airlines designed to throw up air safety hazards. It is possible that we may then get an answer to the intriguing question of how full-service airlines can offer fares so close to the bare, penny-pinching low-cost carriers.
CONCLUSION
The advent of Air Deccan in 2003 launched a new chapter in the Indian airline market. In contrast to the full fare paying passenger who expected full service treatment in the air, the Air Deccan type passenger was enticed by the low fare and did not care for the quality of service that the airlines offered. For the first two or three years, the 'lowest fare' mantra worked, only to be replaced by the 'value for money' customer who, in the presence of more than one low fare airline option, started differentiating between them by comparing fares and corresponding services/perks offered. Undoubtedly, the air passenger in India is getting a good deal because of the cut-throat competition between airlines which continue to subsist on threadbare profit margins that dip below the red line occasionally. For the Indian airline industry to take off, some changes are required in the way the government looks at it. The first change could be that the government starts looking at itself as a stakeholder in the industry.