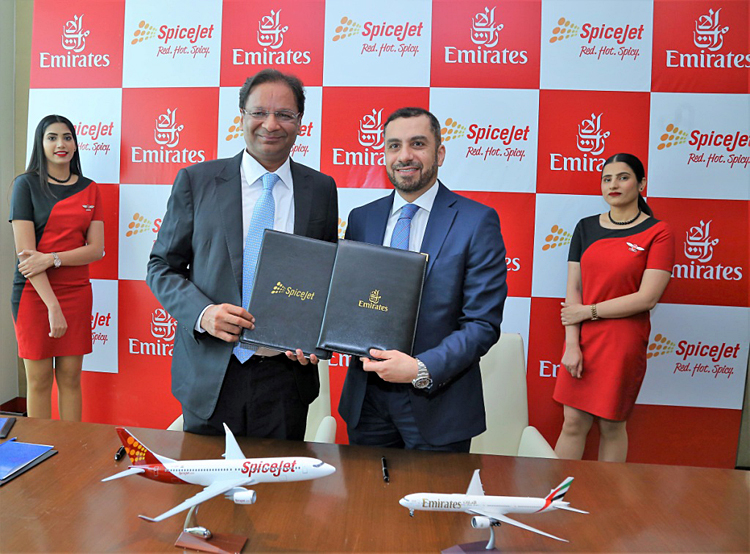 SpiceJet chairman and managing Director Ajay Singh and Emirates divisional senior vice-president Adnan Kazim at the signing of the MoU for codeshare agreement between the two airlines
A codeshare agreement between SpiceJet and the leading global airline Emirates is set to open new routes and destinations for Indians across the US, Europe, Middle East and Africa. Those travelling to India on Emirates can have a seamless connect to SpiceJet's domestic network of 51 destinations.
SpiceJet passengers travelling from India will have more choice to travel seamlessly with minimum connection times when flying to destinations on Emirates' Europe network such as London, Paris, Frankfurt, Manchester, Amsterdam and to North and South American destinations such as New York, Washington, Toronto, and Sao Paulo as well as Middle Eastern destinations such as Jeddah, Kuwait and Amman.
This partnership will bolster Emirates' already-extensive network adding a total of 67 weekly connections between Emirates' hub in Dubai to these growing destinations in India. This includes increased domestic connectivity from Emirates' nine Indian gateways to points such as Goa, Hubli, Guwahati, Vishakhapatnam and Tuticorin which would allow for a greater variety of travel options between both Emirates and SpiceJet flights.