Air Marshal S.K. Ghotia takes over as Air Officer Commanding-in-Chief Training Command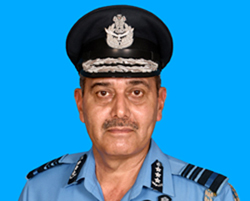 Air Marshal S.K. Ghotia VSM took over as Air Officer Commanding-in-Chief of Training Command.
Air Marshal is an alumnus of the National Defence Academy and was commissioned in the fighter stream of IAF in December 1981. He is a Qualified Flying Instructor with more than 1000 hrs of instructional experience. He has undergone the Air Staff Course, Higher Air Command Course and holds two Masters Degrees. He has served as a Directing Staff at the prestigious Defence Services Staff College Wellington.
Embraer Board selects new President and CEO
Further to the succession process, Embraer announced that the nomination of Francisco Gomes Neto, current President of Marcopolo, will be presented to the Board of Directors for the position of President and CEO, succeeding Paulo Cesar de Souza e Silva.
Ravil Khakimov nominated new President of SCAC
Ravil Khakimov has been appointed new President of Sukhoi Civil Aircraft Company (SCAC). The decision was taken by the SCAC Board of Directors on April 9th 2019. This appointment is part of a scope of actions aimed at building up a Commercial Aviation Division, which will be headed by Ravil Khakimov as well, according to the decision of the Board of Directors of the United Aircraft Corporation (UAC) dated April 3rd 2019.
General Dynamics appoints Smith as Executive Vice President; Paddock as President of Jet Aviation; Casey to retire
General Dynamics has appointed Robert E. Smith as Executive Vice President of the Marine Systems segment, effective July 1. Smith succeeds John P. Casey, who has informed the company of his intent to retire on June 30. David Paddock, Jet Aviation's Senior Vice President and General Manager of US aircraft services, will succeed Smith as President of Jet Aviation.