Standing true to its motto of "connecting the aerospace industry", the Middle-Eastern airshow ended on a high note, cracking many a major deals and covering every possible aspect of the industry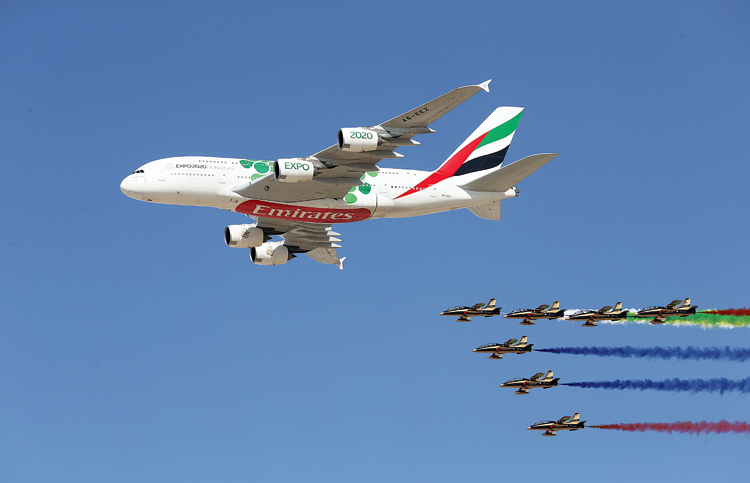 An Emirates Airbus A380 with Al Fursan aerobatics demonstration team of UAE Air Force soars through the skies as part of flypast procession, kicking off the 2019 edition of the Dubai Air Show
The 16th edition of the Dubai Airshow came to an end on November 21, winding up four days of aviation enthusiasm, and mapping the present and future of the industry with a spectacular display, significant deals, and essential conferences. Inaugurated officially by His Highness Sheikh Mohammed bin Rashid Al Maktoum, Vice-President and Prime Minister of United Arab Emirates (UAE) and Ruler of Dubai, along with His Highness Sheikh Mohammed bin Zayed Al Nahyan, Crown Prince of Abu Dhabi and Deputy Supreme Commander of UAE Armed Forces, 2019 edition of the Dubai Airshow (DAS) turned out to be one of the busiest till date with a packed schedule, witnessed by the footfall of over 84,000 trade attendees.
With over 161 aircraft on static display and more than 1,288 exhibitors, the airshow attested booming sales with the order book on site reaching $54.5 billion by close of business.
The DAS 2019 was not just about the biggest of the players but also the first-timers. As many as 100 new exhibitors participated in the show. Among them was Saudi Arabia's The Helicopter Company, which was also a key event sponsor. EDGE, a group comprising 25 local entities working in five aerospace capability clusters, launched shortly before the show, also made its debut.
CRUCIAL COLLOQUIUM
An array of prominent conferences offered industry-specific keynotes, Q&A sessions and networking opportunities, attracting huge crowds of professionals. The Global Air Traffic Management (GATM) conference, a unique convention set across two days peaked closely into the future of traffic control, with virtual towers proving to be a particularly hot topic.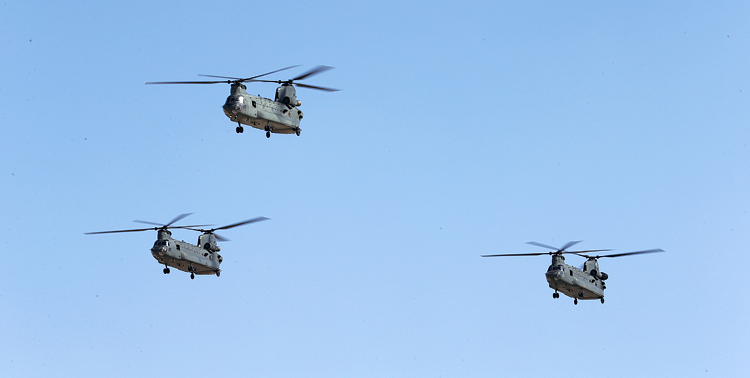 An eye-catching formation of three Chinook helicopters during the flypast
With on the air freight industry, Cargo Connect (a show within the show) allowed the cargo industry to discuss global trends, regional challenges and the future of the industry with a key focus on data sharing across both geographical as well as business boundaries. Some of the key points in the limelight at this year's Cargo Connect conference included the effect of automation, artificial intelligence and digitalisation.
With over 161 aircraft on static display and more than 1,288 exhibitors, the airshow attested booming sales with the order book on site reaching $54.5 billion by close of business
For the first time in 2019, a growing focus on space exploration regionally was recognised in DAS with its own conference program, opening with Women in Space, hosted by the UAE Space Agency and featuring speakers from the UN and other established organisations. The Space Tech Talks schedule looked in-depth at the technological advancements needed for the next generation of space exploration, and the impact they are expected to have on the wider world.
SPLENDID SHOWCASE
The sky above DAS 2019 was painted beautifully with the flying display that included Boeing's 787-9 Dreamliner, Airbus A330neo, several helicopters including a Motor Sich Mi-2MSB-1, a Mi-38 and an ANSAT from Russian Helicopters, an eye-catching formation of three Chinook, three Black Hawk, and three Apache helicopters, opening the way for the Emirates A380, soon followed by the UAE's air display team, Al Fursan, positioned in an arrow formation. UK-based aerobatic team, The Blades and Dassault's Rafale Fighter also served a visual treat for the aviation enthusiasts along with the Patrouille de France, flying Alpha Jets built by Dassault Aviation.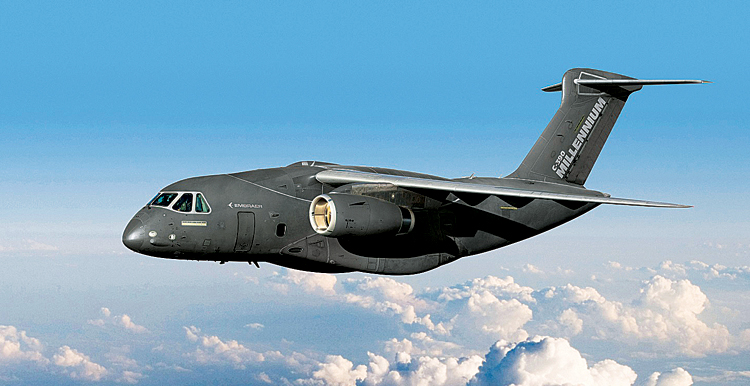 KC-390— has been re-designated as the C-390 to better reflect its mission flexibility, and it has also been given the name "Millennium"
On static display were aircraft including a YAK-130 fighter jet, UAE Air Force jet, VRT500, Lockheed Martin's F-22A Raptor, Russian-made Mi-38 helicopter, a second-generation Hercules represented by a C-130J-30 from the US Air Force's 317th Airlift Wing. The Embraer KC-390, the Super Tucano, the Praetor 500, the Phenom 300E, and the E195-E2 were also a part of the static display as were Dassault's Falcon 8X, Falcon 900LX. The UAE Ministry of Defence displays throughout included a Mirage 2000 and an F-16.
Riyadh-based Intra Defense Technologies showcased the fixed-wing Karayel UCAV Airshow in an effort to further promote the solution to the Middle East market and international customers and China's CATIC/AVIC showed a full-scale mock-up of the U8EW rotary-wing unmanned air system (RWUAS).
German technology supplier Rohde & Schwarz presented a variety of aerospace and defense solutions that deliver safety and efficiency in several domains.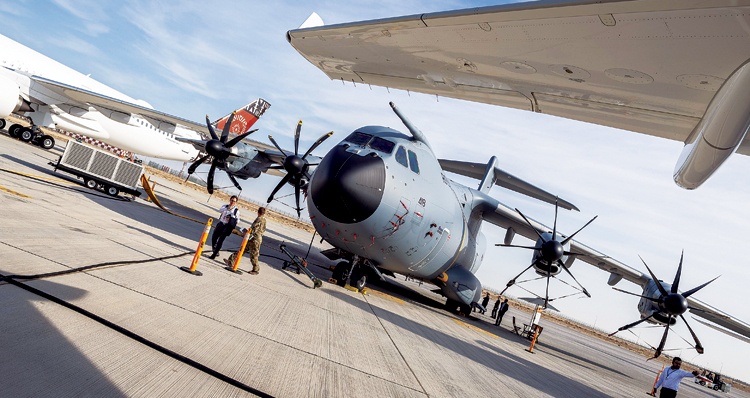 RAF A400M on ground at the Airshow
In recent years, Dubai has been the hub where most of the biggest deals have been done be it across the defence sector, the commercial or the business aviation wing.
DEFENCE DEALS
Dubai has proved to be a key venue for arms deals. Given the scale of Middle East defence budgets, few arms manufacturers can afford not to have a presence in Dubai. All the major names including Britain's BAE Systems, France's Dassault and America's Lockheed Martin marked their presence at DAS 2019.
The UAE Ministry of Defence (MOD) unveiled some major contracts at the show.

The UAE's Global Aerospace Logistics (GAL), a regional a provider of professional aerospace services, has signed a contract with Chinese state-backed defence contractor China National Aero-Technology Import & Export Corporation (CATIC) to set up a bonded warehouse in Abu Dhabi, GAL.
The largest deal announced by the UAE defense ministry was an AED 3.5 billion ($950 million) award to GAL, also part of EDGE, for helicopter maintenance. Halcon, which is now operating under the EDGE umbrella, secured a purchase deal for various ammunitions worth $980 million. Lockheed Martin too received a UAE MoD contract to provide F-16 equipment, worth $20.6 million. Lockheed Martin was additionally awarded a contract for F-16 simulator systems valued at AED 533.3 million.
The UAE also announced a contract to upgrade some of its Dassault Mirage 2000-9s in a deal with Dassault Aviation that is valued at around AED 1.8 billion ($490 million). No details regarding the nature of the Mirage upgrade were revealed.
The UAE General Headquarters (GHQ) announced its intentions to double the A330 MRTT tanker-transport fleet and to add two further Saab GlobalEye multi-role airborne early warning/reconnaissance aircraft. In both cases, the announcements only spelled out intentions to procure, and final negotiations are yet to be concluded.
The UAE announced its intention to buy 24 B-250 light attack aircraft from aerospace company Calidus at the Dubai Airshow. Major-General Ishaq Saleh Al Beloushi, deputy executive director of the Military Committee of Dubai Airshow 2019, said the contract is worth Dh2.27 billion. This brings the total value of deals by the UAE's Ministry of Defence over the past four days to over $4 billion.

French aerospace company, Thales was also awarded a contract for maintenance and life-extension services on pods carried by the country's Mirage 2000-9EAD fleet, valued at AED 232.6 million.
Boeing and Embraer announced their joint venture to promote and develop new markets for the C-390 Millennium multi-mission airlift and air mobility aircraft will be called Boeing Embraer – Defense. The organisation will only be operational after the companies' joint venture receives regulatory approvals and meets closing conditions.
Embraer also announced the name and designation of its multi-mission medium aircraft, the Embraer C-390 Millennium. The new designation reflects increased flexibility and value for operators that look for a transport/cargo aircraft to perform airlift and air mobility missions, among others.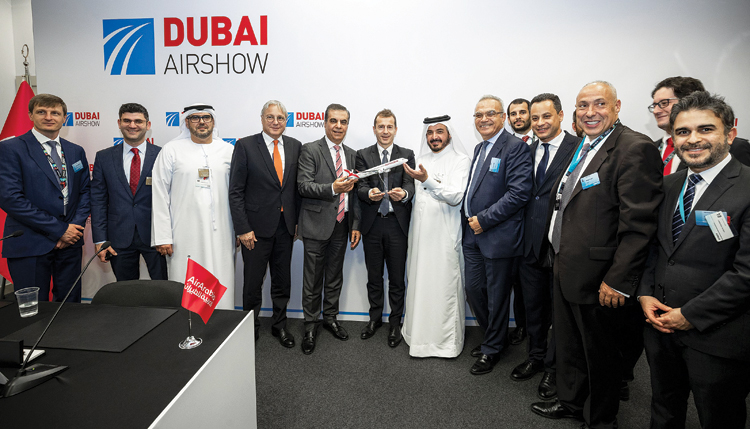 A $14 billion deal was signed by Air Arabia with Airbus for a purchase of 120 new aircraft
At the same time, the aircraft—hitherto known as the KC-390— has been re-designated as the C-390 to better reflect its mission flexibility, and it has also been given the name "Millennium." The tanker role that it represents is still a key capability of the aircraft. Embraer has received orders for 33 C-390s so far: 28 for Brazil and five for Portugal with the second Brazilian aircraft due for delivery in December.
Lufthansa Technik announced the impending first head-of-state cabin conversion of an Airbus A350, ordered by the German federal government's Special Air Mission Wing. Slated to begin in April, preparations for the conversion have already commenced at the company's VIP workshops in Hamburg, Germany.
Bollore Logistics India signed a contract for aircraft engine transportation, including customs clearance documentation, with CFM Aircraft Engine Support South Asia. Karthigeyan Ramaswamy, Managing Director, CFM Aircraft Engine Support South Asia, and Phillippe Lortal, CEO Middle East and South Asia, Bollore Logistics signed the agreement. "The contract is for importation into India, including, but not limited to, customs clearance at Delhi Airport," Lortal said.
Spain, the Netherlands, the United Kingdom, and the United Arab Emirates have all ordered AN/AAR-57 Common Missile Warning Systems (CMWS) from BAE Systems. The combined orders, all made through US foreign military sales, total $71 million in new business for the company.
Airbus has selected Collins Aerospace to provide its Pro Line Fusion touchscreen flight deck for the C295. The first application is the variant of the versatile airlifter being supplied to the Royal Canadian Air Force to answer its Fixed-Wing Search and Rescue (FWSAR) requirement.
VR-Technologies, a division of Russian Helicopters Holding Company (RHHC), and Pratt & Whitney signed a contract for outfitting the in-development VRT500 light helicopter with PW207V gas-turbine engines. The same day, RHHC announced the impending purchase of half of the subsidiary by the UAE's Emirati Tawazun Holding Company. VR-Technologies signed a corresponding dealership agreement with Sweden's Rotorcraft Nordic AB, under which Nordic intends to acquire ten VRT500 helicopters in a basic configuration prior to 2023.
An agreement was also signed by Saudi National Center of Aviation (SNCA) with Boeing for its Jeppesen Dispatcher Training. This agreement provides Jeppesen training content, including electronic training materials, and instructors to train SNCA students throughout the Middle East as part of its dispatch curriculum.
Norwegian Air Shuttle has reached a multiyear agreement for Jeppesen FliteDeck Pro electronic flight bag (EFB) solution, including NavData digital navigation services, airport data, and required navigation performance (RNP) services.
Kuwait finalised an agreement for Integrated Logistics Support (ILS), which provides F/A-18 support equipment, aircrew courseware, and training devices, and technical publications.
Korea signed a multiyear F-15K F110 engines spares agreement that will provide spares for the Republic of Korea's fleet of F-15 aircraft.
India reached a three-year training renewal agreement for C-17 training services for the Indian Air Force.
Japan signed a Foreign Military Sale agreement for Integrated Logistics Support (ILS) for the country's V-22 fleet.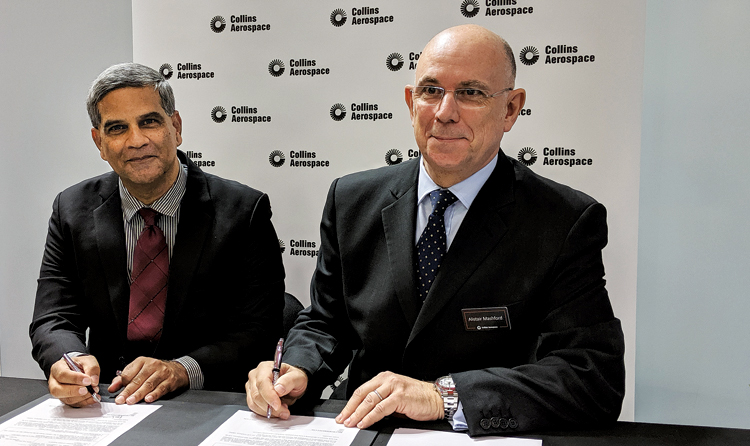 Collins Aerospace received a contract by the Indian start-up carrier, FlyBig to provide its ARINC PaxLink system
CIVIL CONTRACTS
Some of the major trade highlights witnessed among civil aviation players included:
Emirates chairman Sheikh Ahmed bin Saeed al Maktoum made an order to Airbus of 50 A350-900s worth $16 billion at list prices. Emirates also signed a purchase agreement $8.8 billion for 30 Boeing 787-9 Dreamliners.
A deal worth $14 billion was signed by Air Arabia with Airbus for a purchase of 120 new aircraft, consisting of A320neos, A321neos and A321XLRs.
Airbus' A220 enthralled new African customer as it signed a letter of intent covering eight of the A220-300 variant from Air Senegal. A220 has a list price of $81 million apiece.
Saudi Arabia's Flynas signed a firm order for ten Airbus A321XLRs, raising its total order count for A320-family jets to 90.
EasyJet, Europe's second-biggest budget airline used its purchase rights to enhance its fleet of Airbus A320neos with 12 new aircraft, taking its total order count for the A320neo family to 159 aircraft and its overall orders for A320-family jets to 480.
Boeing and the Republic of Ghana signed an MoU for three airplanes with a list price value of $877.5 million as the country intends to re-launch an airline starting with the Boeing 787-9 Dreamliner.
Boeing also announced, orders and agreements with leading airlines and governments including Egypt Apache, TAAG Angola Airlines and FlySAFAIR. The manufacturer also sold off a pair of Boeing 787-9s worth $585 million at list price to Biman Bangladesh Airlines.
LATAM Airlines Group, one of Latin America's leading passenger and cargo airlines announced multiyear agreements that will provide LATAM access to Boeing's global supply chain for 787 and 777 Landing Gear Exchange services.
Air Astana's intent to order 30 Boeing 737 MAX 8 airplanes for its new low-cost airline FlyArystan was also announced during the show.
Egyptian flag carrier, EGYPTAIR also announced to lease two more Boeing 787-9 jets from leading lessor AerCap.
Honeywell Aerospace signed a deal with Lebanon's Middle East Airlines (MEA) to provide flight deck avionics suites for 19 aircraft MEA has ordered from Airbus including eleven A321neos, four A330neos, and four A321XLRs.
Saudi Arabian Airlines, Saudia also extended its partnership with Honeywell to include maintenance services for auxiliary power units (APUs) installed on the airline's Airbus A330s and Boeing 777s.
Sales of three Dash 8-400 turboprops from De Havilland Canada were also announced to Elin Group of Nigeria in a deal worth $99 million. While Palma Holding, a Dubaibased property leasing company signed a letter of intent to purchase 20 of the De Havilland Dash 8-400s.
Nigeria's Air Peace topped up its fleet with the purchase of three Embraer 195-E2s, while Egyptian lessor CIAF purchased three E190s and Omani low-cost carrier SalamAir agreed on the lease of two Airbus A321Neos from GECAS.
Collins Aerospace received a contract by the Indian start-up carrier, FlyBig to provide its Arinc PaxLink system covering reservations and inventory management, distribution and departure control with "one integrated cloud-based system." Collins also signed a 10-year support agreement with Etihad Airways covering the airline's fleet of Boeing 787-9s, which will be included in Collins's Dispatch flight-hour maintenance programme.
Another agreement was announced between GE Aviation and Sanad Aerotech for the Abu Dhabi-based MRO to provide maintenance services for GE's GEnx-1B engines as well as continued time (quick turn) overhauls on CFM International's Leap engines, both of which power next-generation narrow- and wide-body airliners.
Dubai-based Empire Aviation Group (EAG) launched a fresh aircraft management arm in Egypt and has also received approval to provide continuing airworthiness management organisation (CAMO) services for third party operators, the company announced at the Dubai Airshow.
BIZAV BUZZ
Amidst the expected boom that the Middle East is witnessing in the business aviation sector, growth was noticed in the business aviation exhibitors too at this year's DAS.
Embraer announced that Falcon Aviation's latest facility located at Al Maktoum International Airport (DWC), Dubai's new airport has been approved as an Embraer Authorized Service Center (EASC) to expand their support for Legacy 600/650 and Lineage customers in the region.
A firm order for three E190 aircraft was also signed between Embraer and Cairo-based CIAF Leasing. The deal has a value of $161.4 million at current list prices.
The Space Tech Talks looked at the technological advancements needed for the next generation of space exploration and its impact
Embraer also announced that Air Peace, Nigeria, and West Africa's largest airline has signed a contract for three additional E195-E2s. These new E195-E2s have a value of $212.6 million.
Gulfstream exhibited three business jets at the airshow's static display: the Gulfstream G650ER, the newly-in-service Gulfstream G600, and the high-tech Gulfstream G500. "Gulfstream continues to expand its support of the growing Middle-Eastern market — now more than ever with the reveal of our new ultra-long-range flagship, the Gulfstream G700," said Mark Burns, President, Gulfstream.
Dassault Falcon too had a strong presence at the airshow with the display including the ultra-long-range large-cabin Falcon 8X flagship, versatile 900LX and the full-scale mockup of the Falcon 6X cabin – the tallest and the widest in business aviation. The Falcon 6X is currently in development.
Honda Aircraft arrived at DAS 2019 amidst growing global acceptance of its HondaJet Elite. "My goal is to expand business aviation in international markets by introducing light jets with the HondaJet," said Fujino, President and CEO of the Honda Aircraft Company.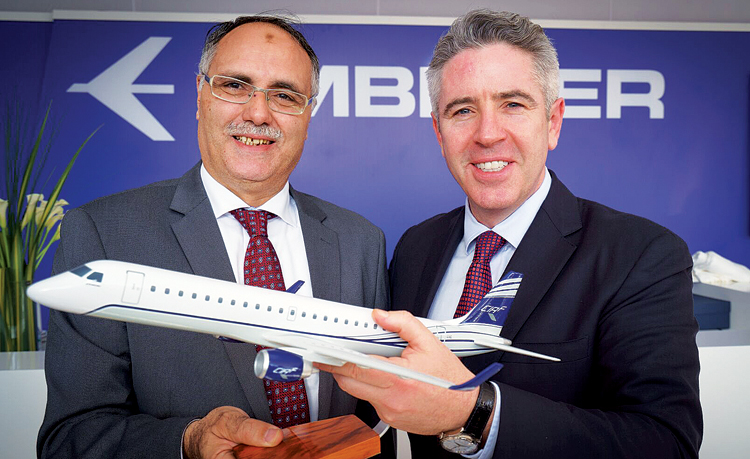 CIAF Leasing signs order with Embraer for three E190 jets
On static display at Al Maktoum International Airport, the HondaJet Elite exhibited innovations including the over-the-wing engine mount configuration, natural laminar flow nose and wing, and composite fuselage. Certified for the single-pilot operation, Honda Aircraft claims the Elite is also more fuel-efficient and emits fewer greenhouse gases than any similarly sized twin-jet.
One of the leading providers of technical aircraft services, Lufthansa Technik's VIP & Special Mission Aircraft division showcased:

VIP Cabin concept SkyRetreat envisioned for the Airbus A220: The design study for this cabin envisions a minimalistic approach based on natural materials and offers an open, versatile place. The centerpiece of the concept is the Observation Deck that for the first time in VIP aviation extends the passenger cabin seamlessly into the aircraft's flight deck – allowing all occupants to enjoy unprecedented and totally immersive views of new horizons.
VIP Cabin concepts for the Airbus A350: The multi-functional and flexible cabin's open-plan architecture and amenities create a setting that invites the customer to indulge in fresh cooking, a family dinner served at a generous table, great conversations, kids playing and media entertainment of any kind on an extra-wide screen.
A letter of intent expressing cooperation in further exploring and promoting a new "Human-centric Lighting" technology and bringing it to the market was signed during DAS 2019 between SCHOTT, JetLite, Etihad Engineering and Lufthansa Technik.
Basel-based business Aviation Company, Jet Aviation Dubai and the University of South Wales (USW) Dubai announced their cooperation to aid the development of aspiring aviation professionals. Jet Aviation will provide the required on-the-job training opportunities to students in Dubai enrolled at USW Dubai, while USW will support tuition for qualified Jet Aviation employees.
SunExpress too exercised its options for 10 additional Boeing 737 MAX 8 airplanes to continue renewing its fleet and growing its position in the leisure travel industry.
FUTURE FIELD
All over the world, unmanned aerial vehicles are being deployed by an ever-increasing number of armed forces – including in the Middle East, where China has emerged as the preferred supplier. Regardless of the doctrine governing its employment, the armed unmanned aerial vehicles (UAV) has become an indispensable asset for many armed forces around the world, including those in the Middle Eastern countries. The drones were an essential part of the DAS.
At DAS, Belarusian defence industry showcased its latest developments in the areas of UAVs and counter-UAV (C-UAV) systems, according to Belarus' State Committee for Military Industry (Goskomvoenprom, GKVP).
Russian arms exporting agency, Rosoboronexport demonstrated Russian systems designed for the counteraction to UAVs of all types, at the international aviation and space exhibition DAS 2019.
lot of attention was attracted at DAS 2019 by Boeing's NeXt division through its three electric aircraft projects—the Passenger Air Vehicle (PAV), Cargo Air Vehicle (CAV), and Odysseus ultra-long-endurance UAV.
Inspired by biomimicry, Airbus revealed Fello'fly at DAS 2019, a project aimed at demonstrating the technical, operational, and commercial benefits of having two or more aircraft flying together in order to reduce fuel consumption, much as birds do.
Roxo, an autonomous delivery device was displayed by headline sponsors FedEx Express, as it delighted delegates gliding up on to the stage to bring notes to conference MC and obeying voice commands.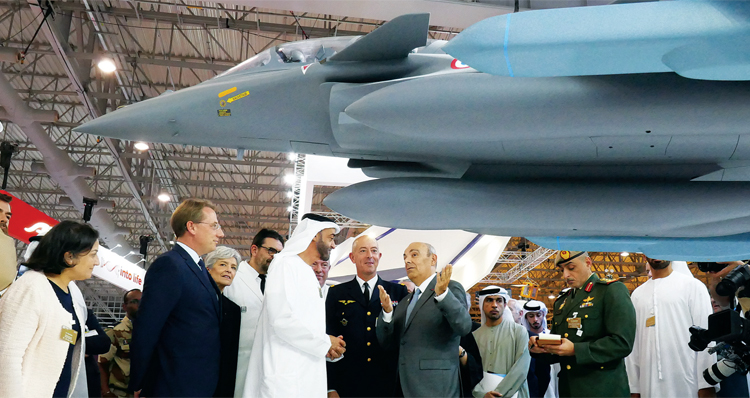 Sheikh Mohammed bin Zayed al Nayan, Général Philippe Lavigne, Chief of Staf of the French Air Force and Eric Trappier, Chairman and CEO of Dassault Aviation, speaking about Rafale fighter at Dubai Airshow 2019
GREEN GATEWAY
To answer environmental concerns in the aerospace industry, creative solutions and attempts were exhibited at the airshow to sustain a more eco-friendly aviation.
Electric buggies and segways were used to move visitors around the show.
Etihad Airways and Boeing led the industry's move to reduce emissions through a first-of-its-kind 'eco partnership' with their green liner, a specially-themed Boeing 787 Dreamliner which will be used as a flying laboratory to test products, procedures and initiatives designed to reduce aircraft carbon emissions.
The world's first eco-friendly air race – Air Race E, the Airbus-backed electric racing series, unveiled the first electric race plane, 'White Lightning'. Announced and unveiled at DAS 2019 by Air Race E race promoter Jeff Zaltman, it is the first-ever example of an electric race plane by Yorkshirebased Team Condor and will compete in the inaugural Air Race E event in 2020.
The first afternoon of Dubai Airshow 2019 flying the display was opened by Emirates Airbus A380 through a special flypast. To make a special nod to Expo 2020 theme, sustainability, the Airbus A380 was in green livery.
Aerospace company, Leonardo and Falcon Aviation Services demonstrated a rotorcraft-dedicated terminal concept to meet the growing demands for sustainable and vertical lift mobility and greater access to urban areas. This new rotorcraft terminal combines a helipad, a showroom and lounge areas in a single city-based heliport in a unique manner, ideally supporting the development of a network of pointto-point connections for both urban transfers as well as connections between cities. The rotorcraft terminal features strong environmentally friendly design and modularity using recyclable materials and, if required, it can be transported.
INDIA PAVILION AT DUBAI AIRSHOW
The Dubai Airshow featured a number of country pavilions. Exhibiting within a pavilion increased the company's impact on the show as the pavilions command premium positions. For the first time, India had its own country pavilion, displaying indigenous products from the country's defence public sector undertakings. The Indian delegation to the airshow was led by Vice Chief of the Air Staff, Air Marshal H.S. Arora.
P. Radha Krishna, Director (Production) of first-time exhibitors Bharat Dynamics, an Indian Government enterprise, said Dubai Airshow was well organised. "The show is in one of the best places available, as it is centrally located in the world," he said. "Another advantage is that it is a popular tourist destination so that people want to come here."
Other companies present at the India Pavilion included BAE Systems India, BrahMos Aerospace, Cadence Design Systems India, Defence Research and Development Organisation (DRDO), Empire Aviation Group, Hindustan Aeronautics Limited (HAL), etc.