This mission marked the first time a commercially developed space vehicle, owned and operated by a private entity rather than NASA, carried Americans into orbit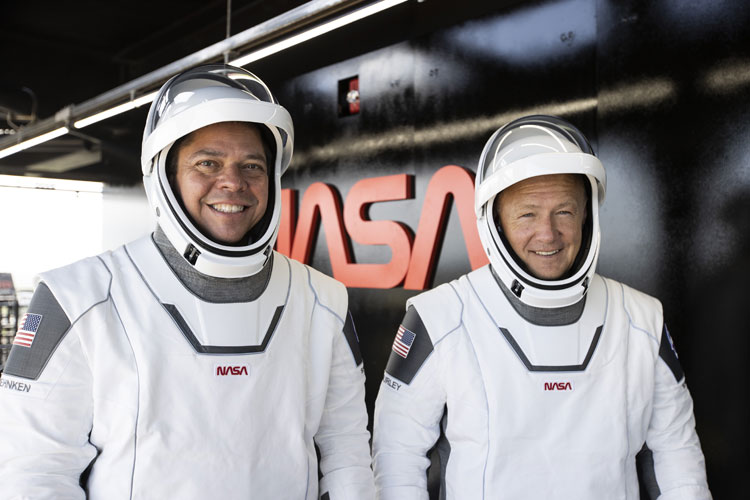 NASA ASTRONAUTS ROBERT BEHNKEN (LEFT) AND DOUGLAS HURLEY BEFORE TAKING OFF FOR THE CREW DRAGON FLIGHT
History was made on May 30, 2020, as NASA astronauts launched from American soil for the first time in a commercially built and operated American crew spacecraft on its way to the International Space Station. The SpaceX Crew Dragon spacecraft carrying NASA (National Aeronautics and Space Administration) astronauts Robert Behnken and Douglas Hurley lifted off at 3:22 p.m. EDT Saturday on the company's Falcon 9 rocket from Launch Complex 39A at NASA's Kennedy Space Center in Florida. The same launch pad was used for the Apollo 11 Moon landing mission.
"Today a new era in human spaceflight begins as we once again launched American astronauts on American rockets from American soil on their way to the International Space Station (ISS), our national lab orbiting Earth," said NASA Administrator Jim Bridenstine. "I thank and congratulate Bob Behnken, Doug Hurley, and the SpaceX and NASA teams for this significant achievement for the United States. The launch of this commercial space system designed for humans is a phenomenal demonstration of American excellence and is an important step on our path to expand human exploration to the Moon and Mars."
The two astronauts aboard the capsule are veterans of the Space Shuttle programme that was shuttered in 2011. Just before lift-off, Hurley said, "SpaceX, we're go for launch. Let's light this candle," paraphrasing the famous comment uttered on the launch pad in 1961 by Alan Shepard, the first American flown into space. "It's been a real honour to be a small part of this nine-year endeavour since the last time a United States spaceship has docked with the International Space Station," added Hurley.
With an end-to-end test flight to validate the SpaceX crew transportation system, including launch, in-orbit, docking and landing operations, the mission has been known as NASA's SpaceX Demo-2.
The Demo-2 mission is the final major test before NASA's Commercial Crew Program that will certify Crew Dragon for operational, long-duration missions to the space station. As SpaceX's final flight test, it will validate all aspects of its crew transportation system, including the Crew Dragon spacecraft, spacesuits, Falcon 9 launch vehicle, launch pad 39A, and operations capabilities.
This was SpaceX's second spaceflight test of its Crew Dragon and its first test with astronauts aboard, which will pave the way for its certification for regular crew flights to the station as part of Commercial Crew Program. This program is a partnership to develop and fly human space transportation systems. In January, SpaceX successfully completed an in-flight test of Crew Dragon's launch escape capabilities. This test, which did not have NASA astronauts on-board the spacecraft, demonstrated Crew Dragon's ability to reliably carry crew to safety in the unlikely event of an emergency on ascent.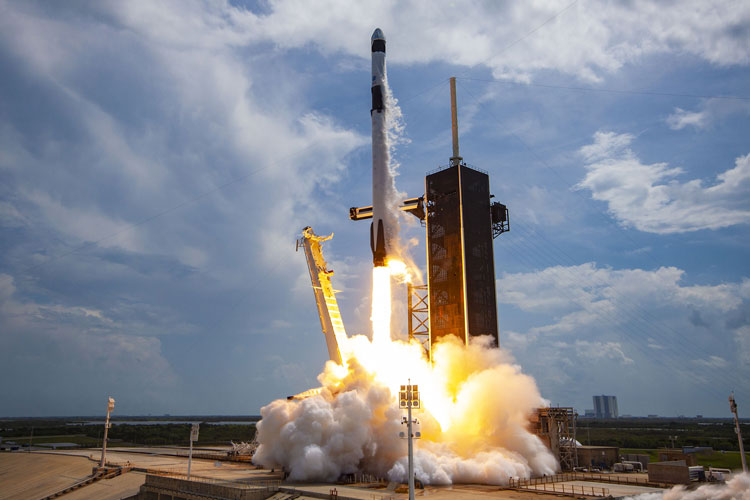 FALCON 9 LIFTS OFF FROM HISTORIC LAUNCH COMPLEX 39A, SENDING CREW DRAGON TO ORBIT ON ITS FIRST FLIGHT WITH NASA AS TRONAUTS TO INTERNATIONAL SPACE STATION
SpaceX flew the first demonstration of its new crew vehicle last year, but that had only a dummy aboard. This recent sortie of May 30 is the first to carry humans.
Elon Musk, founder and chief engineer at SpaceX said, "This is a dream come true for me and everyone at SpaceX. It is the culmination of an incredible amount of work by the SpaceX team, by NASA and by a number of other partners in the process of making this happen. You can look at this as the results of a hundred thousand people roughly when you add up all the suppliers and everyone working incredibly hard to make this day happen." Stating how overwhelmed with emotions he was, Musk said, "It's been 18 years working towards this goal. This is hopefully the first step on a journey towards civilisation on Mars."
The program is being hailed as a demonstration of NASA's commitment to investing in commercial companies through public-private partnerships and builds on the success of American companies, including SpaceX, already delivering cargo to the space station. The mission also puts an end to the government monopoly on space flights.
This was SpaceX's second spaceflight test of its Crew Dragon and its first test with astronauts aboard, which will pave the way for its certification for regular crew flights to the station as part of the Commercial Crew Program.
SpaceX controlled the launch of the Falcon 9 rocket from Kennedy's Launch Control Center Firing Room 4, the former space shuttle control room, which SpaceX has leased as its primary launch control center. As Crew Dragon ascended into space, SpaceX commanded the spacecraft from its mission control center in Hawthorne, California while NASA teams were monitoring space station operations throughout the flight from Mission Control Center at the agency's Johnson Space Center in Houston.
Falcon 9 is a reusable, two-stage rocket designed and manufactured by SpaceX for the reliable and safe transport of people and payloads into Earth orbit and beyond. Falcon 9 is the world's first orbital-class reusable rocket. Reusability allows SpaceX to refly the most expensive parts of the rocket, which in turn drives down the cost of space access. The reusable rockets by SpaceX are pioneered to make spaceflight less costly and more frequent.
The Dragon spacecraft is capable of carrying up to 7 passengers to and from Earth orbit, and beyond. It was the only spacecraft currently flying that is capable of returning significant amounts of cargo to Earth, and has now become the first private spacecraft to take humans to the space station.
In addition to carrying astronauts to space for NASA, SpaceX's Dragon spacecraft can also carry private passengers to Earth orbit, the ISS, or beyond. SpaceX has been delivering cargo to and from the ISS since 2012.
After reaching orbit, Behnken and Hurley named their Crew Dragon spacecraft "Endeavour" as a tribute to the first space shuttle each astronaut had flown aboard. Endeavour also flew the penultimate mission of the Space Shuttle Program, launching in May 2011 from the same pad.
The Crew Dragon capsule chased down the space station at speeds of 28,000kph before carefully aligning its orbital plane and slowing down to a crawl for the delicate docking procedure.
Following a journey of under 19 hours after launching from Florida, the next day Crew dragon autonomously docked to the ISS and Behnken and Hurley, the first astronauts to fly to SpaceX's Crew Dragon to the station, arrived at ISS on Sunday, opening a new era in human spaceflight. Both the astronauts were welcomed as crew members of Expedition 63 by fellow NASA astronaut Chris Cassidy and two Russian cosmonauts Anatoly Ivanishin and Ivan Vagner. With this the spacecraft successfully completed the first leg of its journey.
The current mission will be a complete success only after Behnken and Hurley return to Earth in the Crew Dragon. For now, both the astronauts have an open-ended stay in orbit. The Crew Dragon test flight was originally scheduled to last only a couple of weeks, enabling the astronauts to test out capabilities of the capsule including serving as a shelter in case of an emergency. The Crew Dragon is currently certified for up to four months in space. However, the spacecraft's solar panels gradually decay over time, and the worry is that if it is docked too long, the panels would not be able to generate enough power for a safe re-entry to Earth's atmosphere.
Hurley's and Behnken's arrival at the ISS also means they get to claim a Stars and Stripes flag placed on the platform by the members of the very last space shuttle mission in 2011. The Atlantis orbiter's crew left this flag as an incentive to all those that came after them. The flag, which also flew on the very first shuttle flight in 1981, will now be returned to Earth to be given to the mission that next goes beyond Earth orbit.
NASA officials haven't decided how long Doug Hurley and Bob Behnken will remain in space. In a May 1 mission briefing, agency leaders said they could spend as many as four months aboard the ISS or as few as five weeks. In that time, they will become members of the current ISS Expedition 63 crew, taking part in the platform's everyday science and maintenance activities.
It all depends on the shape of the Endeavour capsule and when SpaceX and NASA officials feel it is again safe to fly. Hurley and Behnken's flight is a demonstration mission, officially called Demo-2, to test the space-worthiness of the Falcon 9 and Crew Dragon and certify them for future crewed launches. With the demo launch complete, the two astronauts' main goal is to evaluate their spacecraft and report how well it weathered the flight and docking.
It was also a test flight designed to see how the spacecraft, which had never flown humans before, performed. So far, it seems the answer is very well, but the astronauts still need to return home safely after their tour on the station ends sometime in the coming months.
PRIVATISATION OF HUMAN SPACEFLIGHT
For NASA, the flight was the apex of a journey that began years ago when the Space Shuttle program ended with no way for the space agency to send people into space. In these years since NASA paid Russia to fly its astronauts to the space station.
NASA then outsourced the job of space launches to the private sector, giving contracts to SpaceX and Boeing in 2014, a combined $6.8 billion. Initially, Boeing, the industry stalwart that had been NASA's partner for generations, was considered the favorite. But its Starliner spacecraft encountered significant problems during a test mission without crews last year and had to cut that flight short.
The Demo-2 mission, Bridenstine said, foreshadows a sea change in the way NASA will do business ahead in space. Instead of owning and operating the spacecraft itself, Bridenstine said, the future of the agency will lie with partnering with the growing commercial space sector, as it has with SpaceX.
SpaceX and NASA need a clean crewed demonstration so they can move swiftly to the next phase of the company's $2.6 billion contract, which will encompass six astronauts "taxi" flights. The first of these should occur at the end of August, or very soon after; and will see four astronauts climb aboard a Dragon rather than just the two we saw on this occasion.