There are as many as 700 touchpoints exposing passengers to the risk of contagion on a single commercial flight, compared to just 20 such in business aviation.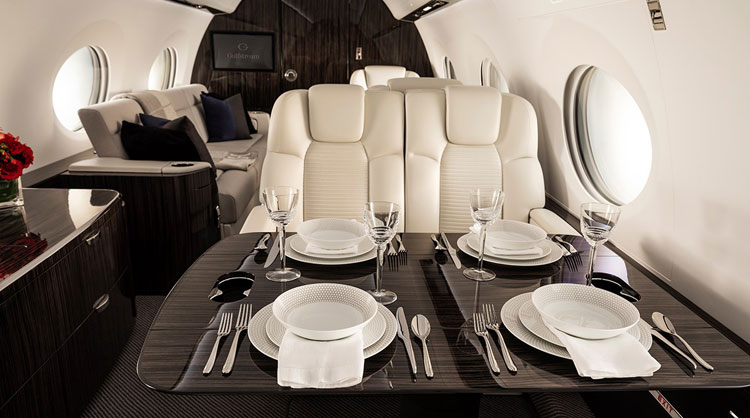 CUSTOMISATION AND COMFORT – KEY FOR PRIVATE AVIATION. G500 BY GULFSTREAM
The global pandemic of novel coronavirus (COVID-19) changed the way the world functions and almost got the world to halt. Amid such extraordinary times, governments were forced to take unprecedented measures. Travel being the major and one of the most initial restriction, the virus gave a hard hit to the aviation industry, especially the commercial aviation industry. However, the private aviation market did not see a downfall as severe when the virus began to spread. It rather witnessed a surge in demand of the business jets.
With the wealthy community of the HNI's, NRI's and corporate biggies, favouring to fly private, the demand for private jets did flourish in a time when the overall industry has been engulfed by the strom of the COVID-19 pandemic. In Asia, where the outbreak originated, charter companies witnessed a sustained increase in new customers as people who fled the virus in January returned in March from places.
Many well-off travelers who hoped to minimise their public exposure and find alternatives to suspended flights, opted to fly privately at least before complete lockdowns. Also with those essentially travelling to or from areas of travel restrictions and flight suspensions, private jets were the way out. This led to the spike in urgent demands pouring in with the private jet operators. A lot of companies that were looking to pull their employees out of the infected regions also shifted to flying private.
Swiss private jet broker LunaJets, highlighted "impressive increase" in bookings and enquiries from passengers, correlating with heightened concerns surrounding COVID-19. In February, about 15 per cent of overall requests were related to coronavirus, and this doubled to 30 per cent in mid-March for LunaJets.
"Over the past month we have flown many clients between a variety of global destinations. Most have been requests to fly as soon as possible (within 1-5 days) and the majority are people flying home to their families, or looking to repatriate the loved ones," PrivateFly, a global private jet charter broker company, highlighted on its website.
However, as restrictions begin to lift and travel starts to resume, although only under essential reasons, the private aviation market is expected to witness a spike in the post COVID-19 world. While it is highly uncertain to make any predictions, economic and practical considerations suggest that it is a high possibility.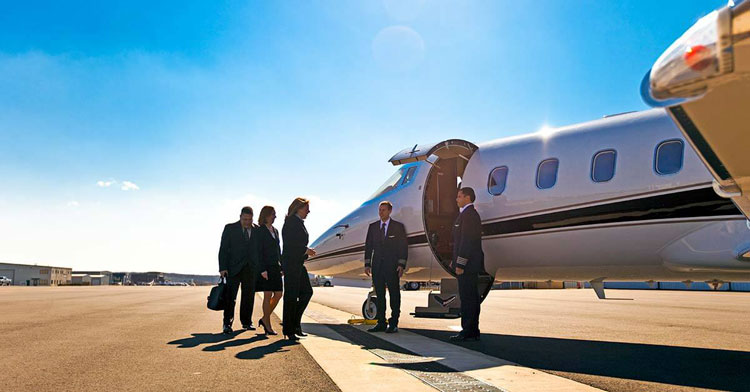 TRAVELERS WHO HOPE TO MINIMISE THEIR PUBLIC EXPOSURE WILL OPT TO FLY PRIVATELY
Even after air spaces open for commercial travel post the lockdown, travelling with over hundred passengers, coughing and sneezing in the same cabin irrespective of new social distancing norms could make air travel a risky health hazard.
With over 33 lakh active cases and more than four lakh deaths worldwide due to COVID-19, and no vaccine or cure yet, it will be of paramount importance to maintain social distancing and minimise situations of gathering in large groups of people. Concerns regarding the prevailing health risks are here to stay. Travel is quite likely to reduce but essential travel must be carried on. Owing to the health risks involved, commercial flying is likely to go down and the demand for private aircraft is likely to get more preference by company executives and other travelers that prioritise efficiency and flexibility. People will stay suspicious of sharing the aircraft with larger groups of unknown people for quite some time to come in the future.
This global health crisis has caused negative economic impact across industries and the recovery is not expected anytime soon. The travel industry all across the globe will also be a largely hit industry, however, going by some indicators and situation considerations, private air travel is likely to witness a potential long-term growth and fetch new customers.
"Business community, politicians & well-placed citizens, so long as they can afford it, may gradually change their mind-set so as to prefer air travel by private jets/turboprops & air-taxies, both within & outside the country, just as they have over-whelmingly opted for personal vehicles & ground taxies as the preferred mode of a safe, comfortable & convenient method of affordable self-transportation."

—Air Vice Marshal S. S. Chauhan (Retd), President BAOA
This is also being predicted taking clue from the 9/11 instances. The commercial airline industry was highly depressed after the tragedy of September 11, 2001, and the demand for private charter flights saw a surge in that situation. On the similar lines, the parameters that prevail in the current economic and sociopolitical environment, are also likely to contribute towards a change in preference to private air travel as the need for travel is set to eventually return in the second half of 2020.
Some of the reasons that indicate this rise in private aviation's demand in the post COVID-19 world include:
The biggest plus point of flying private is literally the 'privacy' that it offers, allowing the passenger to be sure of whom they are flying with and avoid unnecessary contact.
Even with resumed travel, company executives will not yet prefer to stay over in a place unless it is absolutely necessary. In such a scenario, flying private is the right option to optimally balance the time of the time visit and return from a place on one's own requirement.
Even though commercial airlines are considering how to make their flights more and more safe for a public, that will emerge from this health crisis, the airlines and the passengers are very well aware of the potential of coronavirus spread in a confined space such as an airplane holding a large number of passengers.
Flying private also puts the crew to less exposure and reduced contact.
Going by the previous scenarios, the flexibility and efficiency of private air travel is likely to prove decisive for companies.
Most of the private flights operate out of small, private aviation terminals, not mass transport hubs. Hence, further reducing the risk for passengers from coming in contact with multiple surfaces across security checks and boarding lines. The contact is reduced to mostly being by yourself once the aircraft is boarded. The passenger only has to contact with the security agents and the crew, and some airport personnel.
With such reduced social contact possibility and the flexibility as well as convenience, private jets can be marketed as safer alternatives and hence witness a rise in demand.
The first-time customers can also be converted to long-term ones.
With an influx in more passengers choosing to fly private and an addition of new customers, the private jets might come down on the costs a little, hence attracting more customers.
The amount of flights offered commercially are most certain to see a dip in demand as the travel preference for leisure and other non-essential travel will be very low. Business travel is expected to be among the first to recover.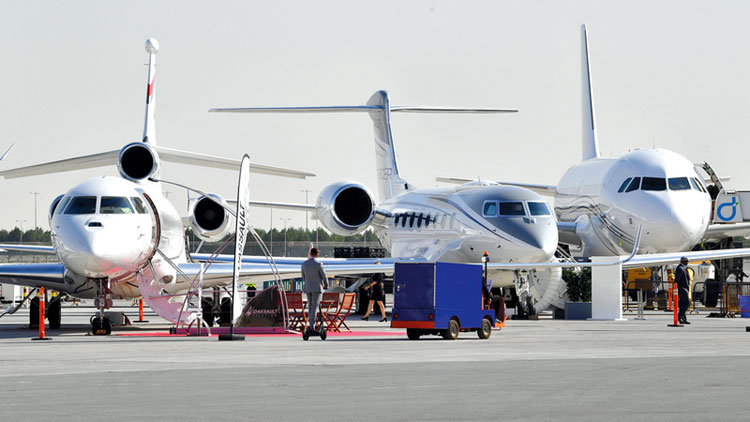 WITH THE WEALTHY COMMUNITY FAVOURING TO FLY PRIVATE, THE DEMAND FOR PRIVATE JETS WILL FLOURISH
GlobeAir, the Austrian-based very light jet operator, conducted an observatory study to find out that transiting passenger terminals at airports and flying on a commercial airliner creates around 270 possible person-to-person interactions where one could be exposed to Coronavirus versus less than 20 on private flights. GlobeAir also stated that flying private dramatically reduces the risk of contracting COVID-19 Coronavirus over commercial airline travel. In a press release, GlobeAir also highlighted that there are 700 touchpoints exposing passengers to the risk of contagion on a single commercial flight.
It must also be noted that while this research brings out a crucial point, it does not yet account for bacteria, germs, and fungi that could be lurking on the surfaces of aircraft cabins especially in the commercial ones. The Canadian Broadcasting Corporation's report noted that nearly half of the surfaces swabbed on airline flights contained levels of bacteria or yeast and mold that could further increase a person's risk for infection.
Many heads of the private jet charter firms are also in agreement that despite the current downturn, associated with the pandemic, points out towards not only a quick recovery but also a boom as more wealthy travelers are expected to make the jump from commercial to private.
The risk of infection has overpowered the extra pay which people usually think about while opting for flying private. Saving lives has taken and will take a front seat in comparison to saving money with the entire coronavirus social distancing issue. For those who can afford, private aviation is the best way to travel, keeping the risk of infection at bay.