Wearing a travel kit (PPE) should be made mandatory for all passengers on domestic flights or on any other transportation mode. Since this travel kit gives traveller head to toe protection, it will boost up the confidence of all travelers.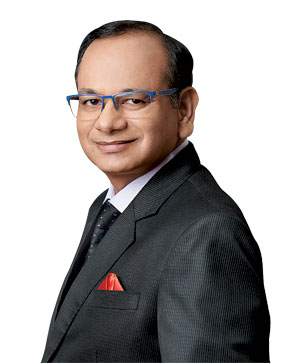 HARISH CHANDRA
Necessity is the mother of invention. During current pandemic situation of COVID-19, everyone is following social distancing norms for their health and hygiene. However Govt. is easing lockdown rules to avoid adverse economic consequences. Economic activities cannot be halted for long. We need to step out of the homes and accept the new normal to live with COVID-19. So here Author proposes a travel Safeguarding Kit for all those travel enthusiasts. Being a responsible professional he would like to emphasize on safeguarding our travel, tourism and hospitality industry and jobs.
Considering the current scenario and ensuring social distancing norms, travel and tourism industry is contemplating various ideas to safeguard business as well as employment. Keeping middle seats empty in the aircraft, changing the direction of seats and maintaining maximum 33 per cent occupancy in flights, are the few to name. Recently Civil Aviation Minister Hardeep Singh Puri said that keeping the middle seats vacant has not been an option for any airline in the world. The airlines shall allot the seats in such a manner that the middle seat is kept vacant if the passenger load and seat capacity permits the same. Though it acts as a preventive measure but doesn't guarantee full protection.
Similarly, The Directorate General of Civil Aviation (DGCA) has informed commercial airlines to ensure middle seats are kept vacant on flights if the passenger load permits, or flyers seated on these seats should be provided with additional protective equipments such as wrap-around gowns in addition to threelayer face mask and face shield. So now as per the guidelines, flyers are to be provided with complete safety kits, which include three-layered surgical masks, face shields and sanitizers.
Airlines are adhering to all DGCA instructions and guidelines. They are keeping the middle-seat empty when load permits. Otherwise, they are coproviding appropriate Personal Protective Equipments (PPEs) to passengers ensuring a safe flying experience.
Airlines have a certain break-even point and operating with 33 per cent less capacity would surely hurt their revenues, which may make the business unviable. Thus we need to deliberate on more sustainable and economically viable solution.
Author has sourced information and material by contacting various textile firms (Trident Ltd, Arvind Ltd., Vardhman Textiles Ltd., Welspun India Ltd., Raymond Ltd., K P R Mill Ltd., Page Industries Ltd, Nitin Spinners Ltd., Rupa and Co., Himatsingka Ltd, Blackberry's etc) that can design PPE kit for the flier/passengers as per the guidelines defined by:
Ministry of Civil Aviation
Bureau of Indian standards
Ministry of Health / ICMR
Any other related ministry
Travel Kit: Tour & Travel industry is severely affected because people are more vulnerable to the risk of COVID-19. People feel insecure & fearful at public places due to corona contamination. To provide people a safe journey, Author would like to propose travel kit, which will help in safeguarding our travel, tourism and hospitality industry. The proposed travel kit will not only safeguard the traveler but also lend an experience with unforgettable healthy memories. Since this travel kit gives traveler head to toe protection, it will boost up the confidence of the traveler. Following are the components of our coveted Travel Kit:
Protecting Jacket with hood
Gloves
Mask
Face shield
COVID-19 is not going away anytime soon. So we are presenting our travel kit with following attributes:
Reusable fabric isolation gowns are long-lasting.
These are pocket friendly gowns. A study by Environmental Clarity Inc has found that reusable isolation gowns costs 25 to 50 per cent less as compared to disposable gowns. Either one can buy 30-40 disposables or one reusable PPE kit.
These products are designed to protect exposed body areas that may be in contact with bodily fluids, blood, secretions and excretions.
Protective gowns can reduce the infection rate and protect against cross-contamination.
Reusable isolation gowns are also designed to reduce the risk of contaminating vulnerable patients, especially those with weak immune systems.
While travelling we can ensure 100 per cent protection by using Gloves, Jacket on Body, Face Shield
'Polyester Woven washable gowns' scores better over 'spun bound Polypropylene non washable non-woven gowns' in terms of being more environmental friendly.
Protective Travel Kits Reusable
Re-Usable Protecting Jacket with Hood
| | |
| --- | --- |
| Finish | Water Repellent + Anti-Microbial |
| Class | Label I |
| Wash Durability | 30 H/L (home launder able) |
| Testing | AATCC 42, Impact <4.5g , AATCCC 100, 90% |
| Test conducted | Liquid Barrier Penetration Test |
| Size | Free Size |
Face Mask
| | |
| --- | --- |
| Outer/first layer | 100% Polyester layer 66 GSM - with water repellent and anti-microbial finish |
| Middle Layer/Inner Layer | Super Soft Double Cloth |
| Size | 3.5"x7.5" with 3 Pleated |
| Gloves | 200TC CVC Gloves (Water Repellent + Anti Microbial) |
| Face Shield | Transparent Protecting |
| Price per Set | 750 |
Non Washable Jacket
| | |
| --- | --- |
| Fabric Type | Non-Woven, Non Reusable |
| Blend | Polypropylen |
| Test conducted: | Liquid Barrier Penetration |
| Class | Level IV |
| Size | All Free Size |
Face Mask
| | |
| --- | --- |
| Outer/first layer | 100% Polyester layer 66 GSM - with water repellent and anti-microbial finish |
| Middle Layer/Inner Layer | Super Soft Double Cloth |
| Size | 3.5"x7.5" with 3 Pleated |
| Gloves | Non Reusable Gloves and Cape of nonwoven Polypropylene |
| Face Shield | Transparent Protecting |
| Price per Set | 450 |
Air India is buying 600,000 PPE Kits for Passengers and other domestic airlines like Air Vistara, Indigo, Spicejet and GoAir will also follow the same soon.
USE OF WOVEN GOWN ENSURES:
Woven gowns can be reused while spun bound Polypropylene is meant for one time use only.
30 per cent lower greenhouse gas emissions
28 per cent lower consumption of natural resource
41 per cent lower water consumed that is not returned to the source
93 per cent to 99 per cent lower solid waste at healthcare facilities
Some precautions that need to be taken are:
These are not for medical or clinical use
Not for use for children below two years
Not for use for persons having trouble in breathing
W.H.O. RECOMMENDATION FOR WASHING REUSABLE KIT
Machine wash with warm water (60-90°C) and laundry detergent is recommended for reprocessing of the gown.
If machine wash is not possible, then soak in hot water and soap in a large drum, using a stick to stir, avoiding splashing.
Then soak linen in 0.05 per cent chlorine for approximately 30 minutes.
Finally, rinse with clean water and let it dry fully in the sunlight.
After thorough research, the author came up with the travel PPE kit idea and in the first week of May, he was the first one to suggest that Indian aviation industry should make it mandatory for a passenger to buy a good Personal Protective Equipment (PPE) if they wish to fly. Cost of the same can easily be included in Air ticket itself. It can be pre delivered to fliers' address in advance via any delivery partner. Passenger needs to wear PPE when leaving his home or hotel and should be allowed to enter the airport only if he is wearing the same. Passengers should only remove the PPE once they reach their home or hotel at the destination city. However, the passengers will have to remove it during security check at Airport.
PPE can also be easily made available at Airports. Guest just needs to wear it before entering the Airport. This will help in stopping the spread of contagious COVID-19 virus. The effectiveness of the PPE is gauged from the fact that our doctors are wearing them and treating COVID-19 infected patients.
COVID-19 vaccine may not hit the market in the short term. Few passengers may not like wearing PPE but in my opinion it should be made mandatory for all passengers or for middle seat passenger on domestic flights or on any other transportation mode. Author is sure that other countries will also appreciate this idea and will work out means to implement the same.
Aviation Ministry/Bureau of Indian standards/ICMR/ related ministries can suggest specs for reusable PPE kit.
Couple of options are: use of soft inner cotton or linen lining to make it comfortable. It can be designed differently for fliers from the PPE kit that doctors wear to cover face and hands only as they need 100% protection while treating infected patients.
We can also design IOT (Internet of things) based technology PPE kit for fliers to make it much safer. OT can help measure passenger temperature automatically based on certain scientific design. It can have different colour LED lights on the PPE kits. For example:
Red colour LED light on PPE kit means passenger's temperature is more than 100 degree,
Green colour LED means normal, etc. Red colour blinking with little sound beep means passenger has not worn PPE kit properly or has tampered with it, which can spread covid -19 infection to other nearby passengers from the protection point of view.
This will help in avoiding measurement of passenger's temperature at various boarding stages at airport before passengers finally board.
This idea and the further development of the Kit using latest technologies so that it is safe, durable and re-usable by the passengers and cost-effective for the industry, can work wonders for employment. The Author is very passionate about this subject and as his contribution to the crisis, remains available on voluntary basis for any discussion or action groups that Ministry of Civil Aviation or Tourism may look into at any point of time.
Harish Chandra is the Head of I.T. (CTO) at Sarovar Hotels Pvt. Ltd. and is responsible for formulating and implementing IT strategy, technology solutions, information management initiatives and policies to support company's business requirements.