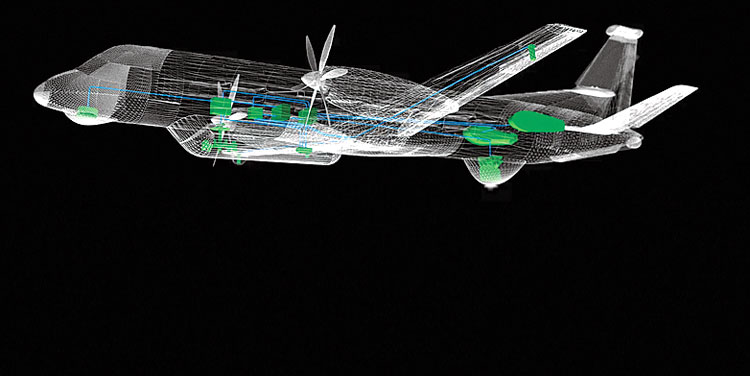 Portfolio includes three major EW domains (i.e. Electronic Support / SIGINT, Electronic Attack & Self-Protection) under the HENSOLDT Kalætron Brand.
HENSOLDT's Spectrum Dominance divison offers solutions not only for conventional and advanced electronic warfare but also for signal intelligence and cyber operations. Hardware development and artificial intelligence inside HENSOLDT electronics (æ) are core parts of HENSOLDT's future-oriented technologies at Spectrum Dominance.
Andleeb Shadman, Managing Director, HENSOLDT Pvt Ltd, Head of Marketing & Business Development, in an interesting conversation with Mr. Sergio Rizzi, Head of Product Sales & Marketing Spectrum Dominance at HENSOLDT, about Kalætron and its significance for Indian Market.
First of all, let me congratulate you for introducing Kalætron to the world in 2019 at Stockholm AOC EW Europe & Paris Le Bourget. May I request you to please explain to our reader about Kalætron?
Let me first tell you where does the name Kalætron (HENSOLDT Registered Trade Mark worldwide) come from - The ligature æ stands for "Artificial Intelligence inside HENSOLDT electronics", which not only categorises major functions of the system, but also serves as an important branding element.
The Kalætron is the product family offering tailored solution for Radar Warning Receiver (RWR), Electronics Support Measures (ESM), Electronics Intelligence( ELINT), Communication Intelligence (COMINT) either stand-alone or as a fully integrated systems depending on customer needs.
The architecture of Kalætron is highly modular and scalable having building block elements like innovative Digital Front End Receiver, Central Processor and different types of Antennas.
The Radar Warning Receiver is the first application, if you want, the "Zero Hour" for the Kalætron product family, which was extended by ESM and SIGINT applications under the "Kalætron integral" product family line and not long ago also complemented with Kalætron Attack, including the ECM core elements (AESA EW+ECM processor).
What is an edge of Kalætron system over competitor products?
I would highlight 3 important and unique propositions that Kalætron offers:
Modular, scalable and platform independent architecture.
Superior performance - Identification and classification of latest air defence threats having extremely wide bandwidth and/or hopping between particular frequencies in fractions of a second. Incredibly quick detection & identification of threats with a very low false alarm rate over an extremely wide frequency range.
Collaborative Electronic warfare capabilities for future combined air operations. Kalætron Attack is a new addition to the Kalætron electronic warfare product family, which will include Escort Jamming, Stand-Off Jamming and Stand-In Jamming configurations. Kalætron Attack offers fully digitized technology for the entire chain of effects, from wideranging reconnaissance to distance-capable electronic combat, thus optimally fulfilling the requirements of an Electronic Combat role of any fighter aircraft.
How mature is Kalætron now?
Kalætron RWR as on date has successfully completed a severe phase of tests. The achieved results leave no room for doubts and confirm the absolute superiority of the cutting-edge solution made by HENSOLDT. We will report further in depth in due time with a dedicated press release.
Kalætron products were already introduced into the respective markets in 2019 with a dedicated premiere i.e. Kalætron RWR during Stockholm AOC EW and Kalætron Integral during Paris Le Bourget.
How do you see the Indian Market and what are your plan for it?
We believe that Indian armed forces have been undergoing rapid technological transformation to meet the ever expanding need of air superiority and Kalætron products would be real differentiator in terms of technological superiority and operational effectiveness either for retrofits / mid-life upgrade or for new platforms.
We see ample opportunities in India and we are in dialogue with key stakeholders to position different Kalætron products for respective platform needs as per "Make in India" directive of Indian government.