The demand for EW systems will be driven by rapid technological advancements, focus on Directed Energy Weapons and the growing need for electronic protection capabilities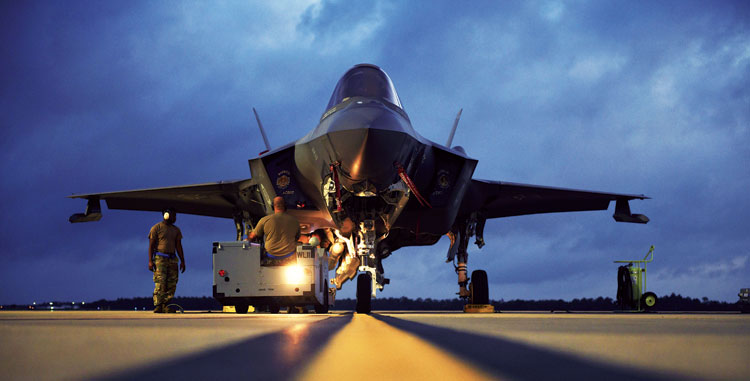 The F-35 joint strike fighter can also perform EW missions
Electronic Warfare (EW) is any action involving the use of the Electro-Magnetic (EM) spectrum or directing energy to control or attack an enemy or impede enemy use of EM spectrum. The purpose of EW is to deny the opponent the advantage of and ensure friendly unimpeded access to the EM spectrum. EW can be applied from air, sea, land, and space by manned and unmanned systems, and can target humans, communications, radar or other assets, military and civilian.
TRENDS IN MILITARY EW
Modern warfare has made impressive strides in the areas of communications, radar and surveillance. Military Signal Intelligence (SIGINT) platforms are trying to cover the spectrum from HF to Ka band, sometimes over an enormous dynamic range. All efforts are on for improving EW technologies through means such as machine learning. While cognitive EW is a work in progress, the miniaturisation and density of electronics components continue to increase. If cooling technology keeps up, this will drive Radio Frequency (RF) system functional consolidation and enhance sensor performance.
The future will see multi-spectral, multi-mode and multifunction capability, said Chris Rappa, Product Line Director for RF, EW and Advanced Electronics with BAE Systems' FAST Labs Research and Development organisation. Active Electronically Scanned Arrays (AESAs) are already multi-mode but over a narrow band, he said. The aim is to build large or small totally digital arrays, where the electronics behind every element in the array, is digital and can be controlled in every aspect at the element level. A decade from now, Rappa expects to see very large, all-digital, precisely controlled arrays that are multi-function, multi-mode and capable of learning to be cooperative or disruptive as required. He expects they will be highly flexible, capable of SIGINT, Electronic Support Measures (ESM), Electronic Attack (EA), Radar positioning, Navigation and Timing (PNT) and communications, all from one array and one box, cognitively and adaptively controlled.
EW systems will also become a lot smarter. Dan Kilfoyle, Technical Director for EW systems with Raytheon Space and Airborne Systems, expects future systems will be looking at more complex data sets, including in the context of signals.
MAJOR DRIVING FACTOR: GLOBAL EW MARKET
As per a Global Newswire report of December 10, 2019, increasing transnational and regional instability is a major driving factor for the growth of the EW market. This market, which was $25.813 billion in 2018, is projected to grow at a CAGR of 4.58 per cent from 2019 to 2026. The increasing rate of electronic, cyber, and optical domains will require a perceptible shift in war-fighting techniques. Since the avenues of technological advancement in these fields are limitless, new generations of equipment will emerge at a rapid rate. The challenge would be to integrate these into the physical domain of war-fighting and achieve the desired effect on the adversary. The relatively new field of Quantum Computing has the potential of creating a new generation of satellites.
GLOBAL EW MARKET 2020-2030
The demand for EW systems will be driven by rapid technological advancements, focus on Directed Energy Weapons and the growing need for electronic protection capabilities in militaries. There is greater emphasis on information superiority and situational awareness - a major factor driving spending in this sector.
As per a May 28, 2020 report in Business Wire, a Berkshire Hathaway company, the EW market is witnessing greater demand from airborne platforms leading to sustained investment in the airborne EW segment. There are increasing investments by most militaries in EW management systems, electronic jamming systems and other counter-measure systems.
INCREASED US EW ATTENTION
The US Defence Department plans to boost investment in EW capabilities as it gears up for great power competition. Jon Harper wrote in National Defence in July 2019, that General Joseph Dunford, Chairman, Joint Chiefs of Staff said that EW is the Number One functional area where investments need to be made in the coming years. "Being in a position to achieve superiority in the electro-magnetic spectrum is absolutely critical," he said. The Congressional Research Service estimates that the department is seeking $10.2 billion for these capabilities in the year 2020. "If you take a look at what China and Russia are doing in terms of war-fighting strategy, they emphasize being able to operate effectively in the electro-magnetic spectrum," said Mark Gunzinger, Senior Fellow at the Center for Strategic and Budgetary Assessments. That includes being able to deny an enemy's ability to control the spectrum. It is a domain where wars can be won or lost, he said. The US military must take steps to ensure that it can "win the battle for the airwaves," he said. New offensive and defensive capabilities that could be useful include Directed Energy Weapons such as high power microwaves that are capable of destroying electronic components and new unmanned systems with EW weapons, he said. The stealthy F-35 joint strike fighter can also perform EW missions, he noted, "That is a very capable electronic-attack aircraft."
THE WAY AHEAD FOR INDIA
South Asia is becoming a place for EW action, including its coupling with Cyber Warfare (CW). President Xi Jinping has expanded the Central Military Commission's direct control over military operations and operational forces. Armed forces technical functions have been consolidated under the People's Liberation Army Strategic Support Force (PLASSF), clearly indicating greater focus on intelligence and information warfare. China recognises the complementarities between electronic warfare and cyber warfare. The theatre commands are tailored to exploit the unified information warfare service in the form of the PLASSF.
The Pakistan Air Force has acquired advanced Electronic Warfare capabilities and airborne warning and control system aircraft for Electronic Warfare and to support command and control. Another area that Pakistan has been pushing is the Software Defined Radio. These ensure clear or encrypted voice and data communication in VHF and UHF band and automatic integration with tactical and strategic networks to provide "cellular phone" services to tactical users. A China-made JY-27A counter-very-low-observable radar has been seen at Mianwali Airbase in Pakistan as per a Jane's report.
India's Land Warfare Doctrine 2018 clearly speaks of enhancing the capabilities in network-centric and EW. India now has a Defence Cyber Agency that is already active. The Indian Air Force's Integrated Air Command and Control System greatly enhances the network warfare capability. The Rafale will have a modern electronic warfare suite. Indian Naval ships have a powerful EW complement. India's network centric and EW capabilities include Battlefield Surveillance Radars, Weapon Locating Radar and Airborne Early Warning and Control Systems. Indigenisation of our EW systems is the next challenge.