In a first virtual socially distance rollout, the 6X, said to have the largest cabin cross section of any purpose-built business jet had its debut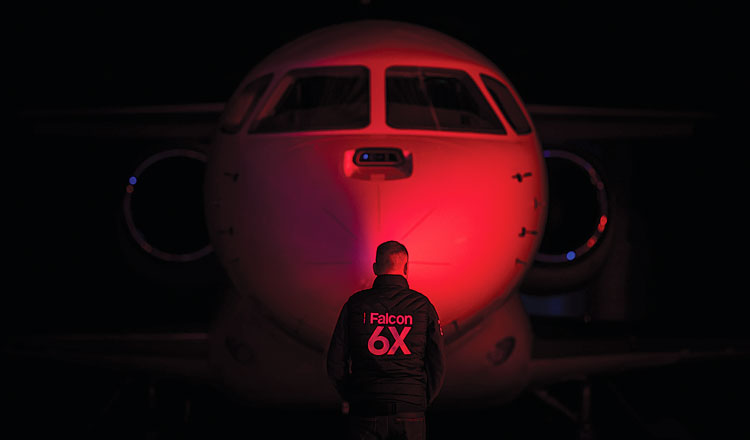 Dassault Aviation rolled out the company's newest and most advanced aircraft, the Falcon 6X
Uncertainty and innovation is quite at the heart of the aviation industry and challenges always find a way in different forms but no one saw a crisis coming their way that would so significantly disrupt activities and industries. However the aviation industry which remains one of the most affected has continued to stand resilient. The recent example of that is the French manufacturer Dassault Aviation that rolled out its much anticipated Falcon 6X virtually.
As the final assemble team at Dassault Aviation in Bordeaux-Merignac (France) opened the doors of Charles Lindbergh Hall on December 8, 2020, the world witnessed the company's newest and most advanced aircraft, the Falcon 6X.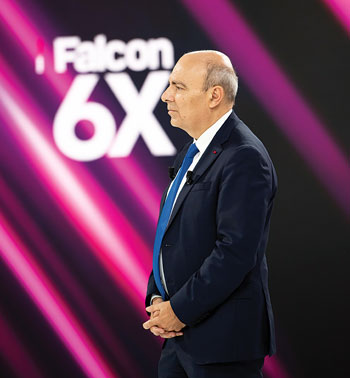 Eric Trappier, Chairman and CEO, Dassault Aviation at the rollout of Falcon 6X
Aircraft companies expect challenges (usually engineering related) on the path to rollout and first flight but Dassault could not have anticipated the disruption of a global pandemic that arrived out of the blue in March 2020, the manufacturer stated in a release. As the world grappled with the first wave of the crisis, work for quite some time paused and the timeline to a year-end rollout was in doubt but the buoyancy of the company and the partners rose above the obstacles to put the program back on track.
"We have faced an unprecedented challenge, but working with our partners up and down the supply chain, we have been resilient," said Dassault Aviation Chairman and CEO Eric Trappier at business aviation's first socially distanced, livestreamed rollout.
The Falcon 6X is claimed to be the first all-new Falcon in a generation and pioneers new levels of efficiency, comfort and safety, with all the performance strengths of the Falcon line. With a range of 10,186 kilometers (5,500 nm) and top speed of Mach.90, connecting the vast majority of popular business aviation destinations non-stop, the 6X can fly unrefueled from Los Angeles (LA) to Moscow, for example or Beijing to San Francisco. Dassault stated that remarkably, for an aircraft of its size, the 6X can routinely slip into and out of smaller airports, even those with runways under 1,200 meters. The Falcon 6X can also perform safe approaches as low as only 109 knots, slower than other business jets. This further allows the 6X, like other Falcons, to safely access small airports equipped with ultra-short and hard-to-reach runways.
"We had three main goals in mind for the 6X: safety, comfort and efficiency. At Dassault, those have always been our guiding principles. It's a new generation business jet with impressive range, a digital flight control system that smooths the ride and enhances safety by providing automation, while keeping pilots in the loop. It will get you there with incredible safety, and with this roomy cabin the customer can be more efficient than ever," said Trappier.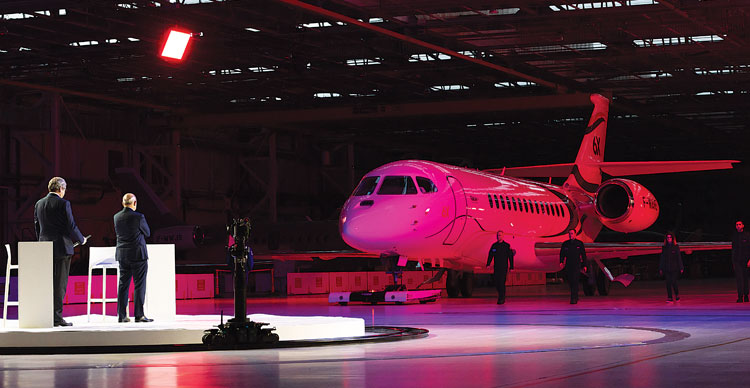 Falcon 6X - Setting New Standard in Long-Range, Ultra Widebody Segment
The advanced technology used in this programme and the spacious comfortable cabin have had a major spotlight for the Falcon 6X. It is said to have the largest cabin cross section of any purposebuilt business jet being 1.98 meters tall by 2.58 meters wide. "It's a cabin designed for a large team-up to 16 people. Passengers can comfortably move past each other in the wide aisle. Everyone has more elbow room and legroom. So innovative was the styling of the 6X cabin that it received the 2020 International Yacht & Aviation award for interior design," the manufacturer stated. The extraordinary quiet of the 6X cabin is another highlight, which will achieve noise levels on par than the industry leading Falcon 8X.
"We had three main goals in mind for the 6X: safety, comfort and efficiency. It's a new generation business jet with impressive range and a digital flight control system. It will get you there with incredible safety, and with this roomy cabin the customer can be more efficient than ever," said Dassault Aviation Chairman and CEO Eric Trappier.
Carlos Brana, Dassault's Executive Vice President of Civil Aircraft, noted in a cabin tour during the virtual rollout that the low cabin altitude of 3,900 feet (about half that of a commercial airliner), is bound to make passengers feel noticeably better at the end of long flights. The 6X cabin also has 30 extra-large windows lining the cabin providing natural brightness in daytime, while an adjustable interior lighting palette can create sunrise and sunset effects, helping adjust biorhythms as the jet crosses multiple time zones. Another first in business aviation is the Falcon 6X's skylight in the galley area which is often considered hard-to-illuminate.
"The Falcon 6X represents a major step forward for large-cabin business jet operators. Its awardwinning cabin - the tallest and widest in business aviation - provides levels of spaciousness, comfort, productivity and safety that will set a new benchmark in the long-range segment," said Trappier.
Talking about that cabin Brana further stated that the 6X interior style is contemporary and the furniture is sleek, very smooth and flows very well within the cabin. "There are invisible features, for example the cabin pressurisation, which maintains a lower cabin altitude so you can breathe better and feel better. The Falcon 8X is the reference in terms of quiet and the 6X will be at least at that level. There is the smoothness of the ride. Thanks to the digital flight control system, we have the ability, when we are in turbulence, to dampen the shocks. It's a very smooth ride, as if you were in silk. Also very important for productivity is fast and reliable Internet, allowing the customer to be productive and efficient during long flights. But we have also created a beautiful environment for relaxing and focusing on other things" said Brana.
The 6X also achieves global highspeed connectivity and hence an efficient productivity with service options that include a Ka-band satellite connection. Dassault also pointed out to a final passenger pleasing feature assuring a smooth ride imparted by the industry's most advanced flyby-wire flight control system, which dampens the bumps in turbulence.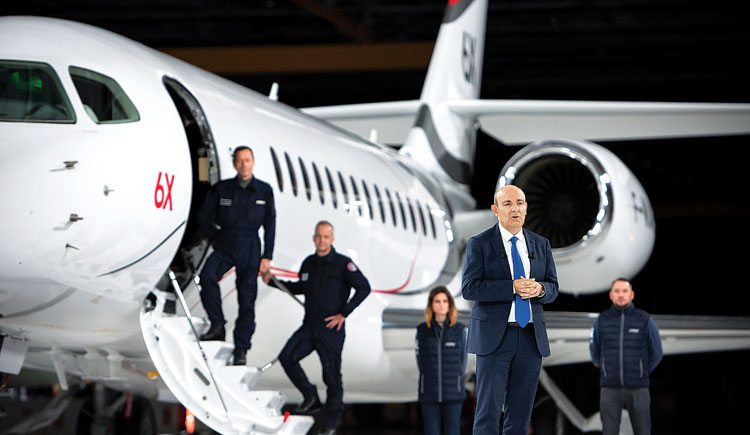 The award-winning cabin of Falcon 6x is the tallest and widest in business aviation
Trappier also mentioned that when we talk about our aircraft, we often use the word "efficiency." Further elaborating on that he added, "When pilots hear that, they think about range, performance and fuel burn. In addition, when we design our aircraft, we never stop thinking about customers. For them, efficiency has a different meaning. The cabin is your home, your office, your living room. We want you to enjoy being on board, just as you enjoy being at home." He further stated that ultimately, we are building these aircraft to make them more efficient and productive in the sense of making it easier for passengers to work, rest and arrive refreshed at their destination. We think we have accomplished that very well with the 6X and we are truly offering a new flight experience.
"The 6X interior style is contemporary. There are invisible features, like the cabin pressurisation. There is the smoothness of the ride. We have also created a beautiful environment for relaxing and focusing on other things," said Carlos Brana, Executive Vice President of Civil Aircraft, Dassault Aviation
Dassault further highlighted the 6X digital flight controls which not only minimise the effects of turbulence but also impart ultra-precise handling qualities and reduce pilot workload during critical flight phases such as when maneuvering near airports. In predecessor Falcons-the 7X and 8X--the digital flight control system managed primary flight controls: ailerons, elevators and rudder, while the 6X digital flight controls tie in secondary flight surfaces, including slats, flaps and a unique control called a flaperon (part flap/part aileron), which is particularly helpful in controlling speed in steep approaches.
Dassault's FalconEye combined vision system, which is standard on the 6X further ensures stronger safety. FalconEye gives a view of terrain in pitch darkness and allweather conditions, making it safer to operate when nearing or departing airports and allowing approaches down to 100 feet before picking up natural runway cues.
Another feature that Dassault highlighted which makes Falcon 6X easier to maintain is its entirely new feature on a business jet-FalconScan, a remarkable diagnostic tool that includes an onboard server that collects data on 1,00,000 parameters. It identify faults, communicates them to the ground through another system, FalconBroadcast, and even recommends the corrective procedure through a Dassault patented algorithm.
The rollout has paved the way for completion of the ground test program and the extensive systems checks that must be performed before the first flight, which is scheduled to occur early next year. Dassault expects the 6X to fly early in 2021. Three aircraft will be used in the flight test programme, expected to run through 2022.
The manufacturer also informed that most of the ground and flight tests on the 6X's PW812D engine have been completed, including bird ingestion, icing and blade-off tests. Flight testing included 300 hours aboard Pratt & Whitney's Boeing 747 testbed, where the engine is mounted just behind the cockpit, away from the 747s other engines. With those tests concluded, the engine has been cleared to fly in the 6X test program. The PW812D provides double digit improvements in fuel consumption and emissions. According to the manufacturer, it requires 40 per cent less scheduled maintenance and 20 per cent fewer inspections than other engines in its class.