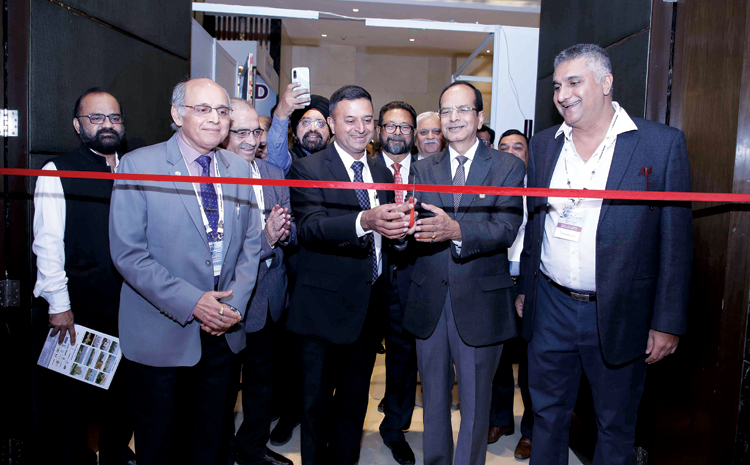 BATTLING FOR A LEVEL PLAYING FIELD: Amber Dubey, Joint Secretary Ministry of Civil Aviation, and R.K. Tyagi, former CMD Hindustan Aeronautics Limited cutting the ribbon to inaugurate an exhibition on the sidelines of the Aero MRO India 2019 Conference in New Delhi, with Bharat Malkani, President MRO Association of India (Extreme Right) looking on
For the world's 3rd largest and fastest growing aviation market, here's a glaring contradiction. India's share of the $81.9 billion Aero MRO business is just 1 per cent.
This means that even as it's preparing for the next wave of growth, with its aircraft fleet expected to almost double to over 1,000 aircraft by 2024, India's civil aviation sector is overwhelmingly dependent on foreign MRO service providers, leaving it highly vulnerable in a critical sector.
A host of factors collectively conspiring to throttle India's domestic MRO Industry were brought out at the Aero MRO India 2019 Conference organised in New Delhi on December 4 and 5 by the MRO Association of India, which is seeking the attention of policy makers for immediate intervention to save the Industry and thereby, a strategic national capability.
INDIA'S MRO WOES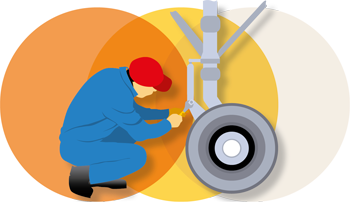 INDIA'S MRO WOES
India's current MRO market size is pegged at $1.2 billion
Major portion of this is for A320 family followed by B737, 787, 777, Q400 and ATR72
Market set to almost double by 2024, when India's civil aviation fleet will grow to 1,000 aircraft
CHALLENGES THROTTLING INDIAN MROs
Crippling Taxation
18% tax on MRO in India – against 0% in Lanka and 7% in Singapore, Malaysia – incentivising servicing abroad
Airport Royalties
Royalties on invoice value in addition to space rentals for hangars
Labour Migration
Excessive regulation on workforce certification driving skilled labour to move to overseas markets
Closure of Business
30 per cent MROs have shut down, Industry is bleeding
Declining share in Global MRO Business:
World's third largest aviation market commands only 1% of $81.9 billion global MRO business
WHAT INDUSTRY SEEKS
GST Rationalisation
Waiver or sharp reduction in GST in line with taxation in the region
Customs duty on imported services
Incentivisation for availing domestic MRO services in line with Malaysia replacing EASA 145 by DCAM
Removal of Airport Royalties
Implementation of provisions of NCAP 2016
Harmonisation of certification rules with FAA/EASA
No additional DGCA certification for 85 per cent services for which workforce already certified by OEMs
Top of the list of factors which are suppressing Indian MRO providers is a crippling tax structure, which ends up incentivising Indian airline operators and aircraft owners to seek mandatory maintenance abroad. MRO services in India are taxed at 18 per cent (GST). In comparison, tax in Sri Lanka is Zero, while it stands at 7 per cent in Singapore and Malaysia.
What makes availing foreign MRO facilities more viable for Indian airline operators is that the import of this service attracts an IGST of only 5 per cent, as against 18 per cent GST levied on work done in India.
For an Industry with operating margins of about 6-7 per cent, airport royalties between 15 and 30 per cent serve up a double whammy. Airport operators impose royalty on the MRO invoice in addition to charging rentals for maintenance hangers. The National Civil Aviation Policy 2016 did away with this royalty, but the measure has not been implemented so far. There's no letting go, despite MRO royalty accounting for only about 1 per cent of the total revenues of the Airports Authority of India.
Excessive regulation in Directorate-General of Civil Aviation (DGCA) certification for labour skills and employment norms, despite them being certified by OEMs and meeting international norms, is forcing work force migration to overseas markets, and India losing valuable trained resources. The result of over-regulation is that India is now short of trained manpower, Industry contends.
"Thirty per cent of Indian MROs have already shut down. If there's no policy relief, the Industry will shut down in another two years," warned Bharat Malkani, president of the MRO Association of India. "We want tax equality and a level playing field," he pleaded, seeking a reversal of the incentive for import of this service. The tax regime must focus on keeping this business within India, urged Malkani.
Industry representatives and airline operators pointed out prevalence of double taxation which is further damaging the business environment. Work sub-contracted by foreign MROs engaged by airline operators to Indian companies is subjected to a second round of 18 per cent taxation after the entire charge for the import of service has been subjected to IGST.
Illustrating another example of anamalous taxation, GMR Aero Technic CEO Ashok Gopinath said C-checks carried out by his company in an SEZ for a foreign airline are also attracting 18 per cent GST levies, whereas this transaction should be treated as an export.
Representing the GST Council Secretariat, its Joint Secretary S. Khader Rahman, while being receptive of the taxation problems, indicated that relief from the 18 per cent GST slab for MRO was unlikely. "It is very unlikely that the Government will reduce GST on MRO. A nation is made when taxes are paid," he shrugged.
But Rahman offered suggestions for relief to the airline Industry. He said airline operators could benefit from claiming input credit (ITC) for GST on economy class seats if the taxation was brought to the bracket which enables credit and refund. At the moment, economy class seats are taxed at 5 per cent, which does not enable credit. "Allow me to charge 12 per cent and you can claim credit. 12 per cent with ITC will be more beneficial," he suggested.
This suggestion did not find support among representative of airlines. Vistara Tata SIA Airlines Senior Vice President S.K. Dash pointed out that margins were too thin, and the time lag for refund of credits on a 12 per cent rate did not suit the Industry.
Another suggestion from Rehman for leveling the playing field by increasing the IGST on MRO service obtained abroad from 5 per cent to 18 per cent also did not elicit enthusiasm.
But there was some cheer for the beleaguered MRO Industry, with the Government agreeing that double taxation will be ended. Another Government representative, Joint Secretary Civil Aviation Amber Dubey assured the Conference that no stone would be left unturned to make India an aviation hub. He listed MRO among the top issues the Ministry of Civil Aviation is currently addressing along with the disinvestment of Air India, creation of an aircraft leasing infrastructure, and bringing ATF within the ambit of GST.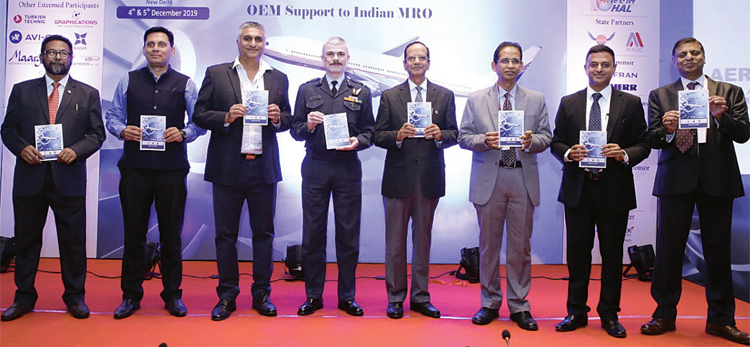 (Left to Right) Pulak Sen, Secretary-General MRO Association of India, Dr S. Vasudevan, Head Aviation and Global Lead of Airports KPMG, Bharat Malkani, President MRO Ass ociation of India, Air Vice Marshal V.C. Wankhade, Dy SMSO IAF Maintenance Command, R.K. Tyagi, former CMD HAL, S. Khader Rahman, Joint Secretary GST Council Secretariat, Amber Dubey, Joint Secretary Ministry of Civil Aviation, H.R. Jagannath, CEO AIESL releasing the Background Note and Event Compendium at the Aero MRO India 2019 Conference in New Delhi
Acknowledging the reluctance of OEMs to support MROs in India, Dubey asserted that India would leverage its market power to compel the OEMs to cooperate. OEM representatives at the Conference acknowledged that regulatory and taxation issues discouraged FDI in this sector.
Perhaps the exception to the reluctance of OEMs was brought out by H.R. Jagannath, CEO of the India's biggest MRO and Air India subsidiary AIESL, who illustrated the capability of the $100 Million world class maintenance facility set up at Nagpur with the help of Boeing. This includes two wide-body hangers and the overhaul facility for GE90 and GEnx engines.
Also bucking the unfavourable Industry trend were SpiceJet Technic (see box), which is attempting to emerge as a major MRO provider. There are also reports of Adani Aerospace & Defence seeking a big role.
The Conference also discussed possibilities of the Defence forces using commercial MRO facilities and co-opting Civil Aviation infrastructure, and also the offsets potentials for civil aviation against Defence procurements. Air Vice Marshal V.C. Wankhade represented the IAF while Rear Admiral V.M. Doss was there on behalf of the Indian Navy. They talked of requirements of the armed forces and spinoffs for the MRO Industry.
Turnaround solutions were suggested by the Industry body. It was argued that waiver of reduction in GST would not lead to loss of revenue if the big picture was considered. It would not be out of place as MRO is a B2B business. A thriving sector would generate add to the GDP, create employment and bolster tax revenues.
Concurrently, it sought Customs duty on MRO services obtained by Indian airline operators abroad in order to reverse the business and forex outflow. The example of Malaysia was cited in replacing the EASA by DCAM to promote local MRO. At the moment, there's a Customs waiver, and only 5 per cent IGST is charged on procuring foreign MRO service.
The MRO Association also strongly demanded removal of Airport royalties in line with the National Civil Aviation Policy of 2016.
It also made a strong case for harmonisation of business rules with FAA/EASA to prevent over-regulation in certification for labour skills already approved by the OEM in line with FAA/EASA standards.
It was argued that if India aims at meeting 90 per cent of its MRO requirements domestically with policy enablers, it would generate far more tax revenues than what would be sacrificed in the short run. India would become a net exporter. This would promote investment, both domestic and foreign, and create up to 200,000 jobs in the long-term.
SPICEJET MAKES BIG FORAY INTO MRO SECTOR
Leading airline operator SpiceJet is seeking to make a big foray into India's $1.5 billion MRO market, in which the biggest local player so far is Air India Engineering Services Limited (AIESL).
The airline's subsidiary, SpiceJet Technic is driving the group's MRO business, registering significant headway already. It has set up a maintenance facility at Chennai for carrying out C-checks for commercial airliners, a Component and Maintenance Shop at Manesar (Haryana) and a Structure-Composites, Avionics and Seat Shop at Gurgaon on the outskirts of the Capital.
The Gurgaon facility also has a computer-aided design and analysis facility for cabin and baggage hold accessories. The company will also start manufacturing maintenance tools and fixtures. SpiceJet's initial priority is to provide an in-house MRO facility for the 114-strong SpiceJet fleet. It claims that 50 per cent of SpiceJet's MRO requirements are to be met with in-house facilities. "Now, we seek to expand our services to other domestic and foreign airlines. We're offering C checks to others," SpiceJet Technic's Vaibhav Sonkhala said at an exhibition held parallel to the Aero MRO seminar. Biman Bangladesh Airlines is SpiceJet Technic's first international customer.
"In five years' time, we aim to provide competition to the big MROs," Sonkhala disclosed. The company wants to be poised in a growing MRO market, with the number of civil aviation aircraft slated to increase from the present level of 560 to 1,000 by the year 2024. SpiceJet Technic also aims at tapping the Defence market, and a dialogue is opened up with the armed forces through Industry bodies.
—By Vishal Thapar