By Lt. General P.C. Katoch (Retd)


Former Director General of Information Systems, Indian Army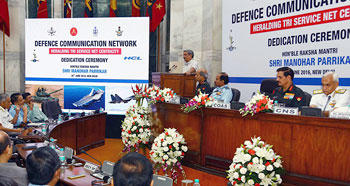 The Union Minister for Defence, Manohar Parrikar addressing the gathering, at the Dedication Ceremony of the Defence Communication Network (DCN). The Chief of Naval Staff, Admiral Sunil Lanba, the Chief of Army Staff, General Dalbir Singh, the Chairman, Chief of Staff Committee and Chief of the Air Staff, Air Chief Marshal Arup Raha and the Signal Officer in Chief and Senior Colonel Commandant, Corps of Signal Lt. Gen. Nitin Kohli are also seen.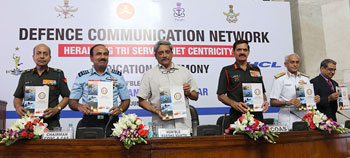 Manohar Parrikar releasing a telephone directory of the DCN subscribers, Admiral Sunil Lanba, the Chief of Army Staff, General Dalbir Singh, the Chairman, Chief of Staff Committee and Chief of the Air Staff, Air Chief Marshal Arup Raha, the Signal Officer in Chief and Senior Colonel Commandant, Corps of Signal Lt. Gen. Nitin Kohli and the Vice Chairman and Managing Director, HCL Infosystems Ltd., Premkumar Seshadri are also seen.
Defence Minister Mohan Parrikar dedicated the Defence Communication Network (DCN) to the nation on July 1, 2016. While doing so, he complimented the three Services on putting in place a communication system to facilitate jointmanship, also stressing the need to keep the network secure. Aside from the Press Information Bureau release, there was not much coverage in national newspapers. Media reports that emerged described the DCN as follows: will be used by Army, Navy, Air Force and the Special Forces Command; facilitate a more prompt response time due integrated technology; network across the country including islands and remote locations; will enable the defence forces to share voice and video data over secure network; being installed on most defence vehicles, and; can run on both terrestrial as well as satellite mode of communication.
The media probably meant to say Strategic Forces Command, instead of Special Forces Command (not on the horizon yet), erred in stating DCN being installed on most defence vehicles, and missed out mentioning HQ Integrated Defence Staff (IDS). As part of the military's pursuit of capacity building for network centric warfare (NCW), the DCN was planned as an exclusive strategic communication network permeating down to the level of the Corps Headquarters of the Army and equivalents of the Navy and Air Force plus few static entities, the Strategic Forces Command and HQ IDS. After a decade of playing ping-pong including one proposal to import the system-cum-technology, the contract was finally awarded to HCL Infosystems mercifully in early 2013 for development over two years; Phase 1 consisting of two data centres in hot standby and multiple switching centres with adequate redundancy and over a hundred entities with assured backup through an overlay of satellites. Post the test bed phase, the project is to be implemented with a two year period.
However, the DCN planned as tri-Service strategic communication network for implementation of the command, control, communications, computers, information and intelligence (C4I2) concepts did not include development of common software. So while the DCN has been inaugurated, the vital handshake between the services is missing without which DCN actually boils down to a highway sans traffic. Whether Defence Minister Parrikar knows this is anybody's guess but the MoD and the Military certainly knew it all along. How we have landed ourselves in this position is because of multiple reasons, two major ones being:
First, lack of integration of HQ IDS with MoD, lack of operational authority with HQ IDS and glaring void of a Chief of Defence Staff (CDS) that continues to dog integration and interoperability between services, and:
Second, on basis of secrecy, the DRDO wants to undertake all such projects even though its Centre for Artificial Intelligence and Robotics (CAIR) even outsources development of security solutions and DRDO itself has dismal record of meeting software requirements of the military.
Presently, networks of the three Services do not talk to each other; respective intranets are not interoperable either. Common standards and protocols, mutually compatible database structures, development / deployment of interfaces between systems using disparate platforms and commonality of hardware have not evolved. No single unifying secrecy algorithm for the three Services has been developed though technological solutions exist. If the three Services and Headquarters Integrated Defence Staff (IDS) develop the software individually, there will be attendant problems of interoperability and cost and time overruns though technically feasible. So the question now is where do we go from this lopsided and thotroughly disjointed approach to such a priority strategic project like DCN? With all our claims of being a software giant, Indian and Indian origin people dominating America's Silicon Valley, 'Make in India', 'Digital India' and all that? When will we stop wasting time and money and keep banking only on the DRDO that too with latter not being able to meet the software requirement of the Army Strategic Operational Information Dissemination System (ASTROIDS) since 1995 with the project finally closed (first in 2003 and eventually in 2012) despite DRDO's Institute of System Studies and Analysis (ISSA) having been accorded the contract on both occasions as the development agency.
The resolution for developing common software for the DCN obviously lies with the private sector, superimposing additional security overlay not being a technical problem, and our indigenous private industry has the capacity to do so quickly. As mentioned, the DRDO is outsourcing anyway. What the government needs to do is take holistic stock and set the ball rolling for development of the common software in a timed period. Until requisite common software is developed, sure the highway can be used intra-service by the Army, Navy and Air Force but as far as inter-service use is concerned it will remain only a showpiece strategic achievement that cannot be fully optimized.
Photo Credit: PIB