By Lt. General P.C. Katoch (Retd)


Former Director General of Information Systems, Indian Army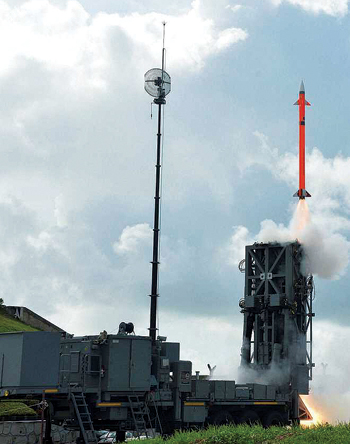 On June 30, India successfully test-fired a new surface-to-air missile, developed jointly with Israel, from the Integrated Test Range (ITR) at Chandipur, of the Odisha coast. Apart from the missile, the system includes a Multi-Functional Surveillance and Threat Alert Radar (MF STAR) for detection, tracking and guidance of the missile. The Research Centre Imarat (RCI), a laboratory of DRDO based at Hyderabad, has jointly developed this missile in collaboration with Israel Aerospace Industries (IAI). This is the first time India test-fire a land based version of Barak 8 surface-to-air missile (SAM), successfully hitting the target pilotless target aircraft (PTA). The missile was again test fired for second time around noon where it again successfully hit a pilotless target aircraft over the Bay of Bengal. The test-firing of the missile was jointly carried out by Indian defence personnel, DRDO and Israel Aerospace Industries. On July 1 the MR SAM (land based version) was tested for the third time from the same integrated test range and the missile successfully hit a pilotless target aircraft, proving its reliability. This MRSAM has been manufactured at the Hyderabad-based Bharat Dynamics Limited (BDL). Many Indian industries like BEL, L&T, BDL, TATA group of companies plus some other private industries contributed to the development of a number of subsystems which were put to use in these flight tests. Earlier on 29 December 2015 and 30 December 2015 the Indian Navy had successfully test-fired the Barak 8 missile from INS Kolkata; two missiles firing at high speed targets during naval exercises in the Arabian Sea.
The Barak 8 missile has been described for potential use as a point defenc anti-ballistic missile due to combination of advanced qualities including: long range; two-way data link GPS band; active radar seeker missile; 360 degree coverage; vertical launch, and multiple simultaneous engagements. The Barak 8 has a length of about 4.5 meters, a diameter of 0.225 meters at missile body, and 0.54 meters at the booster stage, a wingspan of 0.94 meters and weighs 275 kg including a 60 kg warhead which detonates at proximity. The missile has maximum speed of Mach 2 with a maximum operational range of 70 km, which was later increased to 100 km. Barak meaning 'Lightening' in Hebrew, the Barak 8 missile has been designed to counter a wide variety of air-borne threats, such as; anti-ship missiles, aircraft, UAVs drones and supersonic missiles. Barak 8-ER is also under development. In January 2007, India and Israel had signed a US$330 million deal to co-develop an all new generation of the Barak SAM. It can identify and destroy airborne threats like jets, missiles and rockets, including projectiles launched simultaneously. The Mach 2 speed missile possesses high degrees of maneuverability at target interception range. The successful conduct of the test has been the result of sustained efforts by all stake holders over the years which would provide a fillip to the air strike operations. A new production facility to deliver 100 missiles per year has been established for such type of long and medium-range surface-to-air missiles at Bharat Dynamics Limited. These missiles would be inducted in all three services of the military after user trials are completed, filling the gap of existing SAMs that India has in its armory at present. The Army will be particularly happy with its air defence equipment holdings largely obsolete. With the Akash missile failing as substitute for the vintage Russian Kvadrat system for providing air defence cover to mechanized formations on the move, if the Barak 8 MR SAM can eventually meet this requirement also, it will be a tremendous plus. As per reports, the Barak 8-ER (extended range) variant of the Barak 8 is also under development, which will see the missiles maximum range increased to 150 km. Designed to engage multiple beyond visual range threats, the Barak 8-ER booster increases the length of the missile at launch from its current 4.5 m to nearly 6 m, although the length in flight after the booster has been jettisoned may be slightly less than the base Barak-8 missile. The missile diameter and fin spans are thought to be the same as the base Barak-8. The booster weight is currently unknown, although the missile's weight after the booster has been jettisoned is the same as that for the current Barak-8 configuration. These long and medium range Barak 8 SAMs coupled with the S-400 Triumf long-range surface-to-air missile systems from being procured from Russia will provide big boost to air defene cover in the country.
Photo Credit: PIB