By Lt. General P.C. Katoch (Retd)


Former Director General of Information Systems, Indian Army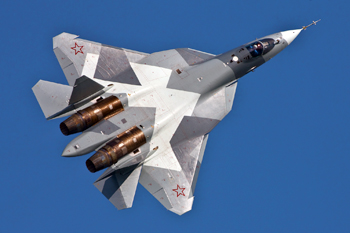 T-50 Fighter
While India and France are reportedly getting "closer" to ink the 36 x Rafale deal costing some Euro 78 billion and there is talk also the air about American F/A-18 and F-16 and Swedish Gripen-E in contention for development under 'Make in India' project, it has now been reported that India is pushing for talks with Russia for the Fifth Generation Fighter Aircraft (FGFA). As per Russian media, both countries are finalizing the R&D design contract. Both ndia and Russia will invest $4 billion each for the FGFA development. The R&D design contract is likely to be signed within this year. India is going in for an FGFA that would be a variant of the Russian single-seat FGFA termed Sukhoi T-50 or PAK-FA. The preliminary design of the Indian FGFA has already been worked out at a cost of $295 million, Russian developers having incorporated over 40 modifications that India wanted. Russian media reports Russia has already permitted IAF test pilots to fly the prototype FGFA.
The overall cost for producing 127 x FGFA in India is estimated to be around $25 billion. Close on the warning last year by the BJP MP Maj Gen BC Khanduri led Parliamentary Committee for Defence that the situation of the equipping of the IAF was very grim and national security was being compromised with IAF down to just 25 fighter squadrons against a sanctioned strength of 42, came CAG report tabled in Parliament pointing out several criticalities in operational capabilities not only of the IAF but also Army Aviation Corps (AAC), focus being on poor serviceability of Sukhoi-30MKIs and AWACS, plus the obsolete Cheetah / Chetak helicopter fleets: serviceability of over 210 x Sukhoi-30MKIs of 272 jets contracted from Russia for over $12 billion was just around 55-60% against minimum 75% despite the first such fighter inducted 19 years ago and 14 x MiG squadrons are to be progressively retired. As of last year, the Tejas (first 20 to be inducted by 2018 and another 100 by 2018-26) still had to undergo 43 improvements out of the 57 weaknesses detected in its maintainability, which was expected to take another three years at least. So the first Tejas was expected to be inducted earliest in 2019-2020 and with the current HAL capacity at eight per year, induction of 120 x Tejas was being looked at in period 2020-2035 given the track record of HAL that commenced development of Tejas in 1983. This itself, indicates the Tejas Mk II has been inducted prematurely, perhaps to save the DRDO more brickbats. That is the reason government has announced that for two years the first squadron will be at Bangalore and thereafter located at Chennai - you don't put a frontline multirole fighter jet in the backyard, do you?
The conflicting reporting sure helps in obfuscating criticalities but is hardly healthy even if it confuses the public. Take the strength of IAF squadrons which the Parliamentary Standing Committee on Defence stated was down to 25 squadrons but the media presently gives the strength as 33, while reporting on the FGFA. What India definitely needs is a multipronged approach to make the IAF a strong force. The Tejas not only should be improved fast, additional assembly lines must be added to enhance production rate especially if we are looking at exports. Exports, in any case should be secondary, first priority being outfitting the IAF.
The second issue the Modi government needs to seriously look into the years of negotiations that India has been indulging, in some cases even delayed to coincide with visits of heads of states for brownie points, which is no way to address criticalities to the nation's defence. Look at the way the Rafale deal has dragged on for years and still not inked despite PM Modi's visit to France and President Hollande's visit to India. The dealy in the FGFA is being attributed to the indecision about the Rafale but surely the Rafale would not have made up IAF deficiencies. Why was the final R&D contract for the FGFA on hold till now despite the two countries having first inked an inter-governmental agreement in 2007? And is being said that the multi-pronged approach has been arrived at realizing 36 x Ragale are not enough. All this indicates the lackadaisical manner in which defence is being handled at the MoD level. Much improvements are needed, of which there is limited hope in absence of a national security strategy, without a comprehensive defence review, and without inducting military professionals into MoD. Merely taking a former CISC as "advisor " is the bureaucratic way stymieing reorganization of MoD; band aid can't suffice where major surgery is needed. We sure need to boost our air power with the FGFA and super Sukhois. Let's do it fast.
Photo Credit: sukhoi.org