By Lt. General P.C. Katoch (Retd)


Former Director General of Information Systems, Indian Army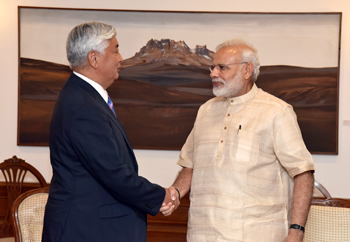 The Minister of Defence, Japan, Gen Nakatani calls on the Prime Minister Narendra Modi in New Delhi on July 14, 2016
Received Gen Nakatani, Defence Min of Japan & held fruitful discussions on areas of mutual cooperation between India & Japan
Japanese Defence Minister Gen Nakatani's recent visit to India came post Malabar 2016 held in Western Pacific recently, in which Indian, Japanese and US Navies participated. The second major occurrence was ruling by Hague-based Permanent Court of Arbitration (PCA) on the Philippines versus China case; ruling in favour of Philippines, negating all so called historical claims in South China Sea (SCS) and rebuking China for her illegal activities in the SCS. Nakatani held extensive discussions with Defence Minister Manohar Parrikar and called on Prime Minister Narendra Modi during his visit. Defence Minister Nakatani was paying a bilateral visit to India at the invitation of Defence Minister Parrikar for the annual Defence Ministerial Meeting on July 14. Since 2014, Japan has been regularly participating in the annual Malabar joint naval exercises. The rapport between PM Modi and Japanese Prime Minister Shinjo Abe and exchange visits by both has given a boost to strategic and military ties between India and Japan.
Both countries have been holding exchanges and talks at military-to-military level, information exchanges on maritime data, both countries being prominent maritime states in the Indo-Pacific. There has been agreement on technology transfer and protection of military information, a framework for collaboration in field of defence in high-tech areas is being looked at. India identifies Japan as privileged partner in the 'Make in India' program and an important strategic partner in its 'Act East Policy'. The India-Japan Civilian Nuclear Deal is one of the crucial elements of cooperation in the Indo-Japanese relationship. A MoU exists between Indian Coast Guard and Japan Coast Guard for Establishment of a Collaborative Relationship to Combat Crimes at Sea and Develop Regional Co-Operation. During the current visit of Defence Minister Nakatani, the two defence ministers held talks under framework of the "India-Japan Special Strategic and Global Partnership".
The wide ranging talks included current regional and international security situation, examining cooperation in responding to global and regional challenges and reviewing bilateral defence cooperation. Both countries recognize that stronger bilateral strategic partnership require deep and broad based cooperation and concrete actions in defence and security fields. Both ministers noted that terrorism poses one of the most serious threats to the peace and security of the international community, as well as to the stability and development of the region, and that the evolving character of terrorism called for stronger international partnership in combating it. Noting the Award of the Arbitral Tribunal on the South China Sea under the UNCLOS on 12 July 2016, and urged all parties to show utmost respect for the UNCLOS, they also reaffirmed the importance of respecting international law, as reflected notably in the UNCLOS, of the peaceful settlement of the disputes without any threat or use of force, and of ensuring freedom and safety of navigation and over-flight as well as unimpeded lawful commerce in international waters.
While reviewing bilateral defence cooperation, both ministers agreed to promote cooperation and exchanges in following areas:
High-level and working-level exchanges - agreeing to Annual Defence Ministerial Meetings, exchange visits by military Service Chiefs, Defence Vice Minister /Secretary level Defence Policy Dialogue, setting up of Maritime Strategic Dialogue between the two Defence Ministries;
Army exchanges - holding of staff talks, Japanese officers training with CIJW School in India, seek future opportunities to invite observers from IA to HA/DR-related exercises by JGSDF;
Naval exchanges - further promoting existing exchanges and cooperation, and exploring both navies to also conduct a joint bilateral exercise, in addition to Malabar series;
Air Force exchanges - further strengthening of air-to-air component exchanges including aircraft visits to each other's air bases. In addition, and explore future opportunities to invite the IAF to participate in HA/DR-related exercises in which JASDF would also take part;
Enhancing education and academic exchanges, and
Cooperation in defence equipment and technology - agreement to hold second round of the JWG on Defence Equipment and Technology Cooperation (DETC) between the two countries as early as possible to identify specific items and areas for cooperation.
Both ministers commended the effort made regarding the cooperation on US-2i amphibious aircraft which was launched in 2013. At what stage is acquisition of the US-2i amphibious aircraft is however not known. Looking at the geopolitical developments the Indo-Japanese Special Strategic and Global Partnership should grow at fast pace, to the mutual benefit of both countries.
Photo Credit: PIB, twitter.com/manoharparrikar