Viewpoint
SAARC Home Ministers Meet - Pakistan's prodigal bash
By Lt. General P.C. Katoch (Retd)


Former Director General of Information Systems, Indian Army
Turbulence at the recent 7th SAARC Home and Interior Ministers Conference was but expected simply because it was being hosted by Pakistan - notorious for being the crucible of terror and continuing to export terror as an institutionalized state policy. Home Minister Rajnath Singh represented India at the conference in Islamabad even though Bangladesh was represented by a junior minister because of deterioration of Bangladesh-Pakistan relations particularly after the recent terror attack in Dhaka. That India sent its Home Minister is creditable despite the continuing violence in the Kashmir Valley being orchestrated by Pakistan, including the ISI sponsored roles assigned to Hafiz Saeed, Salahuddin and Azhar Mehmood to replace the sufi culture and Kashmiriyat with the Wahabism that is the major cause of instability within Pakistan itself. Pakistan has acted rogue through a series of actions post killing of Burhan Wani; anti-India resolution, declaring Burhan Wani a martyr, July 19 declared as Black Day; Nawaz Sharif harping on Kashmir as the core issue, anti-India demonstrations at Wagah border, Nawaz Sharif announcing he will send medical aid to Kashmiris, anti-Rajnath demonstrations organized under Salahuddin, you name it.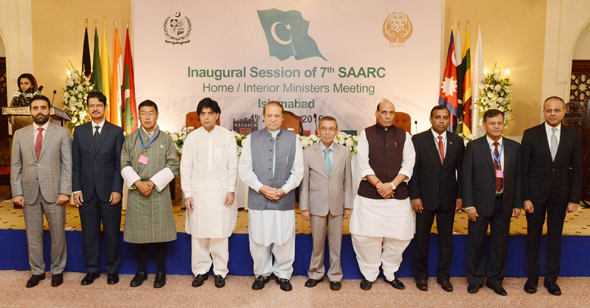 Home Ministers of SAARC countries at Islamabad on 4th August, 2016
In his address during the conference, Home Minister Rajnath Singh had said there are no 'good' and 'bad' terrorist; terrorists should not be eulogized as martyrs under any circumstances and the strongest possible steps should be taken against countries that support terrorism. He also emphasized that: terrorism remains the biggest challenge and threat to peace; South Asia is deeply affected by terror as witnessed recently through terrorist attacks in Pathankot, Dhaka, Kabul etc; mere condemnation of terrorist attacks is not enough, and; it needs to be ensured that terrorism is not patronized by any state. What Rajnath Singh stated was not new by any measure.
Pakistan has heard it innumerable times and would be amused that in diplomatic parlance she would not be named directly at such forums. Rajnath Singh also called for implementation of the SAARC Regional Convention on Suppression of Terrorism and its Additional Protocol saying it was crucial in the common fight against terrorism, as well as immediate ratification of the SAARC Convention on Mutual Assistance in Criminal Matters since some members had yet not ratified it. That Pakistan's interior minister Nisar Ali Khan is a military-ISI stooge is well known but he re-proved it most undiplomatically by not shaking hands with HM Rajnath Singh while doing so with other home and interior ministers attending the conference - a deliberate snub. Nisar harped on the use of excessive force to suppress protests in Kashmir - without naming India. He further stated that issues between countries are not resolved through finger pointing or indulging in blame games, and countries need to sit down for dialogue to bring about real change and that no country should suppress freedom struggles while camouflaging them under the guise of terrorism. He pointedly said that the Kashmiri freedom struggle is sanctified by United Nations resolutions.
Since he was speaking after HM Rajnath Singh, Nisar did not expect to be countered. But then with reference to use of excessive force, the attending delegates are fully aware Pakistan has been consistently using aerial and artillery bombardment in Balochistan and FATA against her own population, in addition to the genocide in Gilgit-Baltistan and Balochistan. When HM Rajnath Singh without naming Pakistan said that you cannot make distinction between 'good' and 'bad' terrorists, he was actually echoing what President Ashraf Ghani of Afghanistan has been saying with reference to Pakistan. Nisar's reference of UN to Kashmir was also laughable because the UN resolution had asked Pakistan to withdraw from POK before any plebiscite was to be held, and Pakistan killed the opportunity permanently by instead beefing up her forces and changing the demography of POK. But more importantly, the 1972 Indo-Pak Shimla Agreement categorically stated that the all issue will only be discussed bilaterally, so the question of UN or international mediation does not arise.
Addressing the concluding session of the three-day conference of Pakistani envoys in Islamabad (concurrent to SAARC Home Ministers Conference), Nawaz Sharif told the diplomatic corps, "Desire of freedom is running in the blood of Kashmiris" - little realizing that the Pakistan influenced trouble makers of J&K are below 15% of the population of J&K and if he is talking of Kashmir then it included POK where the recent elections have been horribly rigged and protesters are burning Pakistani flags openly. Nawaz was obviously under great pressure after being mired in corruption including through the Panama Leaks, and the desire to save his premiership while posters have appeared in Pakistan for the army chief to take over the country, not to talk of Imran Khan endorsing such move. Significantly, last year's envoys' conference in Islamabad focused on connectivity, regional issues and development. Pakistani media says that HM Rajnath Singh was trying to divert attention from the unrest in Kashmir valley whereas it is Pakistan that is creating unrest in Srinagar Valley to divert attention from her internal woes. The next SAARC summit is scheduled in Pakistan during coming November. One has to wait and watch developments in the days leading up to it and what transpires during the summit. Pakistan can be expected to go more rouge sitting in the lap of China with the latter orchestrating the region from the background adroitly - terrorism included.
Photo Credit: pid.gov.pk