By Lt. General P.C. Katoch (Retd)


Former Director General of Information Systems, Indian Army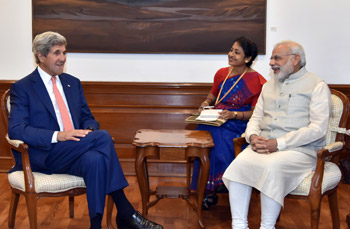 The Secretary of State of the United States of America, Mr. John Kerry calls on the Prime Minister, Narendra Modi, in New Delhi on August 31, 2016
If one hallmark of US Secretary of State John Kerry's recent visit to India was targeting Pakistan for exporting terrorism, the second was Kerry lambasting the Indian bureaucracy, the joke circulating on social media being that both these entities (Pakistan and our bureaucracy) have the hide of a rhinoceros. Speaking at IIT Delhi, Kerry noted that India's economy will only be able to maintain its impressive growth if its bureaucracy ceases to be "an expert in setting up roadblocks".
Kerry made the following points in his speech: red tape and a lack of transparency continue to deter entrepreneurs and foreign investors even though India is now the world's fastest-growing economy; even though impressive gains in India's economic growth are witnessed, there is still a real question as to whether this is being done quickly enough for India to create jobs for the 13 million people who enter the labour market every year. Indian entrepreneurs urgently need the freedom to pursue new ideas, the ability to start up new businesses without a lot of red tape, and access to infrastructure that makes it easier to translate fresh concepts into successful companies; India must have sensible regulations and the bureaucracy needs to be streamlined and effective - a partner in making decisions, not an expert in setting up roadblocks.
Kerry's observations came at a time when Prime Minister Modi had promised to rid India of its reputation as one of the world's hardest places to do business, but India continues to be ranked 130th in the world for doing business by the World Bank. Just before Kerry's visit were the 'Transforming India' Lecture Series organised by NITI Aayog on August 26, 2016. Prime Minister Modi delivered the inaugural address in presence of Union Ministers, Chief Ministers of States and Tharman Shanmugaratnam, Deputy Prime Minister of Singapore. Knowing India's penchant for cricket, Shanmugaratnam was quoted in the media saying that India cannot afford to continue scoring singles but instead must go for sixes. His obvious reference was the need to go for radical change rendered impossible with the existing bureaucracy.
If this was the second whammy, the third came from Modi himself delivering the inaugural address at the 'Transforming India' Lecture Series, wherein Modi said: "We cannot march through the 21st century with the administrative systems of the 19th century." His call hinted at rapid transformation of the administrative systems. But what exactly has happened in the two years plus of the present government notwithstanding odd reports of some bureaucrats being retired - band aid where major surgery is needed? Accountability and corruption became a bigger casualty during Manmohan Singh's (himself a bureaucrat) premiership who lavished all political officebearers and bureaucrats with perks like going abroad themselves or the spouse for medical treatment with one attendant - all expenses of travel, stay, treatment borne by the government. No one questioned it and a public query (post revelations that Rs. 14 crore had been spent on treatment of just one spouse) what was the overall burden to the government, the lame response came that such cases were being screened scrupulously - so convenient. In his speech Prime Minister Modi had said that "administrative tradition has served India well in many ways. Above all, it has preserved democracy and federalism, unity and integrity, in a country of glorious diversity."
But looking closely, it is this very tradition that has crippled the defence of India, with bulk of the British era ICS officers remaining back in the Ministry of Defence (MoD) simply changing into the mantle of IAS and following the legacy of Nehru who opined that he did not need the Army, and that police was sufficient to guard the country. Unfortunately, nothing has been done to restructure the MoD and induct military professionals. No move has been made to integrate HQ IDS with MoD either. MoD should be manned by military professionals. Posting of a former CISC as 'advisor' to Defence Minister is a face-saving measure but the biggest joke going around is that the oncologist who is the current Minister of State for Defence Dr S.R. Bhamre, who as per media reports is not being sent any files on the Defence Minister's instructions, has been posted to MoD to cure the cancer in the bureaucracy. Whether this is the transformational cure that the Prime Minister has in mind is anybody's guess but the fact is that the prestige and allowances of the soldier have been severely hit under the present dispensation whether by design or default, grant of partial OROP notwithstanding.
In his speech, Prime Minister Modi had reflected on an exercise he has undertaken which has revolved around what he described as "structured" brainstorming sessions with bankers, police officers, secretaries to government and others. Does this imply that the military is nowhere in his priority? The fact remains that the defence sector remains the most neglected, 'Make in India' notwithstanding. Are there no compunctions about denying the foot soldier proper small arms, bullet proof jackets, night vision equipment and the like? The indigenous private sector other than some big business houses is exasperated. Foreign firms are equally exasperated with excessive bureaucracy, corruption and an onerous tax regime which can leave firms fighting for years in the courts to avoid crippling bills. If the US has accorded us 'Major Defence Partner' status and we have access to about 90 per cent state-of-the-art US technology, we can only capitalise on it by integrating indigenous private industry.
There is talk that caste, reservations and quota system has brought in mediocrity in the bureaucracy, but where do you see a stop to it? The question remains whether Prime Minister Modi can transform the administration, because perhaps no one else can, where the bureaucracy is part of the mafia that serves as conduit for providing the essential financial muscle for elections, or will the bureaucracy have the last laugh?

The views expressed herein are the personal views of the author.
Photo Credit: PIB