By Lt. General P.C. Katoch (Retd)


Former Director General of Information Systems, Indian Army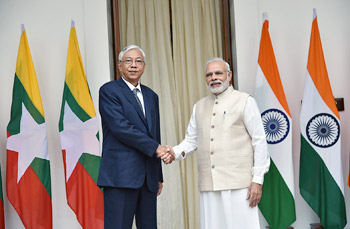 The Prime Minister, Narendra Modi with the President of Myanmar, Htin Kyaw, at Hyderabad House, in New Delhi on August 29, 2016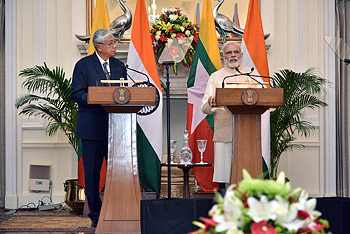 The Prime Minister, Narendra Modi delivering his statement to media in the joint press briefing with the President of Myanmar, Htin Kyaw, at Hyderabad House, in New Delhi on August 29, 2016
In March this year, Myanmar got a democratically elected government after 57 years of military rule. On March 15, Prime Minister Narendra Modi congratulated U Htin Kyaw on being elected as the first civilian President of Myanmar and conveyed his desire to work with him to strengthen the bilateral ties. In the elections, Daw Aung San Suu Kyi's NLD won a whopping 77 per cent of the elected seats in Parliament. However, she cannot lead the government because of a constitutional provision that bars her since her sons are British and not Myanmar citizens.
India and Myanmar have already stepped up bilateral military ties and coordinated border patrolling in recent years. EAM Sushma Swaraj visited Myanmar recently, called on Myanmar President and held talks with Myanmar's Minister of Foreign Affairs, Aung San Suu Kyi. Swaraj's visit to Myanmar was the first high-level political exchange after the new government came to power. Swaraj discussed areas of possible collaboration between the two countries including supply of electricity and the upcoming BRICS-BIMSTEC Outreach Summit in India, India is already supplying 3 MW electricity to Myanmar through the Moreh-Tamu link, which can be further upgraded. Myanmar gave an assurance that it will not allow any insurgent group to use its territory against India. The EAM's visit was just days after the Indian Army had an encounter with the NSCN-K militants in Nagaland who were trying to enter the country from Myanmar. Myanmar President U Htin Kyaw arrived in India on August 29, his maiden foreign visit simultaneous to Aung San Suu Kyi visiting China. PM Narendra Modi held extensive talks with President U Htin Kyaw conveying India's full support to Myanmar's internal peace process, Modi emphasizing that India would stand with Myanmar at "every step" as it opened a new chapter. Both nations agreed to "actively cooperate to combat the common challenges of terrorism and insurgent activity in our region". India has extended nearly $2 billion development assistance to Myanmar to help with the development projects in Myanmar.
Four MoUs were inked between the two countries to boost cooperation in connectivity, medicine and renewable energy. Prominent among the MOUs signed is the agreement on construction of 69 bridges, including approach roads in the Tamu-Kyigone-Kalewa section of the India-Myanmar-Thailand (IMT) Trilateral Highway, which will establish better connectivity between India and Southeast Asia. Another significant agreement was on the upgrade of the Kalewa-Yagyi road section. Both sides reviewed the progress on the Advanced Centre for Agricultural Research and Education (ACARE) in Myanmar's capital Nay Pyi Taw. PM Modi also alluded to the development projects India is helping develop in Myanmar including the Kaladan project whose port and waterway segment are nearing completion. India is supplying power to Tamu in Myanmar, which India has offered to upgrade. At a joint press conference with the Myanmar President, Mr. Modi said, "We recognized that our security interests are closely aligned. And, we agreed on the need to remain sensitive to each other's strategic interests and concerns. To this end, the President and I agreed to work together for the safety and security of our people. And, actively cooperate to tackle the common challenges of terrorism and insurgent activity in our region." The Chinese media was upbeat in saying Suu Kyi choosing China over India was proof that for Suu Kyi China was seemingly "more significant than India in Myanmar's diplomacy". But then Aung San Suu Kyi is expected to visit India in October to attend Bay of Bengal Initiative for Multi-Sectoral Technical and Economic Cooperation (BIMSTEC), which will provide excellent opportunity for taking the bilateral ties to the next level. Amusingly, China's Global Times wrote, China has no intention to interfere in Myanmar's internal affairs, but is determined to protect its citizens from being caught in a war launched from other side of the border. What a farcical statement while China has created her deadliest proxy in the United State Wa Army (USWA) in Shan State of Myanmar, arming it lethally even with missile fitted helicopters. Significantly, the USWA are 100 per cent Buddhists.
Myanmar is a strategic country for India not only being a bridge to Southeast Asia but because India and Myanmar share a 1,640 km border with a number of northeastern states including militancy-infested Nagaland and Manipur, and China's evil eye is on Arunachal Pradesh. The IMT Highway should have been completed by now but was grossly neglected by the UPA government. The Modi government is making all out efforts to complete it by 2020. Considering our ancient links with Myanmar, India could also offer a special package and facilities of the population of Myanmar to visit Bodh Gaya.
Photo Credit: PIB