By Lt. General P.C. Katoch (Retd)


Former Director General of Information Systems, Indian Army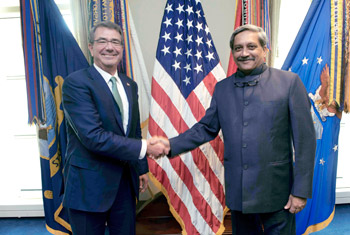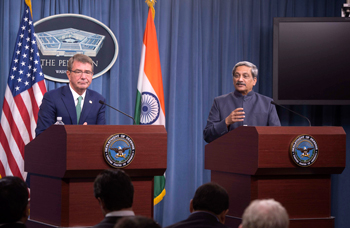 Secretary of Defense Ashton Carter and Defence Minister Manohar Parrikar in Pentagon
A day after India and US signed the LEMOA during Defence Minister Manohar Parrikar's three-day visit to the US commencing August 29, China's mouthpiece Global Times came out with its opnion titled 'Is India heading towards alliance with the US?', commenting "how close the US-India relationship can be and what geopolitical values it can get remains a question. The paper went on to say that if India hastily joins the US alliance system, it may irritate China, Pakistan or even Russia, adding "it may not make India feel safer, but will bring strategic troubles to itself a centre of geopolitical rivalries in Asia. The tail end comment of the paper was that since China doesn't resort to regional expansion, US maneuvers in Asia will prove futile - primary Sino-US competition being economic, as long as China can keep its fast growth, US strategic deployment will go nowhere.
Chinese protégé Pakistan's media reacted to signing of LEMOA by saying it will have direct impact on both Pakistan and China. Sartaj Aziz has expressed concern over growing Indo-US ties. China's Global Times has in the past made derogatory references to Indians as if the Chinese are some freak alien race. Having established PLA in POK-Pakistan, China appears to have the latent fear that US troops will be based on Indian soil - if this was not the case why should China's mouthpiece warn that it will bring strategic troubles to India as a centre of geopolitical rivalries in Asia. Additionally, why has China remained mum on Pakistan being frontline ally of the US all these years, albeit for GWOT? While India continues with strategic partnership with multiple countries, LEMOA will only give militaries of both countries access to each other's facilities for supplies and repairs, that too mot automatic or obligatory for either party - requests will be considered on a case-by-case basis. It definitely doesn't allow setting up of US bases in India. What China fails to realize is that even this measure that facilitates cooperation between India and US has been forced because of China's all around aggressive stance, her illegal territorial claims, the China-Pakistan anti-India collusivity including - sub-conventional included, defiance of global commons, and her nexus with Pakistan and North Korea that is being labeled the Devil's Axis that threatens the world. What has probably irked China more is that while China has been stealing US technology through every possible means, 'Major Defence Partner' status accorded to India allows access to almost 99% of state-of-the-art US defence technologies.
India and US already have Joint Working Groups on: Naval Systems; Air Systems, Intelligence, Surveillance and Reconnaissance; Chemical and Biological Protection; Aircraft Carrier and some other Systems. Both countries also have ongoing dialogue on Maritime Security. Defence Minister Parrikar and US Defence Secretary Ashton Carter also discussed issues like counter-terrorism, maritime security, special operations, humanitarian assistance, disaster relief, as also stability and reconstruction of Afghanistan. There has been some criticism within India about signing of LEMOA, including some even saying that since the US has bases world over and Indian interests are restricted by and large to the Indian Ocean, LEMOA will be of more use to the US. Such critics, however, ignore: dynamics of the geopolitical construct n South Asia; enlarging China-Pakistan anti-India collusivity on land and at sea including nuclearizing the India Ocean, and; India's commercial interests in South China Sea. Prime Minister Narendra Modi's Independence Day reference to Pakistan's genocide in Balochistan and Gilgit-Baltistan too appear to have put the Chinese tail on fire - as if India has launched its Special Forces in these regions. China has gone to the extent of saying that China may have to intervene in Balochistan, Well, China already has with PLA in civil attire milling around in Gwadar, Gilgit-Baltistan and all the development projects undertaken by China world over.
The US too had expressed concern on Balochistan, their spokesman stating on 18 August 2016, "We do have concerns about the human rights situation in Balochistan." India doesn't have to do much. The PLA is welcome to intervene and get the real taste of the sub-conventional. Little wonder then that alternative alignment of the CPEC in POK-Pakistan is already being looked at. Since China plans to treat the Indian Ocean same way she is treating the SCS, more than half the world is affected. The boast by Global Post of China's economic might too needs to seen together with her external debt, unemployment, growing unrest in workers, downturn in economy, more older population and therefore the need for jobs and resources beyond China like the One Belt One Road (OBOR) for which no dedicated funds are available. Therein lie China's infirmities. Her strategic designs at the cost of rest of world can no more be hidden behind the mask of peace. Only three locals died in the recent suicide car bombing of the Chinese Embassy at Bishkek, Krygzstan recently. But that may be just the beginning.
Photo Credit: DoD