By Lt. General P.C. Katoch (Retd)


Former Director General of Information Systems, Indian Army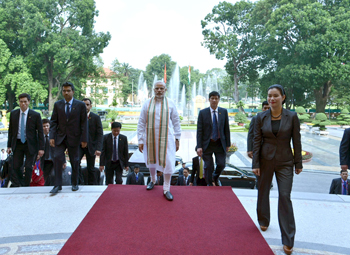 The Prime Minister, Narendra Modi arrives at the Presidential Palace, in Hanoi, Vietnam on September 3, 2016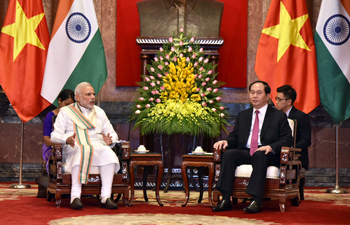 The Prime Minister, Narendra Modi meeting the President of the Socialist Republic of Vietnam, Tran Dai Quang, in Hanoi, Vietnam on September 03, 2016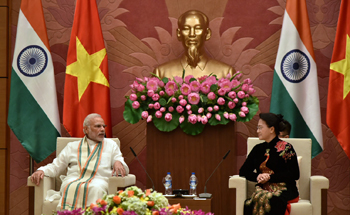 The Prime Minister, Narendra Modi meeting the Chairperson of the National Assembly of Vietnam, Nguyen Thi Kim Ngan, in Hanoi, Vietnam on September 03, 2016
Prime Minister Modi's visit to Vietnam on September 2-3 was special not only because Vietnam is India's strategic partner and an important pillar of India's Act East Policy, but also because it came at time of mounting tensions in the South China Sea (SCS) with China making aggressive moves after the Hague-based international tribunal rejected China's illegal 'Historical Claims', Chinese Defence Minister Chang Wanquan calling for "people's war at sea" to push back "threats to Chinese claims", and China's smaller neighbours shoring up defences faced with hostile Chinese. Ironically, Manmohan Singh in his 10-year tenure as PM never visited Vietnam.
On September 3, 2016, PM Modi was accorded ceremonial reception in Vietnam followed by bilateral with PM Nguyên Xuân Phúc. Both leaders reviewed and expressed their satisfaction over comprehensive development of the bilateral Strategic Partnership, welcoming that the two countries will be celebrating the 45th anniversary of establishment of diplomatic relations and 10th anniversary of establishment of Strategic Partnership in 2017. Both leaders agreed to elevate the current Strategic Partnership to Comprehensive Strategic Partnership. The two Prime Ministers agreed to assign the two Ministries of Foreign Affairs to be the focal points, in collaboration with other ministries and agencies of both sides, to formulate the Plan of Action to bring the Comprehensive Strategic Partnership to reality in all areas of cooperation. While extending $500 million Line of Credit to Vietnam for facilitating deeper defence cooperation, PM Modi said, "Our decision to upgrade our Strategic Partnership to a Comprehensive Strategic Partnership captures the intent and path of our future cooperation. It will provide a new direction, momentum and substance to our bilateral cooperation". He added that the two sides recognized the need to cooperate in responding to emerging regional challenges.
12 agreements were signed between the two countries:
Framework Agreement on Cooperation in the Exploration and Uses of Outer Space for Peaceful Purposes
Protocol for Amending the Agreement on Avoiding Double Taxation
Program of Cooperation in UN Peacekeeping Matters
Protocol on Celebrating 2017 as the "Year of Friendship"
MOU on Health Cooperation
MOU on cooperation in IT
MOU on Cooperation between the Việt Nam Academy of Social Sciences and the Indian Council of World Affairs
MOU on cooperation in Cyber Security
MOU for Cooperation in the Fields of Standardization and Conformity Assessment
MOU on Establishment of the Centre of Excellence in Software Development and Training
Technical Agreement on Sharing of White Shipping Information
Contract for Offshore High-speed Patrol Boats
In terms of defence cooperation, both sides agreed to: effectively implement the Joint Vision Statement on India-Việt Nam Defence Relations of May 2015;and welcomed signing of the contract for Offshore High-speed Patrol Boats between M/s Larsen & Toubro and Việt Nam Border Guards utilizing the $100 million Line of Credit for defence procurement extended by India to Việt Nam; welcomed signing of the MOU on Cyber Security, and; early conclusion of the MOU for cooperation between the National Security Council Secretariat of India and the Ministry of Public Security of Việt Nam on traditional and non-traditional security matters, cyber security, counter-terrorism, transnational crimes, disaster management and response, and undertaking training and capacity building programs.
PM Modi reaffirmed India's significant interest in promoting defence industry cooperation between the two sides and announced a grant of $5 million for the construction of an Army Software Park at the Telecommunications University in Nha Trang. Both sides have agreed to explore substantive and practical measures to achieve the trade target of $15 billion by 2020 and explore new business opportunities in the identified priority areas for cooperation in hydrocarbons, power generation, renewable energy, infrastructure, tourism, textiles, footwear, medical and pharmaceuticals, ICT, electronics, agriculture, agro-products, chemicals, machine tools and other supporting industries.
In terms of energy, both countries agreed to further enhance cooperation in the oil and gas sector, with Vietnam calling for Indian oil and gas companies to avail of opportunities in participating in mid-stream and down-stream sectors in Vietnam. Both sides are to soon bilaterally conclude Implementing Arrangement on Establishment of Tracking and Data Reception Station and Data Processing Facility in Vietnam under the India-ASEAN Space Cooperation, which would increase capabilities of Vietnam and ASEAN countries in remote sensing with numerous commercial and scientific applications. There was no mention about the export of BrahMos missiles to Vietnam which has been under discussion for past two years. However, the issue may have come up in private discussion between the Prime Ministers. Tensions between Vietnam and bully China are apparent. While the Chinese President has always met visiting Vietnamese Defence Ministers in the past, President Xi Jinping did not meet the current Vietnamese Defence Minister who visited Beijing just before PM Modi's visit to Vietnam.
Photo Credit: PIB