By Lt. General P.C. Katoch (Retd)


Former Director General of Information Systems, Indian Army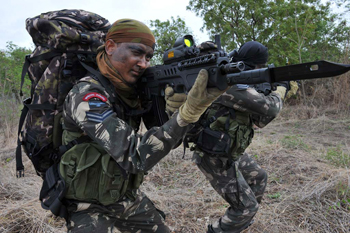 Indian Special Forces in action
India executed surgical strikes against multiple terrorist launch pads-cum training camps in four sectors of POK on night September 28-29. Post the Uri terrorist attack, Nawaz Sharif had shed the fake mask of friendship he had been showcasing in response to Prime Minister Narendra Modi's overly friendly overtures. After the Pakistani sponsored terror attack on the IAF base at Pathankot on January 1, 2016, Nawaz had indicated that he would cooperate in the probe. However, not only did he later deflect action harping on "lack of evidence (as in case of 26/11 Mumbai terrorist attack), post the terrorist attack on the army camp at Uri, he refuted any Pakistani involvement and instead blamed India for orchestrating the attack to divert attention from the situation in Kashmir Valley. However, the capture and interrogation of the Pakistani origin guides who helped the Pakistani terrorists during the Uri terrorist attack again confirmed Pakistani army's direct involvement in organizing and directing the Uri terror attack.
In well planned and coordinated surgical strikes Indian Army's Special Forces struck multiple terrorist locations in POK over a widely dispersed area. Some 35-40 terrorists were reportedly killed. Some Pakistani army soldiers though taken by surprise tried to interfere with our Special Forces operations but were also gunned down in the process. The success of these actions also should be seen in the backdrop of the fact that the Pakistani army was on high alert for last 10 days, not to mention the night fighting of F-16s over Islamabad and Nawaz Sharif and his Defence Minister along with Sartaj Aziz and army chief Raheel Sharif talking of war and twitching their nuclear tails. The surprise achieved was total with not a single casualty to our troops. In fact, the Pakistani posts along the LoC only woke up after our Special Forces had returned back. One of the major reason for the Pakistani army being caught totally off guard despite being put on high alert was perhaps they never imagined India would respond in this manner. Post the Uri terror attack, there was tremendous pressure on the Modi Government to retaliate.
But all along the intended targets were being kept under constant surveillance. And these were struck at the right time in brilliant fashion. This has sent a loud and clear message to Pakistan that India will not remain mute spectator to Pakistan sponsored terrorism, relying only on diplomacy. The notion on certain quarters of India being a soft state has also been laid to rest. Prime Minister Narendra Modi has demonstrated that his leadership is class apart. That the USA has issued a statement they would not intervene is also credit to PM Modi's acumen. Our Special Forces boys and the IAF helicopter pilots who flew them deserve high commendation. Interestingly, the Pakistani media has criticized escalation along the LoC but has "rejected" India's claim of having conducted above cross-border surgical strikes. Obviously, the Pakistani military and Nawaz Sharif and Co can't explain to their public how these multiple surgical strikes were conducted so successfully while they had been bandying about war, high alert, nuclear war and such like gibberish. Pakistan curbing terrorism is out of the question since the Pakistani military not only holds Pakistan and the Pakistani public to ransom, they have infiltrated ever department and organ in Pakistan; economic, administrative or whatever.
In 2007, Pakistani scholar Ayesha Siddiqa in her book Military Inc that the Pakistani military's private-industrial-corporate complex was to the tune of $20 billion already. This amount would have multiplied many more times, and to retain this power and money, the Pakistani military must have conflict both with India and Afghanistan. So, escalation by Pakistan is very much on the cards. We should be geared for terrorism pan-India and escalation in the forms of terrorist attacks even CBRN lone wolf attacks. In addition, cross-border attacks from Pakistan could increase. Should there be more escalation, Pakistan can be expected to 'deploy' her nuclear weapons and publicize the same. Besides calling her nuclear buff, she has to be told that India's No First Use Doctrine applies to the 'threat' of nuclear attack as well. Additionally, our Special Forces have already been conducting joint training. Should Pakistan continue with her proxy war on India and Afghanistan, there should be ample opportunities for joint operations by these two forces against Pakistan?