By Lt. General P.C. Katoch (Retd)


Former Director General of Information Systems, Indian Army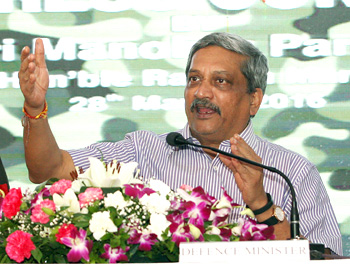 Defence Minister, Manohar Parrikar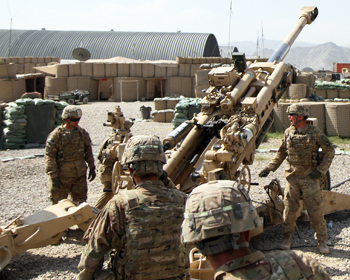 M777 howitzer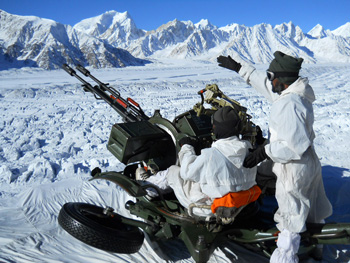 ZU-23MM-2B at Siachen
As per media reports, the MoD is working towards seeking an annual hike of eight percent in terms of capital expenditure in the next decade plus in order to procure new equipment for the Army, Navy and the Air Force. This came about after Defence Minister Manohar Parrikar asked MoD to work out the financial cost of the military equipment acquisition planned and bring it in sync with the existing average possible hike in the Union Budget. The examination concluded that an annual hike of eight per cent in capital spending is within sync of the anticipated hikes that presently vary on a year-to-year basis. With the current state of 'Make in India', the procurement perforce will have to be a mix of joint production in India as well as imports where big project weapon platforms like fighter jets, warships and submarines are involved. The Long Term Integrated Perspective Plan (LTIPP) for the period 2012-2027 has projected the financial requirement of $223 billion for buying or producing new equipment, including warships, fighter jets, submarines, aircraft carriers and some 500 helicopters over the next 11 years. By present standards, $223 billion translates into some 15 lakh crores.
The eight percent hike in capital expenditure is being sought to accelerate military readiness and capacity building that has suffered severe neglect over the past decade. The capital spending for the present fiscal year ending March 31, 2017 is 86,340 crore (approx $12.69 billion). Hence the average hike planned over the next 11 years will be some $20.27 billion every year. Though the LTIPP lists out the equipment required, it does not include detailed costing of items. However, the LTIPP includes: Technology Perspective Capability Road Map (TPCRM) to enable the DRDO, DPSUs and private industry to plan R&D projects; expected contingencies of the Army, Navy and Air Force and what would be the response; capabilities and expected time frames; how these options would be achieved - whether through indigenous development or by procurements ex import. MoD had reportedly set a target for inducing additional 170 fighter jets for the IAF, 12 additional submarines, 500 various types of helicopters, additional artillery guns and tanks for the Indian Army, and another indigenous aircraft carrier. The plan no doubt is ambitious but MoD is seeking a gradual assured hike, though the defence allocations have actually been decreasing over the years and next 11 years will also see through two general elections.
As of now, governmental efforts are on to encourage various joint ventures with foreign manufacturers under 'Make-in-India' for developing helicopters, fighter jets, warships and aircraft carrier but the projects are actually yet to take off - the excruciatingly slow pace due to red tape and complicated procedures despite proclamations of progress in 'ease of business'. Parrikar had also uncovered US$ 3 billion which had been earlier paid by MoD was piled up and lying forgotten in a Washington account, as well as $8.3 billion unused money parked with DPSUs - some way back from year 1975, all of which shows gross mismanagement of meager funds available for military modernization. But in all this, soldiers at the cutting edge continues to be neglected despite continuous engagement in hybrid warfare and fighting irregular warfare. Our MoD doesn't appear to understand the vital necessity that in this type of warfare our soldiers must be able to see the terrorist before the latter sees him, engage him with best weaponry, have state-of-the-art communications, and navigational aids, survivability, sustainability and mobility.
Our DRDO has not been able to equip the soldier in the required fashion to-date, giving him advantage over the adversary. The lackadaisical attitude has not even made them attempt reverse engineering as being done by China to address cutting edge requirements. It is a shame that the Army's void of bullet jackets has crossed 3,50,000. The Army needs 1.8 lakh assault rifles, its L70 / ZU 23 guns in service since 1960's need urgent replacement, and signing of the K-9 Vajra T Howitzer and M777 Ultra Light Howitzers ex BAE Systems is yet to be done. Even in J&K, the availability of night vision equipment is pathetic considering that in the prevailing environment of violence every soldier must be able to see by the night. The non-availability of a single thermal imager at the Uri Army base that suffered a terrorist attack in October indicates the irony of the ill-equipped soldier at the cutting edge. Continuing to neglect the frontline soldier implies avoidable casualties.