By Lt. General P.C. Katoch (Retd)


Former Director General of Information Systems, Indian Army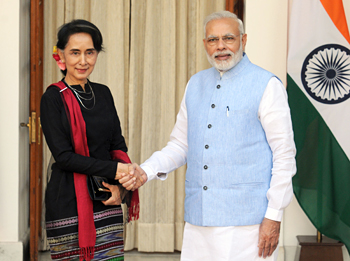 The Prime Minister, Narendra Modi with the State Counsellor
of Myanmar, Aung San Suu Kyi, at Hyderabad House, in
New Delhi on October 19, 2016
Myanmar Foreign Minister and State Counselor Aung San Suu Kyi's four-day visit to India after attending the BRICS summit at Goa provided fresh impetus to India-Myanmar relations. It may be recalled that post installation of the present the National League for Democracy (NLD) government in Myanmar in March 2016, Myanmar President U Htin Kyaw had visited India while Suu Kyi visited China. The Chinese media known for its typical arrogance had then boasted that China is more important to Myanmar than India albeit Suu Kyi had visited China to smoothen Myanmar-China relations that have not been running on even keel including because of China lethally arming the United State Wa Army (USWA); an insurgent outfit in Shan Province of Myanmar.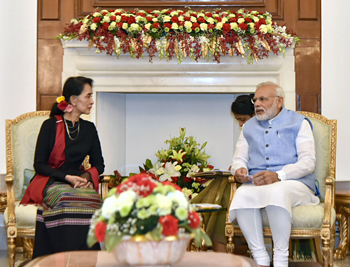 The Prime Minister, Narendra Modi in a meeting with the
State Counsellor of Myanmar, Aung San Suu Kyi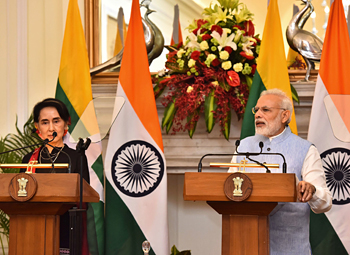 The Prime Minister, Narendra Modi and the State Counsellor
of Myanmar, Aung San Suu Kyi at the Joint Press Statement,
at Hyderabad House, in New Delhi
At the BRICS-BIMSTEC Outreach Summit in Goa, Suu Kyi had said that the BIMSTEC region was confronted with numerous security threats, including terrorism, human trafficking, climate change, natural and man-made disasters. At New Delhi, Suu Kyi called on President Pranab Mukherjee and held talks with Prime Minister Narendra Modi and External Affairs Minister Sushma Swaraj. In her meeting with the EAM, Suu Kyi outlined her priorities in the areas of agriculture, training, capacity building, job creation, infrastructure and health care and sought India's assistance in these areas. PM Modi in a press conference welcomed Suu Kyi to her "second home" and said that her clear vision, mature leadership and struggle has inspired people across the world. Modi announced India's cooperation program and said India will support its neighbour (Myanmar) as Suu Kyi leads her country to become a "modern and prosperous nation", adding that the two countries have agreed on security coordination in border areas and sensitivity to each other's strategic interests. Suu Kyi called India "the greatest democracy in the world". Resolving to expand security ties, India and Myanmar agreed to boost cooperation in a vast range of areas, including guarding the 1,640-km-long border, asserting that the states which encourage, support or finance terrorism must be held accountable. Myanmar has been struggling to tackle the crisis over Rohingya Muslim situation which became very violent in Rakhine during 2012. More than 1,00,000 people, mostly Rohingyas, are still in displacement camps. India and Myanmar inked three pacts to enhance ties in power, banking and insurance sectors after comprehensive talks between Modi and Suu Kyi while sectors like oil and gas, agriculture, renewable energy and health care were identified for deeper engagement.
Modi assured Suu Kyi that India will stand with Myanmar with full support and solidarity in the country's new journey towards democracy and development while noting that the security interests of both the neighbours are closely aligned. A joint statement said State State Counselor Suu Kyi condemned the Uri terrorist attack while Modi condemned the recent armed attacks against three border posts in the northern part of Rakhine State. "Both sides condemned terrorism in all its forms and manifestations as well as all acts, methods and practices of terrorism wherever, by whomever, against whomsoever committed and agreed that the fight against terrorism should target terrorists, hold to account terror organizations, networks and also states that encourage, support or finance terrorism in any way," the statement read. Both countries also called for the expeditious finalization of the Comprehensive Convention on International Terrorism by the UN. India has agreed to support Myanmar in creating police training infrastructure and to share expertise in developing training manuals, including in forensics and cyber-security. India will also develop a Varietal Development and Seed Production Centre in Yezin in Myanmar to enhance the quality of seeds. Myanmar invited Indian companies to participate in competitive tenders for petrochemical and petroleum products, marketing infrastructure and the setting up of LPG terminals.
India has been raising with Myanmar the issue of several North East militant outfits having training camps in that country. Close coordination between border guarding forces on both sides including exchange information are essential. Myanmar's strategic location on eastern flank of India is vital to India's 'Act East Policy' (AEP) and the India-Myanmar-Thailand Highway linking India with Southeast Asia. Suu Kyi is actually the most important leader in the NLD Government, who could not become Myanmar's President due to a constitutional provision. Her visit to India paves the way for stronger India-Myanmar ties.