By Lt. General P.C. Katoch (Retd)


Former Director General of Information Systems, Indian Army
The Prime Minister, Narendra Modi with the Prime Minister
of Japan, Shinzo Abe, at Kantei (Japan Prime Minister's
Official Residence), in Tokyo, Japan on November 11, 2016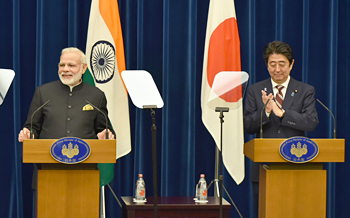 The Prime Minister, Narendra Modi addressing at the Joint
Press Conference with the Prime Minister of Japan, Shinzo Abe,
at Kantei, in Tokyo, Japan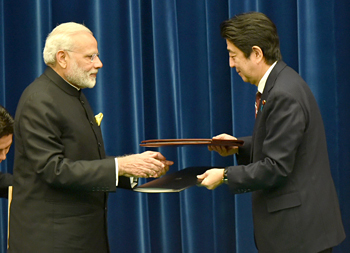 The Prime Minister, Narendra Modi and the Prime Minister
of Japan, Shinzo Abe exchanging after signing the joint
statement
Prime Minister Narendra Modi's visit to Japan on November 11-12 may be termed the most historic as making an exception; Japan has signed a civil-nuclear cooperation deal with India. PM Modi said, "I have visited Japan many times, and this is my second visit as Prime Minister. And, every visit has been unique, special, educative and deeply rewarding". This deal will open the doors for cooperation between the two countries in the nuclear field. It was firmed up during the 2015 visit of Prime Minister Shinzo Abe to India when the principles of the agreement were frozen.
PM Modi termed this a historic step in their engagement to build a clean energy partnership. Indo-Japanese negotiations for this agreement had been ongoing for the past six years. Japan has 13 civil nuclear agreements with countries like France and the US but India is the first non-member of the non-proliferation treaty (NPT) to have signed such a deal with Japan. Taking Japan's sensitivities about nuclear non-proliferation into account, both countries signed a note in addition to the civil nuclear agreement reflecting both countries' positions, Japan's reaffirmation of its national positions and India reiterating the non-proliferation commitment made on September 5, 2008 on the eve of the NSG plenary. This note also talks about the terms of cessation of cooperation. The template is similar to the US deal; a year's notice has to be given for cessation of cooperation. PM Modi stated, "This agreement is a legal framework that India will act responsibly in peaceful uses of nuclear energy and also in Non-Proliferation regime even though India is not a participant or signatory of NPT".
PM Narendra Modi and PM Shinjo Abe held vide ranging talks also reviewing the Special Strategic and Global Partnership as outlined in the "India and Japan Vision 2025" set forth on 12 December 2015. Highlights of the Indo-Japanese joint statement included: emphasizing rising importance of Indo-Pacific region as the key driver for global prosperity stressing democracy, peace, rule of law, tolerance and respect for the environment; improving connectivity between Asia and Africa, and synergy between India's 'Act East' Policy and Japan's 'Expanded Partnership for Quality Infrastructure'; cooperation on global challenges like climate change, countering terrorism, UN and UNSC reform and maintaining rules-based international order; cooperation in high technology, space, clean energy and energy sector development, infrastructure and smart cities, bio-technology, pharmaceuticals, ICT, education and skills development; consolidate security and defence cooperation including through "2+2" Dialogue, Defence Policy Dialogue, Military-to-Military Talks and Coast Guard-to-Coast Guard co-operation; appreciation of Japan's readiness to provide the US-2 amphibian aircraft to India; Japan's firm support for Indian initiatives like 'Make in India', 'Digital India', 'Skill India', 'Smart City', 'Swachh Bharat' and 'Start-Up India' by sharing advanced skills and technologies through mobilisation of Japanese public and private sector investments, including through ODA; appreciation steady progress made in the Mumbai-Ahmedabad High Speed Rail (MAHSR) Project through the discussion - construction and operation to commence end 2018 and 2023 respectively; progress to realize 3.5 trillion yen of public and private financing to India in five years under the 'Japan-India Investment Promotion Partnership'; commitment to work together to enhance connectivity including road connectivity in North Eastern India; Japan's appreciation for PM Modi's initiative for improving the business environment in India; entry into force of the Agreement on Social Security in October 2016, reducing costs of business; importance of implementing 'Japan-India Make-in-India Special Finance Facility' up to 1.5 trillion yen by Japan; MoU between National Investment and Infrastructure Fund (NIIF) and Japan Overseas Infrastructure Investment Corporation for Transport and Urban Development (JOIN) to explore funding for infrastructure projects in India; strengthening bilateral energy cooperation; intention to achieve early conclusion of Hong Kong International Convention for the Safe and Environmentally Sound Recycling of Ships, 2009; deeper bilateral collaboration in science and technology - MoU signed between JAXA and ISRO; cooperation in marine, earth and atmospheric sciences - Memorandum of Cooperation (MOC) between Ministry of Earth Science and JAMSTEC; cooperation in IT and IoT, disaster management, disaster risk reduction, education and healthcare; MOC in field of Cultural Exchanges - 2017 to be year of India-Japan friendly exchanges in the field of culture and tourism; MOC on Sports between the Ministry of Youth Affairs and Sports of India and the Ministry of Education, Culture, Sports, Science and Technology of Japan; MOU between Gujarat and Hyogo Prefecture on mutual cooperation; prospects of cooperation in Iran and Afghanistan including in development of infrastructure and connectivity for Chabahar Port; cooperation in Japan-India-Australia dialogue and in strengthening East Asia Summit (EAS) and ASEAN; zero tolerance for terrorism - also calling Pakistan to bring perpetrators of 2008 terrorist Mumbai terrorist and 2016 Pathankot terrorist attack to justice; closer cooperation in safeguarding global commons and domains; reaffirmed shared commitment to elimination of nuclear weapons; and commitment to work together for India to become full member in the remaining three international export control regimes: Nuclear Suppliers Group, Wassenaar Arrangement and Australia Group, with the aim of strengthening the international non-proliferation efforts. As per media Japan is to supply India with 12 x US-2i amphibious aircraft at a cost of 10,000 crores.
Japan has reportedly agreed to reduce the price, earlier pegged at $1.6 billion (10,720 crore) for the 12 aircraft, to clinch the deal and expand its strategic partnership with India. The four turbo-prop US-2i is capable of short take-offs from land or water. Meant for search and rescue, it can also transport 30 combat troops. Interestingly, Japan in mid 1990s had proposed positioning 2 x US-2i amphibious aircraft in Andaman & Nicobar for search and rescue at sea. The Japanese proposal was free of cost with both amphibious aircraft to be under joint control of India and Japan, jointly operated by both countries. Ironically, India did not respond and two decades later we are buying the same aircraft. Notwithstanding this, Prime Minister Narendra Modi's visit to Japan was by far the most successful, taking India-Japan relations to the next level.