By Lt. General P.C. Katoch (Retd)


Former Director General of Information Systems, Indian Army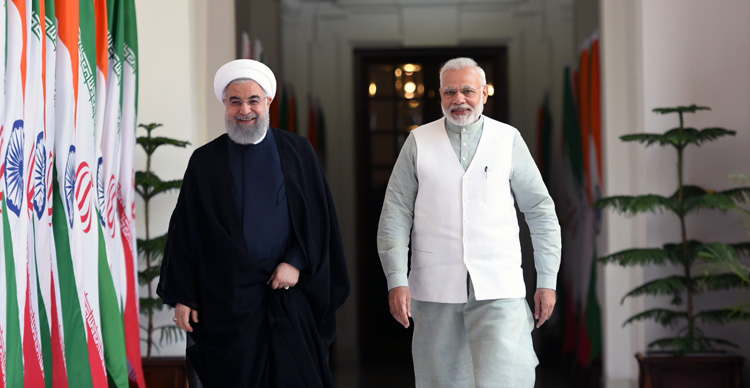 Prime Minister, Narendra Modi with the President of the Islamic Republic of Iran, Dr. Hassan Rouhani, at Hyderabad House, in New Delhi on February 17, 2018.
Iranian President Hassan Rouhani arrived at Hyderabad on February 15, 2018, visited Hyderabad for two days and arrived New Delhi on February 17. This was his first visit to India after becoming President in 2013. But President Rouhani is no stranger to India. As Iran's National Security Advisor he accompanied then President Mohammad Khatami in 2003 when the latter was the Chief Guest at India's Republic Day Parade. The 'Delhi Declaration' was inked by both countries during that visit in 2003, which provided a roadmap for future bilateral relations. President Rouhani's visit was the first by an Iranian President to India in a decade, and came after the visit of the Modi to Iran in 2016. During his visit, President Rouhani was accompanied by a high-level delegation comprising Cabinet Ministers, senior officials and business leaders. President Rouhani and Prime Minister Narendra Modi held wide ranging discussions on regional issues and boosting bilateral cooperation, which included substantive and productive discussion on cooperation in trade and investment, energy, infrastructure, connectivity, defence and security, culture and people-to-people contacts.
The nine agreements signed between both countries covered all these aspects, providing strong impetus to bilateral engagement:
One, Agreement for Avoidance of Double Taxation and Prevention of Fiscal Evasion with Respect to Taxes on Income;
Two, MoU on Exemption from Visa requirement for holders of Diplomatic Passports;
Three, Instrument of Ratification of Extradition Treaty;
Four, MoU on Cooperation in Traditional Systems of Medicine;
Five, MoU on establishment of Expert Group on Trade Remedy Measures to promote cooperation in areas of mutual interest;
Six, MoU on Cooperation in Agriculture and Allied Sectors;
Seven, MoU on Cooperation in Health and Medicine;
Eight; MoU on Postal Cooperation, and;
Nine, Lease Contract for ShahidBeheshti Port-Phase 1 of Chabahar during Interim Period, between Port and Maritime Organization (PMO), Iran and India Ports Global Limited (IPGL).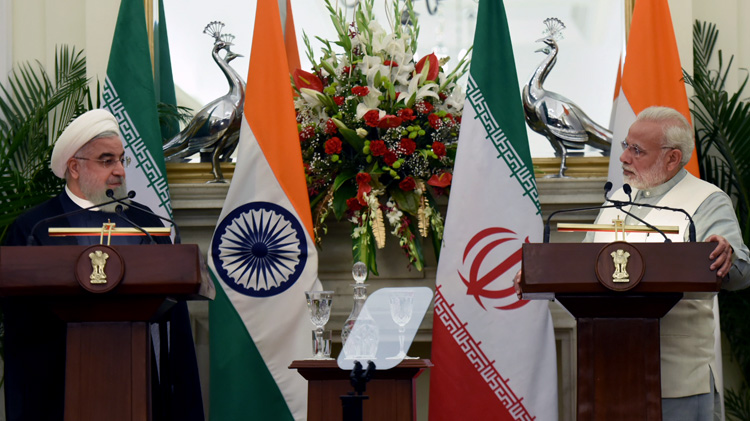 Prime Minister, Narendra Modi and the President of the Islamic Republic of Iran, Dr. Hassan Rouhani, during the joint press briefing, at Hyderabad House
Both leaders welcomed the lease contract for ShahidBeheshti port of Chabahar during interim period and directed that the Coordination Council should meet within the timelines stipulated in the Trilateral Agreement. This was acknowledgement of the unique role of Iran and India in promoting multi-modal connectivity across the region. Phase-1 of Chabahar Port was inaugurated in December 2017. The Iranian side welcomed Indian investment in setting up plants in sectors like fertilizers, petrochemicals and metallurgy in Chabahar Free Trade Zone (FTZ). India is already committed to support development of Chabahar- Zahedan Rail line. Both leaders encouraged greater efforts for cooperation in railway sector and reiterated their commitment to International North- South Transport Corridor (INSTC), stressing the need for inclusion of Chabahar within its framework. Both sides agreed to continue and increase the pace of negotiation for reaching appropriate results on energy cooperation, including Farzad B gas field. The two leaders welcomed the growing interaction between their National Security Councils and agreed to enhance regular and institutionalized consultations between them and others concerned on terrorism, security and related issues like organized crime, money-laundering, drug trafficking and cyber crime. It was agreed to hold dialogue to look into measures for cooperation in defence sphere, including port calls by naval ships, training and regular exchanges of defence delegations.
Recognizing the challenges of terrorism and ideologies of violent extremism, the two Leaders reiterated their strong commitment to combat terrorism in all its forms and manifestations, and stressed that there can be no justification whatsoever for any act of terrorism. Both sides endorsed UNGA consensual resolution in 2013 derived from the idea of Iran's President "World Against Violence and Extremism"(WAVE) and called for combating terrorist elements and complete eradication of their supportive movements, financial support cut to terrorist groups in particular. India reaffirmed its support for full and effective implementation of the Joint Comprehensive Plan of Action (JCPOA), which has been endorsed by the UN Security Council and is crucial contribution to the non-proliferation framework and international peace, stability and security. While India supports Iran's accession to WTO, President Rouhani acknowledged Indian aspirations to play greater role in international fora. Both leaders reiterated need for a strong UN, stressing requirement early reform of the UNSC, reiterating support to Intergovernmental Negotiations (IGN) for comprehensive reform of UNSC. Both agreed to further intensify and diversify the existing high-level engagement through frequent and wider range of bilateral exchanges at all levels, deciding to convene within this year meeting of the India-Iran Joint Commission and all its Working Groups, Foreign Office Consultations, dialogue between defense and National Security Council structures of the two countries, Policy Planning dialogue, and to promote Parliamentary exchanges. There may be differences between India and Iran on issues like approach to Pakistan's role in destabilizing Afghanistan, but stability of Afghanistan is in the interest of both Iran and India. There is also the US-Iran estrangement and Iran, China-Pakistan and Russia wanting US-NATO forces to exit Afghanistan. But there are many areas where the strategic interests of India and Iran coalesce. Both countries jointly are destined to play significant role in mutual cooperation for promoting peace and stability in the region. The presence of President Rouhani is hard evidence of this. His visit has given definite boost to the Indo-Iranian construct.