By Lt. General P.C. Katoch (Retd)


Former Director General of Information Systems, Indian Army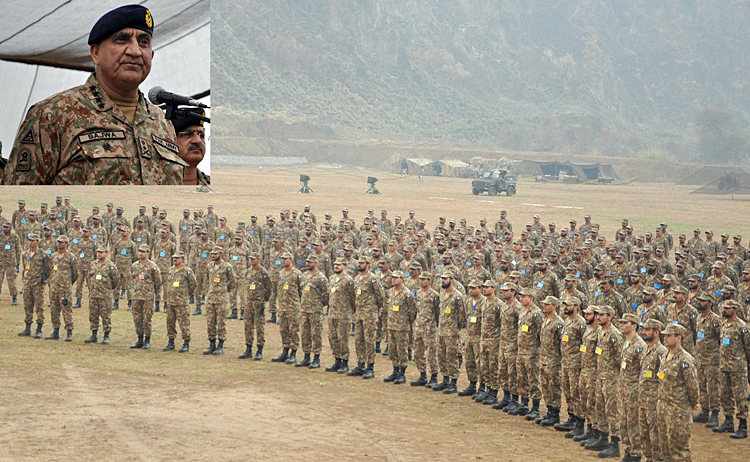 Pakistan's defence budget is over 1.1 trillion rupees (Pakistan) which is one of the highest as a ratio to its GDP
Pakistan announced a hike in the country's defence budget by 10 per cent (1.1 trillion), as the over 5.6 trillion federal budget for 2018-2019 was presented on April 28. Pakistan's Finance stated that total outlay of the budget is 5,661 billion (5.6 trillion) – 13 per cent higher than last year. Defending the 10 per cent in defence spending, Islamabad-based Defending Pakistan's Defence Budget 2018-2019, Pakistan columnists Farurukh Saleem says: the defence allocation is fourth largest allocation, not the largest – lion's share; defence affairs and services will consume around 18 per cent of planned government expenditures, and; 82 per cent of all government expenditures are not defence related. Saleem goes on to say, "We are in the midst of a hybrid war which is the synchronised use of multiple instruments of power tailored to specific vulnerabilities across the full spectrum of societal functions to achieve synergistic effects. The principal objective... is to weaken Pakistan through a synchronized attack that includes economic warfare, supporting domestic unrest, diplomatic onslaught, along with regular and irregular military operations. We need to replace a uni-dimensional National Security Strategy focused singularly on military security with a synchronized strategy of a counter attack". Interestingly, while development funds see sharp cut in Pakistan's new budget (20 per cent), the Khyber Pakhtunkhwa (KPK) had used only 45 per cent from the Annual Development Program for 2017-2018 with only 25 days left in the financial year.
What Saleem fails to mention is that the situation in which Pakistan finds itself today is because of its army. The army by design radicalized the nation in the Wahabi colours of Saudi Arabia, chose to wage proxy wars on India and Afghanistan, and having sold the country's sovereignty to China has entered into permanent debt trap of China with the China-Pakistan Economic Corridor (CPEC).
It is different issue the Saudi Crown Prince recently disclosed spread of Wahabism was on behest of the West; funding jihadis across the globe, to which Pakistani Generals were more than game. Writing in The Express Tribune on April 28, Shahbaz Rana says, "Desperate to boost foreign exchange reserves over the $11-billion mark, Pakistan has received another loan of $1 billion from the China Development Bank as authorities remain adamant, at least in public, not to read the writing on the wall." With the fresh injection of this $1 billion, Chinese financial institutions have so far given $2.2 billion to Pakistan to help the country steer through difficult times. And this is when the repayments for China's CPEC investments are yet to begin. Veteran Pakistani scholar Major Agha Amin had written in 2005 (reiterating it in 2009), "There is no doubt that Pakistan will be a semi autonomous Chinese province by 2030 or so... Pakistani Baluchistan by 2030 would be a completely Chinese run show'. Today perhaps Agha Amin may be surprised by advancement of the time-table that he had predicted. Coming to Pakistan's defence budget of 1.1 trillion, so stoutly being defended by Farurukh Saleem, is this the only figure we should be licking at? Many would not even be aware that this 1.1 trillion does 'not' include defence pensions. What about the $33.4 billion that Pakistan received from the US over the last decade plus on account of 'war on terror' through the Coalition Support Fund' (CSF)? On another note, there is enough evidence that the CSF was not used for the purpose it was meant for. In addition. The US has given plenty war equipment to Pakistan on gratis basis over the years. The US has also been paying colossal amounts to Pakistan Army owned private companies for transit of its logistics train from Karachi to Afghanistan to sustain US-NATO troops in Afghanistan, which would have included 'bribe money' for safe passage through Taliban-controlled territory. Yet the Pakistani military orchestrated huge pilferage of containers, making extra cash on the side through auctioning these goods on the quiet. Then is China, which has been dishing out weapon platforms and equipment to Pakistan at very low rates right from 1963 when Pakistan illegally transferred the Shaksgam Valley to China. In addition, China has been gifting equipment to Pakistan, three new Chinese armed CAIC Z-10 helicopters gifted to Pakistan in 2015 being just one example.
Finally, it is the legal and illegal money that the Pakistani army makes through its industry-corporate-business enterprises, in addition to narcotics trade. In a written reply to a question seeking details of commercial entities being run by various wings of the armed forces in Pakistan, Defence Minister Khwaja Asif informed the Senate on July 21, 2017, that there were nearly 50 "projects, units and housing colonies" functioning in the country under the administrative control of Fauji Foundation, Shaheen Foundation, Bahria Foundation, Army Welfare Trust (AWT) and Defence Housing Authorities (DHAs)". But this too appears conservative estimate because Pakistani scholar Ayesha Siddiqa wrote in her book 'Military Inc' published in 2007 wrote, "Out of 96 projects run by these foundations, only nine are listed with the Securities and Exchange Commission of Pakistan". Her estimate of worth of Pakistani army's private umpire in 2007 was to the tune of $20.7 billion. Considering that a decade plus has gone past, worth of that empire may be anything in the region of $60-80 billion. Any surprises why it is said that Pakistani army owns a country? It will remain a pain for the region, even as another Indo_Pak Track II has kicked off.