By Lt. General P.C. Katoch (Retd)


Former Director General of Information Systems, Indian Army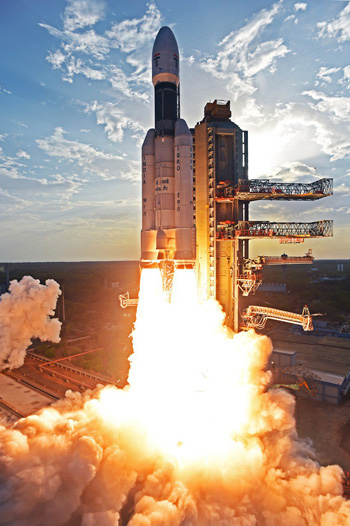 GSLV Mk III lift off
On April 24, 2018, ISRO announced postponement of launch of satellite GSAT-11, a month after it lost contact with communication satellite GSAT-6A. GSAT-11, a 5,725-kg satellite, which was scheduled for a May 25 launch by Arianespace from Kourou, French Guiana in South America, was expected to usher in an age of high-speed internet connectivity that could provide speeds of up to 14 Gbps (gigabit per second). ISRO said the postponement has been done in order to carry out more technical checks before it is put into orbit. The satellite had reportedly developed some technical snags after reaching the launch site in French Guiana on March 30.
ISRO will now be conducting additional tests. The satellite, whose revised launch schedule has not been announced, with a solar panel spanning four metres will carry 40 transponders in the Ku-band and Ka-band frequencies; it will provide 32 user beams in Ku-band and eight gateway beams in Ka-band. GSAT-11 is one of ISRO's high profile launches this year, with other satellites including GSAT-19 planned for later. However, ISRO plans to launch number of important satellites in the coming months, including for use by the Indian Military for monitoring the borders as well as adversary movements. The plan reportedly is to launch GSAT-7A in September this year. GSAT-7A is for surveillance by the IAF and will be followed by the launch of an advanced remote sensing satellite, Risat-2A, by the end of these years. Both these satellites will help the IAF in detecting any intrusion attempts in the Indian air space, enabling prompt counter action.
GSAT-7A will be similar to Gsat-7 (Rukmini), which was launched on September 29, 2013, exclusively for the Navy. Rukmini has helped the Navy monitor the Indian Ocean Region (IOR) as the satellite has a nearly 2,000 nautical mile 'footprint' and provides real-time inputs to Indian warships, submarines and maritime aircraft, also boosting the Navy's networking capabilities on high seas. Rukmini is Indian Navy's 'eye in the sky', is also being used to keep tabs on Chinese warships in the Indian Ocean. GSAT-7A will help the IAF in interlinking various radars, airbases and AWACS, apart from boosting the forces network-centric warfare capabilities. Risat-2A will boost India's surveillance technology. The satellite will carry sophisticated radar, which will help in the observation of an area irrespective of low light and weather conditions. It may be recalled that on April 4, 2018, ISRO launched the IRNSS-II navigation satellite, the eighth such satellite to be a part of a constellation, from Sriharikota in Andhra Pradesh; this launch was ISRO's second attempt at sending a replacement satellite. In June 2018, ISRO plans to launch GSAT-29, which also is a communication satellite. Carrying multi-beam and optical communication payloads, GSAT-29 will be the launched by the second developmental flight of ISRO's heaviest rocket GSLV Mk III. October 2018 will witness the much awaited launch of ISRO's high-profile 800 cr Chandrayaan-2 mission. Totally indigenous, Chandrayaan-2 is India's second mission to the moon; follow-up mission from the Chandrayaan-1 mission that assisted in confirming the presence of water/hydroxyl on the moon in 2009. Chandrayaan-2 will be launched aboard a Geosynchronous Satellite Launch Vehicle (GSLV) rocket.
It will consist of an orbiter, a Lander and a Rover. The orbiter will perform mapping from an altitude of 100 km, while the Lander will make a soft landing on the surface and send out the Rover. The Lander and Rover are targeted for a location about 600 kilometers (375 miles) from the South Pole, which would be the first time any mission touched down so far from the equator. The Lander is expected to last about one lunar day, or 14 Earth-days; it is unclear if it will revive after falling into the darkness of a lunar night. Its measurements of moonquakes would provide more data after the information collected by the human Apollo missions in the 1960s and 1970s, according to Science. Meanwhile, the terrain explored by the Rover will be of great scientific interest due to the rocks' old age; at 4 billion years old, scientists say the zone likely is composed of an ancient magma ocean. Chandrayaan-2 will be watched with much interest globally, especially by space scientists for the new research not yet undertaken. ISRO is going to definitely have its hands full in coming months.