By Lt. General P.C. Katoch (Retd)


Former Director General of Information Systems, Indian Army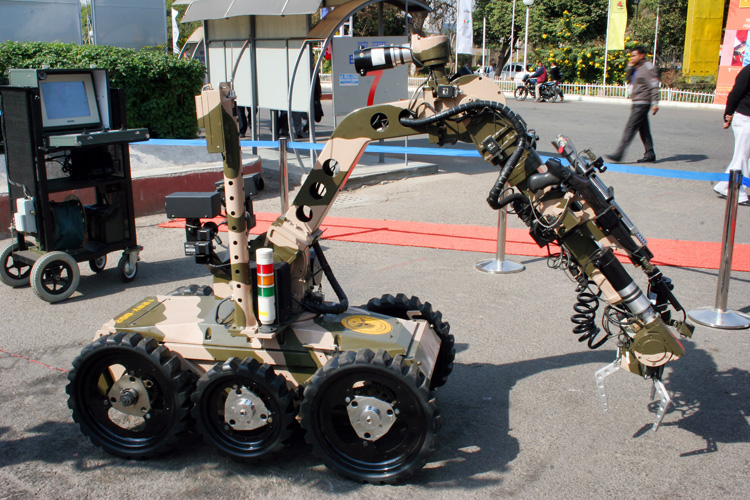 Remotely Operated Vehicle (ROV)
News reports of May 20, 2018 have reported the government has embarked upon an ambitious defence project for incorporating artificial intelligence (AI) to enhance operational preparedness of the armed forces in a significant way. The project is to include equipping the military with unmanned tanks, vessels, aerial vehicles and robotic weaponry. The DRDO has been talking of preparing the military for robotic warfare for past several years but without much to show on ground other than few applications. DRDO's Centre for Artificial Intelligence & Robotics (CAIR) has developed a range of robots with varied applications, and is also developing: man portable Unmanned Ground Vehicle (UGV) for low intensity conflicts and surveillance in urban scenario; wall climbing and flapping wing robot; walking robot with four and six legs for logistics support; Network Traffic Analysis (NETRA) which can monitor internet traffic. But considering the pace at which developments are taking place, particularly in China in combining robotics and AI, our slow progress in this field is liable to leave us at huge asymmetric disadvantage.
China has been pouring in billions of dollars into AI research and machine learning. The good thing Modi government has done is constituting a task force headed by Tata Sons Chairman N Chandrasekaran, which is finalising the specifics and framework of the project, which would be implemented in a "partnership model" between the armed forces and the private sector. The much needed move perhaps was accelerated by the China's massive investments in AI, plus recent demonstration of a robotized tank. In October 2017, media reports confirmed the government seven-point strategy as prelude to India's strategic plan for using AI, covering issues like developing methods for human machine interactions, ensuring security of AI systems, creating competent workforce matching AI and R&D needs, addressing ethical, legal and societal implications of AI, measuring and evaluating AI technologies through standards and benchmarks, and the like. An experts committee has also been set up in the Ministry of Electronics and IT to advise the government on a policy for AI, government's main focus is to reduce cyber attacks with AI. The main central policy is to be drawn once the experts committee submits its report. Presumably, the 'experts committee' mentioned last year and the Chandrasekaran-headed task force are the same. Hopefully, there is also requisite armed forces representation in this experts committee-cum-task force.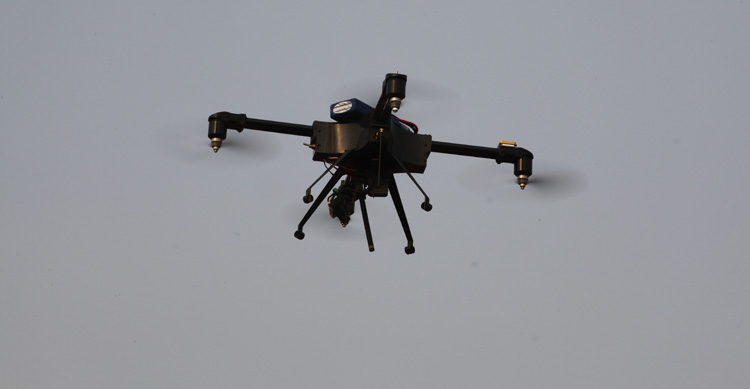 NETRA UAV BY DRDO
The US, Britain, France and the European Union are also investing significantly in AI, an area of computer science devoted to the creation of intelligent machines. The US has been carrying out successful operations targeting terrorist hideouts in Afghanistan and Northwest Pakistan using unmanned drones which operate with the help of artificial intelligence. Prudence demands that India should prepares for conflict that would likely combine robotics and AI; unmanned ground vehicles, drone swarms, quantum communications, cyber attacks and more. Notwithstanding the recent Sino-Indian bonhomie, the fact that the Line of Actual Control (LAC) will likely remain unresolved indefinitely, it is the considerable AI capabilities of China that need to be matched, especially with China passing on AI applications to Pakistan and deploying these with PLA troops in Pakistani territory and in POK. It is the capability which matters, not the intentions since latter can change overnight. In 2017, China's State Council issued an ambitious policy blueprint calling for the nation to become "the world's primary AI innovation center" by 2030, by which time, it forecast, the country's AI industry could be worth $150 billion. China is investing heavily in all aspects of information technology, from quantum computing to chip design. Multiple initiatives have been launched including China building $2.1 billion AI technology park in Beijing's western suburbs. Compare this with America's total spending on unclassified AI programs in 2016 of $1.2 billion.
Nations are seeking to harness AI advances for surveillance and censorship, and for military purposes. According to Elsa Kania, fellow at the Center for a New American Security in Washington, DC notes in her recent study on China's military AI investments, that in fields of AI in China the boundaries between civilian and military research and development tend to become blurred, adding, "The PLA may leverage AI in unique and perhaps unexpected ways, likely less constrained by the legal and ethical concerns prominent in US thinking. China's military is funding the development of new AI-driven capabilities in battlefield decision-making and autonomous weaponry." According to Jin Zhongshu, deputy general manager of Li Gong Navigation Technology Co, China's missile-borne anti-interference antenna for its state-owned BeiDou Navigation Satellite System will be delivered to the PLA within 2108. All this shows India has plenty catching up to do. China has leveraged the private industry in astounding manner, for example, India produces about 1000 drones in one year while China is producing 1000 drones on daily basis. Chinese companies are testing drones that can carry more than a ton of cargo as the country's couriers and on-demand services – both for military and civil usage. The problem in India is the main reliance on DRDO, whereas it should be the private industry that should be getting the major share, with DRDO focusing on researching futuristic technologies. The Dhirendra Singh Committee had recommended the 'Strategic Partnership' model based purely based on private industry but the MoD-DRDO nexus ensured DRDO came in from the backdoor. With respect to the current move to kickstart AI in Armed Forces, Ajay Kumar, Secretary Defence Production has stated that "the state-run Defence Research and Development Organization (DRDO) would be a major player in the project". On balance, hopefully there will be adequate impetus for the project based on capability, will and accountability, instead of the mathematics of how much goes to DRDO and how much to the private sector.