By Lt. General P.C. Katoch (Retd)


Former Director General of Information Systems, Indian Army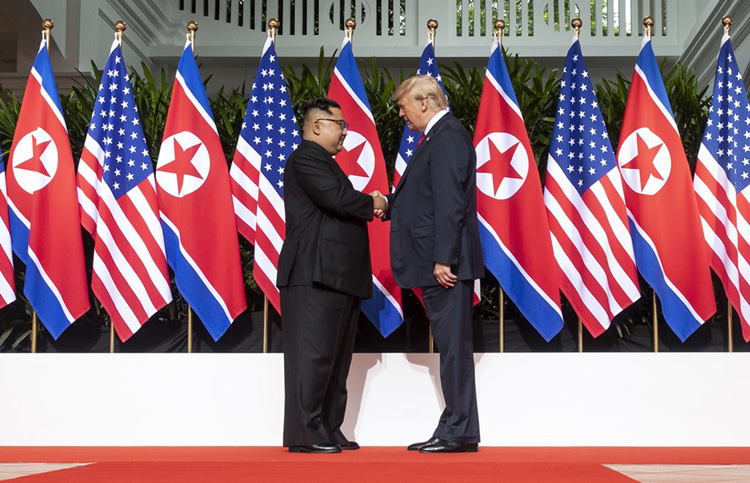 President Donald J. Trump meets with North Korean Leader Kim Jong-un
The meeting between US President Donald Trump and North Korean Supreme Leader Kim Jong-un in Singapore on June 12 was historic, with eyes of the world riveted on the live broadcast. The curiosity was more because of the blow hot, blow cold relationship of few weeks back, with both threatening nuclear war. But this meeting will certainly be just a precursor to many more such meetings even though some news reports say Kim is believed to have agreed to "complete denuclearization" of North Korea after the meeting and signing a comprehensive document, albeit there is no confirmation about this. The meeting was important for peace on the Korean Peninsula and the region. Both leaders held discussions with aides, signed a joint statement and held a press conference. Highlights of the Joint Statement were: commitment to establish new US-DPRK relations for peace and prosperity; joint efforts to build a lasting, stable peace in Korean Peninsula; DPRK reaffirms complete denuclearization of the Korean Peninsula in accordance Panmunjom Declaration (April 27, 2018); commitment to recover POW/MIA remains and repatriating those already identified, and; commit to hold follow-on negotiations to implement outcomes of the summit. After signing the document, Trump said, "We're signing a very important document, a pretty comprehensive document." Kim said he was grateful to Trump for making this meeting happen. "We had a historic meeting and have decided to leave the past behind... The world will see change."
The question, however, is how will the world see "the change" and what will be the change be? The joint statement mentions Kim reaffirming "unwavering commitment to complete denuclearization of the Korean Peninsula", so what about ROK? Besides, there is no mention of complete, verifiable and irreversible dismantlement of North Korea's nuclear weapons and facilities. And, why should the latter be when it is "Korean Peninsula", not "North Korea"? That is why after the meeting standing alongside Kim, Trump said, "We'll meet again. We will meet many times." So it can be safely assumed de-nuclearization of DPRK, leave aside Korean Peninsula is highly complex and unlikely to be achieved in the near future, no matter what DPRK would like to portray.
After signing the document, Trump said, "We're signing a very important document, a pretty comprehensive document." Kim said he was grateful to Trump for making this meeting happen. "We had a historic meeting and have decided to leave the past behind... The world will see change."
Both Trump and Kim are known for their eccentricity; Trump's antics at the recent G-7 Summit plus sending out a letter recently cancelling his proposed meet with Kim, while Kim publicly executed his defence minister, his own uncle and many others - blowing them away with air defence guns, being some examples. Then is the question of trust. Iran has advised DPRK not to trust the US, for obvious reasons. But Kim is no child not just because he carried his own portable toilet for the summit to Singapore so his droppings cannot be analyzed to gauge his health. But the world has been witness to Trump pulling out of the TPP, Paris Accord, Iran Nuclear Deal (despite UN inspections), making US reliability suspect. Moreover, the businessman in Trump has led the US into loggerheads with the G-7, Iran, Russia and China.
While US-China trade war will affect US as well, Trump's cancellation of Iran Nuclear Deal will ultimately end up exposing and isolating America itself. The meeting no doubt signaled US granting domestic and international political legitimacy to Kim Jong-un's regime. "Kim Jong-un was rewarded for pushing the envelope just far enough to get his flag flown next to the United States, legitimizing his reign of terror", wrote Samantha Vinograd, CNN's National Security Analyst who served on President Obama's National Security Council for four years. Others hailed it as a remarkable feat by Trump in how he traversed his equation with Kim; from threatening Kim with "fire and fury" (though everyone including Kim knew US military options were limited with China waiting in the wings), finally to the summit in Singapore. But it can hardly be discounted that Trump took this step to draw political mileage at home and international acclaim sensing that with DPRK-ROK rapprochement, limited military options available to him and Chinese consolidation in South China Sea, the US was losing its sheen in Western Pacific - so why not take credit for ending the seven-decade war on the Korean Peninsula? It could secure for Trump the Nobel Peace Prize and lifting of sanctions on DPRK implies US investments and trade in DPRK, even as these will grow exponentially between China and DPRK.
Trump made a stunning offhand comment during the news conference after the summit that he was halting annual US-ROK military drills - and wants to remove 28,500 US troops in ROK as deterrent against DPRK; overturning US stance over decades that joint drills are routine, defensive and absolutely critical. This would be sweet music to not only DPRK but China that has been working over the years to get the Americans out of ROK. But US pullout from ROK implies danger signals to allies like Japan, and countries like Taiwan - little wonder a Taiwanese Think Tank has proposed Taiwan should lease part of a Taiwan-held islet to the US for establishing a military base. US recently unveiled a new $256 million representative office in Taiwan's capital - de facto embassy but whether Trump will go for establishing a base on the Taiwanese islet is doubtful. DPRK has been Beijing's nuclear proxy in conjunction with Pakistan, but Trump is apparently convinced that China is on US side in denuclearization of the Korean Peninsula. Possibility of China safekeeping DPRK nukes can hardly be ruled out. China will be most happy to see the US out of ROK and embroiled more in West Asia, Afghanistan, Ukraine, even Iran. The US administration under both Obama and Trump permitted Chinese consolidation in South China Sea because of dilly-dallying how to respond to China's incremental aggression.
As for the Singapore Summit, neither Kim nor Trump have emerged winner albeit both sides would tend to portray victory. But the denuclearization of Korean Peninsula and unification of Koreas is a long drawn process. China will definitely want that to happen but there can be many triggers in future that could stymie the process.