By Lt. General P.C. Katoch (Retd)


Former Director General of Information Systems, Indian Army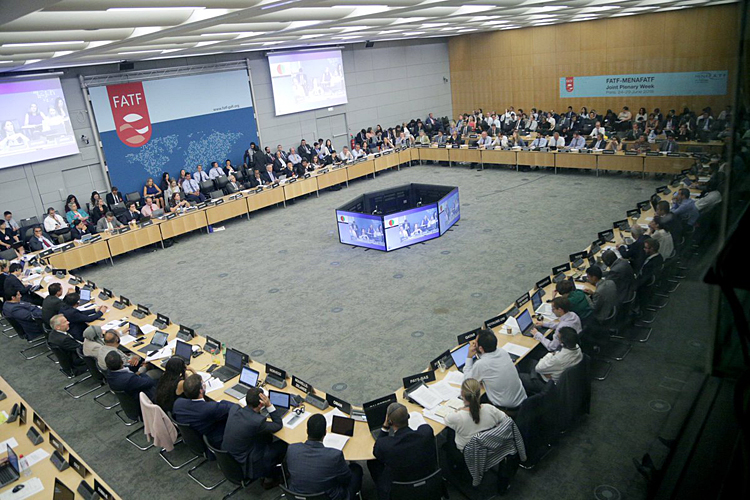 The Financial Action Task Force (FATF), is an intergovernmental organization founded in 1989 on the initiative of the G7 to develop policies to combat money laundering
Pakistan was officially placed in the 'grey list' on June 28, 2018, after it failed to convince the Financial Action Task Force (FATF) that it has taken significant steps to curb terror financing on its territory. The action comes three years after removal of Pakistan from FATF's grey list. Pakistan was hopeful it would get more time to take measures to implement the FATF's regulations. Before the 37-nation FATF meeting in February 2018, Pakistan allowed its enforcement agencies to take action against militant groups on UN Security Council list including Jamaatud Dawa (JuD) and the Falah-i-Insaniyat Foundation (FIF), fronts for banned terrorist organization Lashkar-e-Taiba headed by Hafiz Saeed, by making changes in Pakistan's anti-terrorism law. However, these were only cosmetic changes with odd false-front actions (like seizing offices, seminaries and ambulances belonging to Saeed's charities), while terrorist activities, funds collection and financing of these terrorist organizations continued quite blatantly in the open. More recently, Pakistan also instituted its 'Anti Money Laundering and Countering Financing of Terrorism Regulations 2018', to meet FATF's recommendations; but without tangible implementation on ground it failed to satisfy the FATF. Being placed on the 'grey list' implies that Pakistan's financial system will be designated posing risk to the international financial system because of "strategic deficiencies" in its ability to prevent terror financing and money laundering. It also implies that Pakistan will be subjected to direct scrutiny under FATF until it is satisfied by measures taken by Pakistan to curb terror financing and money laundering. Not adhering to FATF regulations further could mean being placed on the 'black list', with associated sanctions. But Pakistan may be able to avoid the latter (being placed on 'black list') in case it can crook the FATF by blocking terror financing and money laundering "openly", and resorting to indirect means that remain ambiguous.
After all Pakistan was on the 'grey list' of FATF for three years between 2012 and 2015, without the designation affecting its ability to float international bonds, borrow from multilateral bodies, receive or send remittances or conduct international trade. And, it was successful in getting itself off the 'grey list' then, which could have been due the influence like China, Saudi Arabia etc. It can also be assumed that in the period 2012-2015, Pakistan may have continued with its terrorist activities, financing and money laundering on the quiet. In fact in March 2018, then Pakistani Finance Minister Miftah Ismail had told the National Assembly that Pakistan being placed on the grey list would not affect the economy and would only cause "embarrassment" to the country. Factually, for a terror-generating country like Pakistan such "embarrassment" can easily be scoffed at. Shamsher Akhtar (Miftah Ismail's caretaker successor) and a Pakistani delegation actively lobbied for Pakistan not to be placed on the FATF 'grey list' at the start of the recent plenary session by stating the steps Islamabad had taken to block money laundering and terror financing, but failed to convince the FATF members. Interestingly, when the FATF plenary began in February 2018, China, Turkey and Saudi Arabia opposed the US-led move to place Pakistan on the watch-list. But the US pushed for a second discussion on Pakistan, to be held later in the same month. Simultaneously, US convinced Saudi Arabia to shed its support to Pakistan in return for full FATF membership. Saudi Arabia, therefore, stopped supporting Pakistan, leading to Pakistan's case doomed since stalling any move at FATF requires at least three members. With China and Turkey left as the only two countries, China too withdrew knowing continuing to support Pakistan was doomed to fail, besides, China was also looking for vice chairmanship of FATF and did not want to jeopardize its chances. The FATF action against Pakistan began in February 2018, when FATF approved the nomination of Pakistan for monitoring under its International Cooperation Review Group (ICRG); the 'grey list'.
Pakistan was asked to prepare a plan to address international body's concerns and get its approval or it could risk being moved to the black list. It presented a 26-point plan of action to the FATF plenary with the commitment to implement it over a period of 15 months to address the concerns of the global community. Nine commitments in the plan are about concerns regarding the UNSC resolutions, eight commitments to address concerns regarding terrorism financing prosecution, four are about curbing currency movement across the border and five relate to improvement in the supervision mechanisms of banks and companies. By January 2019, Pakistan is to publish updated lists of persons and entities proscribed under the Anti-Terrorism Act and the UN-designated entities, and start proactively initiating financial inquiries of terrorist groups and their members. By September 2019, Pakistan is to address the key concern of identifying and investigating the widest range of terrorism financing activities like the collection, movement or use of funds, according to the plan. The endorsement of the plan means that FATF formally placed Pakistan on the list. In case it had rejected the plan, Pakistan would have been on FATF's Public Statement, also called as the black list. While Pakistan accuses US and India for exposing Pakistan at global forums, the Modi government deserves kudos for isolating Pakistan diplomatically. Of course, support of the Trump administration has been vital in so doing. For Pakistan, things may even get worse if it fails to act on terror outfits like Haqqani Network, Taliban and other terror safe heavens; with US apparently having made up its mind. Pakistan for long has bluffed the international community, but it now stands exposed. On a recent visit to India, Nikki Haley, US Ambassador to UN, reiterated that Pakistan becoming a haven for terror groups cannot be tolerated and the US has already delivered the message to Islamabad. Yet despite all this, Pakistan has attained excellence in metamorphosing terrorist organizations into countless forms and multiple forms of funding including narcotics and hawala, which have international networks. Finally, whether Pakistan can get off the back of the terror tiger it has been riding and whether its military will permit that is the million dollar question, answer to which only the future can unfold.