By Lt. General P.C. Katoch (Retd)


Former Director General of Information Systems, Indian Army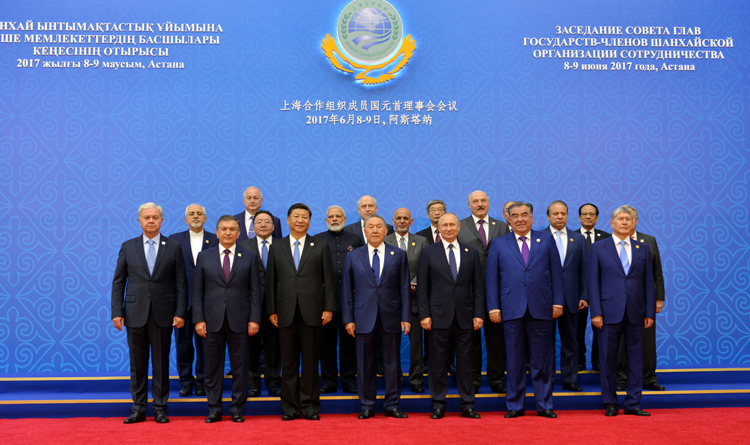 The Prime Minister, Narendra Modi in a group photograph of the HODs participating in extended format meeting, at the Shanghai Cooperation Organisation (SCO) Summit, in Astana, Kazakhstan on June 09, 2017
Going by media reports India and Pakistan are to be part of anti-terror mega drill in Russia under aegis of the Shanghai Cooperation Organization (SCO) next month; scheduled from August 22 to August 29. The aim of the exercise is to expand cooperation among the member countries to deal with terrorism and extremism. What a travesty that Pakistan which is major generator and exporter of terrorism globally will be feigning fighting terror – but then they successfully masqueraded under US patronage of being America's frontline partner in the so-called Global War on Terror (GWOT). The SCO exercise, named 'Peace Mission' is being held as follow up to the joint resolution adopted at the SCO Summit held in June 2018 to deepen cooperation among their militaries to deal with threats of terrorism, extremism and separatism. Planned to be held in Chelyabinsk City, Russia, it will see participation by all SCO member countries including Russia, China, Kyrgyz Republic, Kazakhstan, Tajikistan and Uzbekistan. India and Pakistan were admitted as full members last year. About 200 Indian Army and Indian Air Force personnel are participating in Exercise 'Peace Mission'.
Indian and Pakistani armies have served on UN peacekeeping missions under the same Force Headquarters but this is first time they will participate in same military exercises. The setting most likely will be counter-terrorism in urban setting in Chelyabinsk city. This will involve closely coordinated operations by participating militaries. Military official of participating countries will reportedly also be deliberating on ways to enhance cooperation to stop spread of terrorist ideologies and eliminate factors and conditions that facilitate terrorism and extremism; which implies Indian and Pakistani participants will be sitting on the same forum, perhaps side by side, discussing these issues. These are ridiculous situations given the continuing infiltration by Pakistan, cross-border firing and actions, terror attacks, beheadings, and support to terrorism in J&K. PLA soldiers have been showing up at Pakistani posts along the Line of Control (LoC) and PLA is constructing modular bunkers for Pakistani troops. Who will provide the 'exercise enemy' in the SCO exercise is not known but the best suited is Pakistan's ISI with its terrorist hatcheries and multiple linkages with regional and international terrorist organizations.
Actual terrorists can pose as enemy since no live ammunition would be used. Added advantage would be to observe counter-terror drills of all participating countries, enabling efining future terrorist actions. Also, contacts with terrorists operating in Russia could be renewed on first person basis. There is also the question of what will constitute manpower of the Pakistani contingent? Pakistan army has not won a single war since the country was born. But they are adept in operating in close concert with terrorists. This began with the invasion of Kashmir in 1947-1948 and has continued ever since, whether it is border action teams against India or ongoing proxy war in Afghanistan. So in all probability, the Pakistani contingent for the SCO exercise will likely have terrorists – from LeT, JuD, HuM, Taliban, Haqqanis, depending on what ISI preferences. For India, operating alongside Pakistani army implies making them conversant with our weapons, communications and equipment, tactics, counter-terrorism capacity and capabilities, which is not desirable.
If our Army contingent too had mix of terrorists, that would be tit for tat for the Pakistanis, but our Army doesn't have terrorists even as mascots. However, we have several goon armies in the country patronized by various political parties; well trained in murders, rapes, mobocracy, lynching etc. They could actually bring realism in the exercise, albeit with strict instructions not to leave tell-tale marks. Then, Mr Mohan Bhagwat says his boys can mobilize faster than the Army. Their inclusion would be good for participating countries to learn what mobilization and quick reaction actually means. These boys would down the unsuspecting enemy with their sticks, before the latter can even wink. This would also showcase to the world 'Silambam'; the ancient stick-martial art of South India – the age old art patronized by the Chera, Chola and Pandya rulers. It is said that the World War IV would be fought with stones and sticks because World War III will destroy everything. That is why Pakistanis are teaching radicals stone-pelting and even the PLA resorted to stone throwing last year in vicinity of Pangong Tso lake. But many of our boys are already masters of stick-martial art and there are periodic camps to train more.
In February 2014, Prime Minister Narendra Modi, then CM of Gujarat, had stated that traders are braver than Army jawans. So perhaps few traders could be part of our contingent to Chelyabinsk. With bravery writ large on their countenance, just staring into the eyes of the enemy would transfix them like the stare from hundred pythons. Those who protect their eyes can be engaged in trade talk to keep them busy till quick reaction teams pounce on them. All these measures combined can perhaps culminate in Surgical Strike 2.0; hitting Pakistanis at psychological level and confusing them so much they might just give up proxy wars and get the terrorist doing yoga – the way China is programming Uighur clerics of Xinjiang. The Pakistani contingent would be training hard together with terrorists, probably under supervision of Chinese Special Forces who reportedly are preparing for war. The need of the hour for us is to be innovative. A punchline option as above will take all the participants by surprise, not to mention taking the wind out of those masquerading as enemy.