By Lt. General P.C. Katoch (Retd)


Former Director General of Information Systems, Indian Army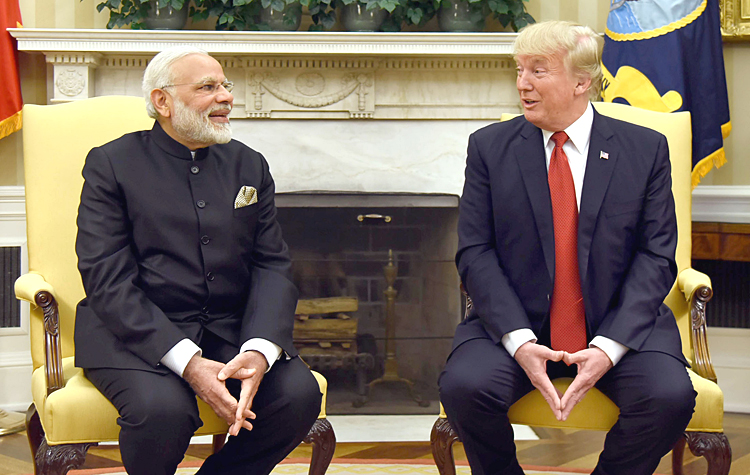 The Prime Minister, Narendra Modi meeting the President of United States of America (USA), Donald Trump, at White House, in Washington DC, USA on June 26, 2017
There is jubilation in India over the US granting the Strategic Trade Authorisation-1 (STA-1) that will ease export controls for high technology product sales to the country. This comes two years after the US recognized India as a "major defence partner" in 2016.
India is the only south Asian nation to be given the designation along with the US-NATO allies like South Korea, Australia and Japan. US Secretary of Commerce Wilbur Ross, announcing the decision of Trump Administration on July 30, termed it a very important change in India's status in the export control regime. STA is relevant to exports, re-exports and transfers for which a license is required under the Export Administration Regulations (EAR); one of the two important US export control laws that affect the manufacturing, sales and distribution of technology. STA Tier 1 will expand the scope of exports subject to the EAR that can be made to India without individual licenses, enhancing bilateral defence trade relationship and result in a greater volume of US exports to India. The elation is over the expectations of India getting critical and latest technology from the US in the defence as well as also some other key areas. STA-1 is also being considered a boost for the foundational agreement of Communications, Compatibility and Security Agreement (COMCASA).
US has actually granted STA-1 status to some 36 countries (mostly NATO) and significantly not to Pakistan despite selling F-16's to them. Grant of STA-1 to India obviously is because of the changed geopolitics of the Indo-Pacific and an overtly aggressive China that is eager to duplicate its militarization of the South China Sea (SCS) in the Indian Ocean Region (IOR). Yes, it does demonstrate that US values India as partner and recognizes India's emergence. Items eligible for export under STA Tier 1 are those subject to national security, chemical and biological weapons, regional stability and crime control, however almost 50 per cent of these items will not require licences under STA Tier 1, as per a former Indian defence secretary. At the same time it is also worth examining why the US took two years to grant the STA-1 after granting India the "major defence partner" states and the coercion that happened in the intervening period. More significantly, as pointed out by Brahma Chellaney, the US had already promised India easing of export control when the Indo-US Nuclear deal was signed in 2005. That promise was not kept by the US past 13 years and apparently India too did not pursue it with adequate vigour, if at all.
Technically, STA-1 does make it easier for technology transfer, joint ventures and optimizing the offset clause in our strategic partnership model, leading to co-production agreements and co-development deals between Indian and US companies. No doubt India needs high-end technology manufacturing, but there are number of issues that need to be examined here. It would be prudent to examine what is the hi-end technology that US "transferred" to Japan and North Korea other than selling whole weapon systems, since these countries were granted STA-1 years back. More importantly, those who opine that STA-1 would give us high-end technology "en bloc" obviously fail to recognize that not only is it coming on 13 years after signing the Indo-US Nuclear Accord, it has been very skillfully made contingent upon India's adherence to the Countering America's Adversaries Through Sanction Act (CAATSA) and US sanctions on Iran. So, STA-1 status for India already stands diluted concurrent to its award to India; somewhat akin to Paul Craig Roberts stating that Apple, Google, Youtube, Facebook, have all subverted the US Constitution, free speech and American liberty. US President Donald Trump while re-imposing sanctions on Iran, has tweeted, "The Iran sanctions have officially been cast. These are the most biting sanctions ever imposed, and in November they ratchet up to yet another level. Anyone doing business with Iran will NOT be doing business with the United States. I am asking for WORLD PEACE, nothing less". An official statement that followed, saying "We urge all nations to take such steps to make clear that the Iranian regime faces a choice: either change its threatening, destabilizing behaviour and reintegrate with the global economy, or continue down a path of economic isolation", further confused and roiled the situation. With this it should be quite evident that transfer of hi-end technology will be contingent on India's adherence to CAATSA and dealing with Iran – in essence US will hold India's foreign policy to ransom on these two counts. The CAATSA waiver given to India for procuring the S-400 Triumf from Russia was only one-time, not blanket. Significantly, US has also granted exemption from CAATSA to Vietnam and Indonesia also, who import Russian naval and military aviation systems.
But these exemptions are all one time; ultimate US aim being for countries like India, Vietnam and Indonesia to junk their dependence on Russia for major weapon systems (major part undefined), that could be bagged by the US itself. The other side of the story is President Putin telling Prime Minister Modi at the Sochi summit that should India shelve the S-400 Triumf deal, Russia will go for joint development of the Fifth Generation Fighter Aircraft (FGFA) with Pakistan. Russia has already signed MoU with Pakistan for maritime cooperation. Whether the Modi government will succumb to such US pressure only time will tell? But there is no denying India needs to be able to take its own sovereign decisions on what it considers best in own national interests. Finally, one thing is pretty certain that high-end technology by the US is certainly not going to come 'en bloc'; US will release it piecemeal on case to case basis, like the Electromagnetic Aircraft Launch System (EMALS) linking it with India's foreign policy, particularly with respect to Russia and Iran.