By Lt. General P.C. Katoch (Retd)


Former Director General of Information Systems, Indian Army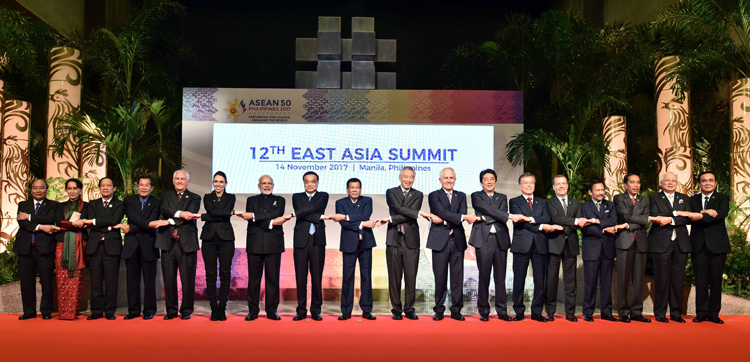 Group Photograph at 12th East Asia Summit in Manila, Philippines (November 14, 2017)
There is a viewpoint that the fast developing US-Japan-Vietnam-Australia-India consort, coupled with the Quadrilateral Security Dialogue (Quad), would increase China's Malacca dilemma for its energy imports notwithstanding the China-Pakistan Economic Corridor (CPEC) and alternate route through Myanmar. It is also opined that more than change of name from 'Asia-Pacific' to 'Indo-Pacific', the US, Japan, India, Australia grouping of 'Quad' has the potential to dramatically change the region's security landscape – some even questioning if this development could be termed 'Asian NATO'. The proposal of 'Quad' was first mooted by Japanese Prime Minister Shinzo Abe in 2007, but with Beijing protested it was aimed against China, the proposal was dropped. However, the idea took flight with discussion amongst senior officials of the concerned four nations on the sidelines of the East Asia Summit held in Manila (Philippines) in November 2017, concurrent to US President Donald Trump's maiden tour to East Asia. Though China has always been wary and critical of the Quad, it must blame itself for the relentless aggressive revanchist stance it is following that led to such grouping in the first place.
But Quad definitely is not a military alliance (not like NATO or any other), nor is it seeking containment of China in that sense. The aim is obviously it to assist and ensure Indo-Pacific remains free passage for multi-lateral trade and commerce. If China abhors the Quad as deterrent, it is because Quad promotes multilateralism – opposite to unilateralism that China has been practicing in the South China Sea (SCS). At the same time, the Quad does provide options to regional powers. The Quad would also favour disputes, if any, resolved peacefully in accordance with international norms and jurisprudence but then China blatantly rejected the Hague-based Permanent Court of Arbitration ruling in favour of Philippines in the China- Philippines dispute in the SCS, even threatening it would establish its own China-headed International Court to arbitrate over such cases. Another significant issue that Quad should be concerned about is that connectivity ventures should not aim at threatening the sea lanes of communications (SLOCs). But view this in the backdrop of China's relentless pursuit in establishing multiple posts in the Indo-Pacific in addition to militarization of the SCS; Gwadar, Djibuti, Hambantota, up coming Jiwani (Pakistan), Gadhoo and Makhunudhoo (Maldives). Similar plans in Seychelles and Mauritius, and investments in port development in Bangladesh and Sri Lanka aim at precisely such strategic domination of the sea routes. Connect all this with the various bilateral and multilateral exercises periodically conducted in the Indo-Pacific, like the Malabar series or the largest being RIMPAC, the recent edition of which excluded China. Such exercises no doubt are good for improving interoperability and practicing complex manouevres involving amphibious landings, long-range aircraft strikes, counter piracy, antisubmarine warfare, counterterrorism, anti-air missile shoots, and humanitarian responses to large natural disasters, so on and so forth. But how does all this factor against Chinese aggression that follows the slither, mesmerizing stare, and swallowing strategy of the python – like it has successfully done in the SCS?
The Philippines Supreme Court recently ruled Philippines should take a bold step in defending its sovereignty in the West Philippine Sea by encouraging neighboring states to conduct with it joint freedom of navigation patrols in the hotly contested SCS. But that would hardly deter China. Chinese success can also be attributed to the ambiguity of dithering US policy and absence of an effective coalition. The same applies to the Indian Ocean Region, while China speedily builds up its presence, including debt trapping counties in the region. US Senators recently warned China is saddling poor nations with unsustainable debt through large-scale infrastructure projects that are not economically viable. US lawmakers are poised to advance the 'BUILD Act' a new act to bolster private US investment in developing nations by doubling US Overseas Private Investment Corporation (OPIC) to $60 billion. At the same time, India has conveyed it will not join the US-led initiative aimed at counterbalancing China's BRI; joint initiative between US, Japan and Australia. The reason being given for India not joining the trilateral initiative is that it is in accordance with its emphasis on multi-polarity in the Indo-Pacific region and maintaining non-bloc security architecture. India media also states that in June 2018, Prime Minister Narendra Modi had said at the Shangri La dialogue in Singapore that India never viewed the Indo-Pacific region as "a strategy or as a club of limited members". But then how does the Modi Government defend being part of the 'Quad'. The fact is that China has too many leverages over India and the latter's only leverage in its markets, translates into the fear of annoying the dragon – which is actually an euphemism. India has already lost out in IOR Rim Countries; who ask for help and aid in rejuvenating their economies but India has still not been about to bring about its Draft Maritime Domain Policy over the past four years despite this being in the manifesto of the Ruling Administration. Even Seychelles is hedging in formally permitting India to develop the Assumption Island. Indian response to the US-led initiative is typically what Carnegie Foundation had described in September 2017 as "responding in piecemeal fashion to immediate events rather than following any deliberate plan...There have been few efforts to consider India's choices from a balance of power perspective outlining the consequences of relative power dynamics for strategic policy." The moot question is that on one-hand India is going full hog for enhancing strategic relations with the US and is willing member of the 'Quad' and yet considers that an innocuous action like the US-led investment initiative will annoy China? Ironically, while China is establishing multiple bases in India's immediate neighbourhood, India has also done precious little to optimize the defence potential of Andaman and Nicobar Islands, what to talk of other island territories. On June 30, Prime Minister Narendra Modi chaired a meeting to review progress made on the holistic development of 26 islands to boost India's maritime economy while preserving natural ecosystems; covering key infrastructure projects, digital connectivity, green energy, desalination plants, waste management, promoting fisheries, and tourism-based projects. There was no thought to boosting their defence potential. Does India need to review its China policy holistically and go for corrective reset? That is the question that policy makers need to seriously address.